This is a race report that was a long time coming. For many years now, I've planned on tackling a proper expedition-length adventure race, and Untamed New England was my first crack at it. With our team racing basically non-stop for 4 days and 4 nights, and covering about 380 km, it truly was an expedition. We were a new team, unfamiliar with each other, and with me acting as captain and navigator for the full race. We hit absolute highs and absolute lows. Although we were ultimately 'short coursed' early on, it didn't detract at all from our overall experience, as we managed to snag 24th place in a field of the top teams around the world, and completed the course as a team. In this sort of race, for many teams, that is the ultimate goal.
The race is so large in scope and in effort, that it is kinda hard to figure out how to write up the whole report. The easiest would be to break it up into chunks once I get started, and I'll do so in legs. Overall, the course had 5 unique legs, each of which had a combination of disciplines involving trekking, orienteering, bushwhacking, canoeing, whitewater rafting, packrafting, mountain biking, and a ropes course. Teams must be pretty much entirely self sufficient during legs, only having access to food or gear at the 4 'transition areas' between legs. For this race, that mean carrying extremely heavy packs for long stretches (some of the legs were over 24 hours for us!).
For a quick intro to how I got there, I joined a 'media team' a while back, as just another team member. Over time, my role morphed and I stepped into more of a leadership role. Then, with only 2 weeks to do, one teammate had to drop out due to health reasons, and I had to scramble to replace them. In the end, our team consisted of me, and 3 ladies. This is relatively unique in AR, as usually a team has only 1 female. However, as our goals were all aligned, and the mix of experience seemed to lend itself to a good dynamic, we rolled with it. I think it was the best decision I could have made, and it was really cool to race with all ladies. I learned a lot in that race, and will definitely be better off for it as a leader on other teams as well.
So, back to the race. We got on site on the Monday night, with the race starting in earnest Wednesday morning. This gave us time to get to know each other a bit, as well as deal with all the pre-race gear bin packing issues. It also gave us a chance to sample the tasty beers that were brewed onsite at the host venue, Kennebec River Brewery at Northern Outdoors Resort. Good way to calm the nerves! Tuesday night, we finally had a look at the race course, by way of a video fly-over before getting the maps. To give you a sense of the scale of this thing, check out the actual video below. As some people have noted, they got tired just watching this!
Shortly after the video, maps were distributed, and they were massive! You can see a picture of the maps as part of my slideshow a little further down. These maps were handed out around 8:30-9pm on Tuesday. I had to plot out all our routes, and also make it to a captain's meeting by 6:30am the next morning. That mean staying up till about midnight, then getting up at 5am the next morning. So, total sleep the night before the start? A mere 4 hours!! But who needs sleep, right? Let's now dive into each leg of the race and give a quick rundown of how things went. But first, the slideshow (click right or left to cycle through the images):

 The Prologue
Ugh. I wish I didn't have to start here, as it was probably the one place I wish things had gone differently. I'll blame it on race nerves, but ultimately we came out of this section 3rd to last! It was meant to be a simple little orienteering leg on ski trails at the Birches Resort, but one bad turn lead us to end up in what I'll call a 'black hole' without knowing it. Essentially, we were wandering around all kinds of trails that didn't exist on the little map that we were given right at the start line (just to add to the pressure, at certain sections, you are given 'supplementary maps' that you need to use on the fly). While the controls weren't that hard to find in the end, we lost over an hour on these 'non trails'. I'd like to say it didn't shake my confidence, but it did! On the plus side, it took the pressure off a bit, as we were already on our own, fighting from the back. Plus, it reminded me to be super-careful with the decisions where there is any uncertainty. Regardless, our spirits were still intact, and we loaded up the canoes to start Leg 1 properly.
Leg 1 – Canoeing, Trekking, Ropes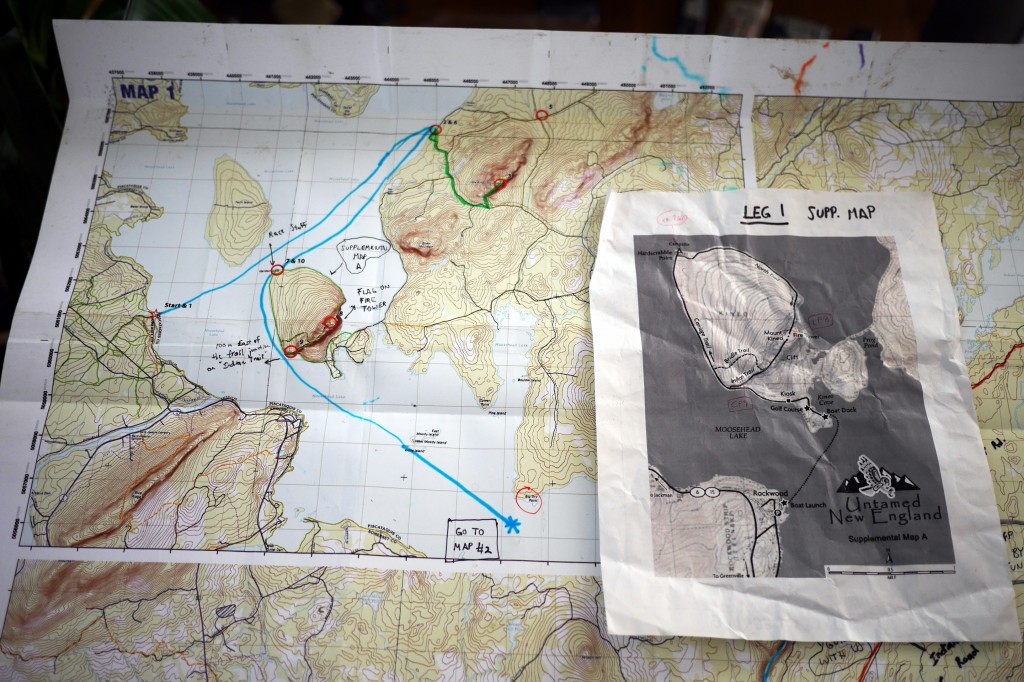 Next up was a gorgeous paddle on lake Moosehead, a huge body of water that can display some nice waves in the right wind conditions. By the light of day though, this made for a straightforward paddle to our next challenge, which was a hike up a mountain to rappel off the backside. Knowing our position, I was convinced that there would be a backlog at the ropes, which meant that losing an hour in the prologue would quickly be washed away.  How true I was. Once at the mountaintop, we learned of the horrible wait times. For us, it was nearly 4 hours sitting around doing nothing. We dried gear, ate, tried to nap, etc., but it was far too early in the race to be tired, so we cursed our luck. It even rained for a bit before we FINALLY got to descend the ropes. We polished that off, picked our way through the craziest boulder field I've encountered in a race, then bushwhacked down to the trail to hike back down to our waiting canoes.
Once back in the boats, we had another shortish (1hr) paddle to a nearby island which we'd ultimately circumnavigate on foot to grab a few more controls. By this time, night was already falling on day 1, For the trek, this was no big deal, as we had good lights, and the trail was relatively easy to follow. One of the controls was high up on a fire tower, so we were sad we couldn't catch the view, but such is life. We boogied on back towards our boats for the next, LONG paddle leg, which we'd have to face in the dark.
Luckily, it was a clear night. Unluckily, it was a windy night. For the first time in a race, I ended up navigating by moonlight and stars, which was pretty cool. However, we all had to fight the water, which kept throwing us around. We did a fair bit of 'surfing' the waves, and just paddled on through the night, with only the starlight and the faint light of our glowsticks attached to the boats. We basically paddled all night in order to reach TA1, which we did at about 4:30am on day 2. This was the first time we saw our gear bins, and this gave us the chance to replenish our food supplies, and change into our biking gear, since the next leg was primarily mountain biking.
Leg 2 – Mountain Biking and Team Orienteering Relay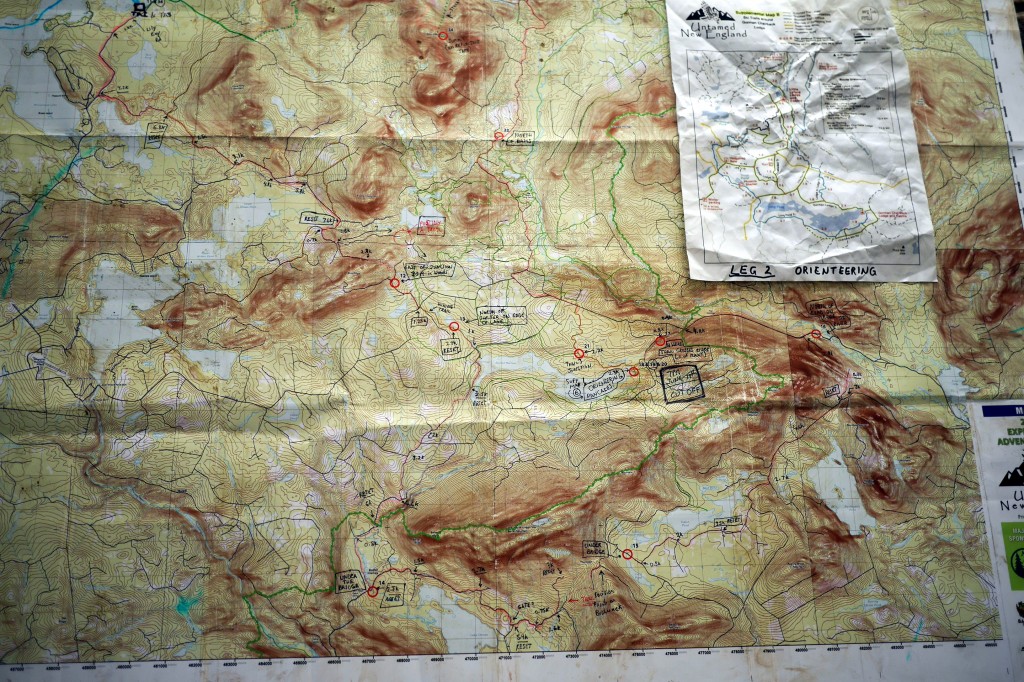 The next section of the race looked rather daunting on paper. We were set for a pretty long mountain bike section, following a series of gravel roads, logging roads, ATV trails, and hiking trails for what looked like an eternity. About halfway through we were slated to get a reprieve in the form of the 'pancake paradise'. At this spot, the team was supposed to undertake the team orienteering relay, where each person has to do their own mini orienteering section while the rest stay at the lodge where it was located. On the plus side, for $10, each person could indulge in all you can eat pancakes! However, there was a lot of biking to get done before that, and we had a time cut-off to contend with. Those not COMPLETING the orienteering by 7pm on Thursday would be sent along onto short course 1. It was now just around 6am when we started, so we had 13 hours.
The first part wasn't too bad, as we were on main(ish) roads, and I was being very careful on my navigation (I had pre-measured every single turn to make sure we didn't mess up). The riding was a nice change from paddling, and we were collectively feeling good. However, eventually, we made our way to progressively tougher riding conditions which slowed us down. To add to the pace issue, one of our team was really not feeling well. Candice was feeling nauseated, tired, and was forced to walk a fair bit. We tried a few things, but it was clear that we'd likely need to stop and regroup. After spurring them on to a serene checkpoint which actually featured a little amphitheatre-type shelter, we decided to outright stop and make her sleep for an hour or more. Ultimately, we stayed there for 1.5 hours. I only got 20 minutes of sleep, as I was also plotting an alternate course in case things didn't improve and we had to pull the pin on an emergency route.
Luckily, after the sleep, Candice bounced back just enough that she agreed that we should press on. We assured her we'd take it easy and just focus on getting to the pancake paradise. Checking on our speed and the timing, it became clear we were unlikely to make it before the cutoff, but didn't let that dissuade us. Given the terrain and challenge that lay between us and the 'paradise', it was probably good that we rested a bit. Things got TOUGH as we pressed on, culminating with a solid 1.5 hour bike-whack uphill. We had mentally prepared ourselves for the misery of bushing a bike uphill through dense forest off-trail, so we ultimately popped out the other side relatively happy. That's the trick with tough sections. Acknowledge it is going to suck and be hard, and do it anyway, since EVERYONE has to go through it (unless of course they magically find a trail, which does happen).
With that challenge out of the way, we made a few route changes on the fly, on the advice of another team we encountered out there. While I had plotted more direct routes with more elevation gains, we ultimately chose the 'long way round' on some of the roads. The benefit was being able to ride more,  at higher speeds, but at the possible cost of time. However, it was the right call.  I don't recall the exact time we finally pulled into paradise, but it was definitely after 7pm. The sun was setting, so it was probably around 8:30pm or 9. We'd been under the impression we'd still be doing the orienteering, but were informed that was not the case. Amazingly, we were literally disappointed that we wouldn't get to race more right away 🙂 However, we go over that as we tucked into some pancakes and thought about our next strategy, since we'd now been short coursed.
The short course meant we would not do Leg 3 at ALL in this race, and would instead bike directly to TA3 to start Leg 4. However, we also learned that the upcoming long canoe leg had been cancelled for all teams as the wind was too high on the lake, and safety was a concern with tired racers paddling for 12 hours on a choppy lake.  However, no one knew for certain how that impacted the race. So what did we miss on Leg 3? Well, apparently the absolute hardest trek that many racers had EVER seen. Ultimately, I think our missing the cutoff was a blessing, as we would most certainly have missed another cutoff in the future, and might not have seen the other parts of the race we were looking forward to.
Faced with a decision, we opted to stop and sleep here for a couple hours (I got about an hour), before heading out at midnight to bike the long roads back to TA3. Then we planned to sleep down there as well, depending on what we learned (we heard there might be a hard stop down there). We might have pressed on right away, but now it was Tessa's turn to be really tired, and she simply couldn't focus anymore. The sleep did us well, and by shortly after midnight we were back on the bikes heading to TA3, which also featured tents to sleep in, and had our gear awaiting us. On arrival, we were informed we had to stop and wait for the lead teams to arrive from Leg 3 before starting again. Luckily, that meant we got a time credit, and had no time pressure right away, since lead teams were still a few hours away. We took the time to cook some proper warm meals, change clothes, and prep our packs for the remainder of the race. This was a bit of a challenge, as for the rest of the race, we basically had to carry EVERYTHING with us. Packrafts, PFDs, paddles, trekking shoes, clothes, food, mandatory gear (sleeping bags, tent, first aid, etc), trackers, trekking poles. It all added up to really heavy awkward bags, but again, everyone had to do it. Once we were sorted out, we decided to crash in a tent until someone would wake us to let us know we were free to continue.
Leg 4 – Mountain Biking, Trekking, Urban Orienteering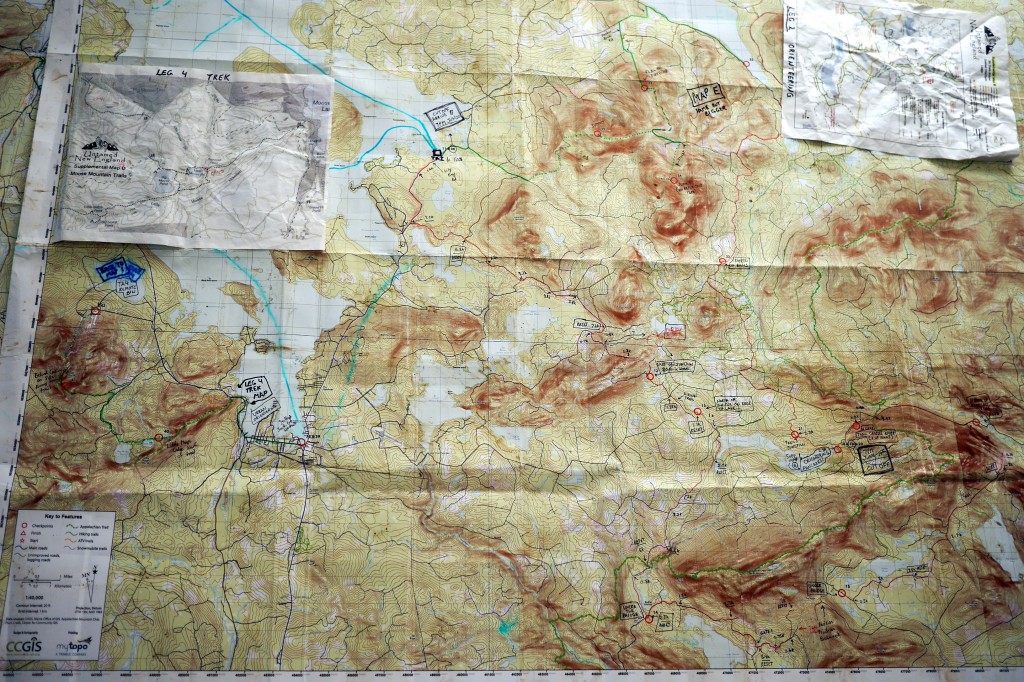 For us, this was the leg that would have the most trekking, which had me pretty excited. Of all disciplines, I like trekking and bushwhacking the most (although with 40lbs on my back, that is debatable!). Tessa was already awake to let us know the leaders were on their way in, so within a few minutes of their departure, we were also on the go. We had to backtrack on bikes back to the town of Greenville first, where we had our 'urban orienteering' which was quite nice. We raced around the town finding clues like names on plaques, etc. in the warm sunshine. It was also cool because we were now essentially racing with the top teams, and got to catch up with friends on the course. It was easy and straightforward, just the thing for a little mental boost. We also had the chance to grab food. Crepes and hamburgers, and on the way back out of town… ICE CREAM! It was AWESOME! You have no idea how nice something like that is when you're on your third straight day of racing.
The next section once out of town was a nice long trek up two mountains, Little Moose and Big Moose, ultimately ending up at the summit of a ski hill and running down to the bottom. For the most part it was just a nice trek on trail. We ended up doing a little bit of a bushwhack at one point when we couldn't find a trailhead, but that likely only cost us 15 minutes or so. Everyone was feeling pretty good, so we actually thought we *might* have a chance at getting to the whitewater rafting section before the darkzone imposed from 6:30pm until 10:30am!! How naive we were on that call. Ultimately, no one made it in time, not even the worlds' best athletes. Ha ha.
The views from the tops of the mountains was quite frankly, incredible. We had 360 degree views of the surrounding terrain, and it was a bit emotional to realize all the ground we'd covered under our own power, and the fact that there truly was NOTHING out there. Just wilderness. Hence, the 100 Mile Wilderness. Beautiful lakes, rivers, and the Appalachian Mountains as far as we could see. Very uplifting.
The part that killed us was the mountain bike coming up… However, the highlight, and most surreal experience of the day has got to be when we finally came down off the ski hill. As we arrived at the CP, I could hear a familiar voice, but it made no sense. It took a little time for me to realize that my dad and his wife had driven 8 hours from NS to witness me in my element, mid race! It was both super-cool to have him there, as well as sad, as I really couldn't stop and visit. However, he tagged along, and I tried to explain everything to him as best I could while scrambling with gear, food and maps. This was actually our last TA section, known as a 'remote TA'. We had access to only a special bag we'd pre-packed. Just enough gear to get us through the rest of the race. However, with the darkzone coming up, we needed lots of food, as we'd be out a long time. I'm pretty sure dad was proud of our team, and I for one was really happy that he had a chance to experience a bit of what it is that I love to do, and maybe see why I love it so much (even though it can be sheer torture!).
Leg 5 – Mountain Biking, Whitewater Rafting, Trekking, Packrafting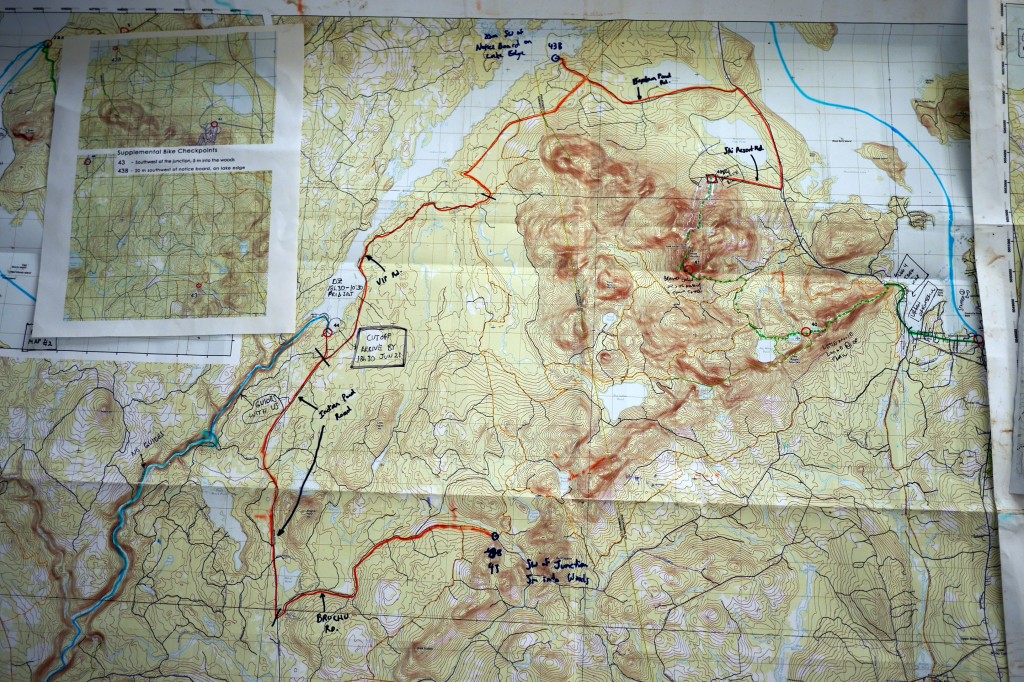 Ahhh, the final leg of the race. Just a quick little jaunt, right? Well, not quite. When we left TA4, it was around 9:30pm. We didn't finish the race until 2am. So this leg actually took a total of nearly 29 hours (counting the dark zone). The first part was another 'pressure cooker', as the volunteers handed me a map as we arrived at the base of the ski  hill. On it were just 2 CPs plotted that we had to grab on bikes before heading to the rafting section. However, they were far to get, and one of them was located in a mess of ATV and logging trails. Add the fact that it was night, and our 3rd night racing, and you'll understand why I say that for us, that opening mountain biking was our most challenging part of the race to date. We had actually paired up with another team (Towanda RWG) for part of the leg, until parting ways to pursue our own routes. Unfortunately, when we parted, we both assumed we knew exactly where we were, which was slightly wrong, and lead to a slew of problems. Ironically for our team, we stayed on course (well, 'A' course)the whole time, but didn't realize it. We were making progress to the CP, but thought we were on a totally different route. That lead to me eventually forcing a complete stop and re-evaluation of the map to prevent screwing up too bad. We'd been heading more or less SE, with some SW sections, where I had been expecting to go more or less SW with some SE sections. Not a big deal, but we were also crossing water, and there should not have been any on my chosen route.
The team, being a bit tired, and everyone working through their own little demons, was starting to fracture a little bit. We were not all together, and spirits were low. I made the decision to pull us off the trail, stop completely and talk it all out. I had a hot meal and worked through the choices we'd made since the split from Towanda. Candice agreed with all my logic, and we made a plan to only go about another 2.5k before stopping for until daylight, rather than risking a major error. However, after we finally had the map all folded up and were ready to leave again, we heard voices behind us. It was Towanda! The news was interesting, as they said we're 100% on track, and that they had been off. It took a lot of sleuthing on their part, but after we talked it through and examined the maps further, we came to the same conclusion.  From that point, we agreed to work together and stay together until we finally reached the whitewater dark zone checkpoint.
The remainder of the biking to the remote checkpoint was still pretty tricky, but with good conversation and company, and 2 navigators working together, we got through it in one piece. What a feeling to finally reach that CP. Of course, we still had to now follow a different route to the whitewater dark zone, but after I showed them the route I had drawn, the agreed it looked good, and we followed it. In fact, the route was a veritable highway compared to the hell we'd just gone through. Our only problem now as the fact that it was only about 5 degrees out, and we were all starting to freeze. Even with jackets and pants on, with thin biking gloves and wet socks and shoes, we were feeling the chilling effects. Nicky had to keep pedaling ahead and doing circles to try and stay warm. However, we made it, and pulled into the 'dark zone' by the early dawn light at 4:30am!
Amazingly, the volunteers here had s'mores for us to make, and also cooked pizza, onion rings, and chicken fingers over a fire! It was heaven. Since we had roughly 6hrs until the dark zone was lifted, we set up our tent, and also borrowed a volunteers tent in order to all bed down for a couple hours. I probably got a solid 2 hours of sleep there after eating my fill and properly warming up at the fire. It was sublime.
Near-Disaster and the Final Push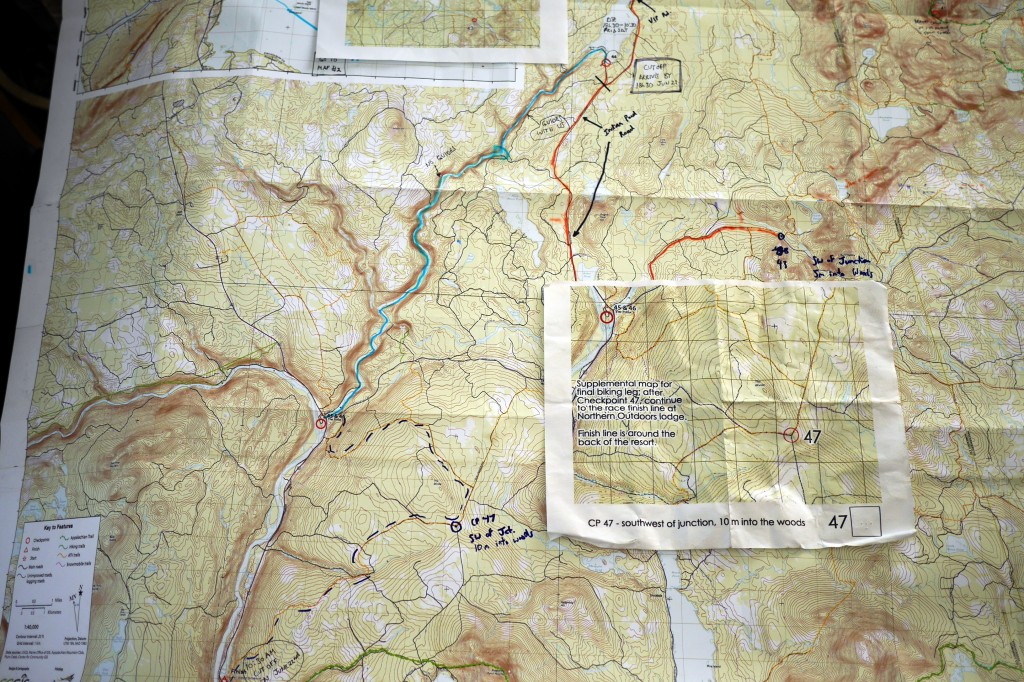 Okay, this is STILL leg 5, but deserved it's own subsection. With the bright Saturday sun on us, it was time to head out on the final few sections of the race. First up, whitewater rafting. 4 miles WITH a guide, 8 miles self guided. The best part for me was NO NAVIGATING. I was free to switch off my brain and just have fun. The rafting was amazingly fun. We hooted and hollered, and you'd never tell that we'd already been racing 3 full days and nights. We hit water up to Class IV with the guide apparently, and emerged unscathed. Our self-guided section probably only reached 2+ or low 3 class, but was still fun.  We pulled off the water thoroughly drenched, but feeling fine. I put on a jacket and pants to stay warm as we headed out for the last trek of the race. This trek consisted of some road, then only a trail which lead us along the 'Dead River' to where we'd ultimately put in with out packrafts and make our way back to the original take-out. Or at least, that was the plan.
The hike was no problem. In fact, I even helped one of the pro teams by telling them I thought they were way too early in looking for a CP on the trail, to which they agreed and took off running. It was a small moment, but made me pretty proud of being able to recognize where we were at this stage of a race :-). So, we finally made it to the put-in and inflated our rafts. It was now later in the afternoon, with the sun still shining, but the water was cold. Having no experience in whitewater in my packraft, you can imagine my surprise when I got sucked into a hydraulic on the first set of rapids, and took forever to finally break free. I'll never figure out how I managed NOT to flip, but I didn't. Of course, flipping isn't relevant in the rafts, as regardless, you are basically piloting a bathtub full of water as you go. Bailing the boats is pretty pointless, as they fill right back up in about 2-3 rapids, depending how you hit them. What does that mean? Well, with only a thin pair of summer tights, and a single long-sleeved polypro shirt, I was getting cold. And by cold, I mean rapidly becoming hypothermic. At first, my discomfort was a result of being unsure about the rafting, but once I gained confidence in running the water (and as it was just starting to be fun), I discovered that my uncontrollable shivering was probably not a good thing.
We hoped we'd make it to a portage where we would get out for a CP, but had almost no way of gauging our progress, as all attention was focused on the rapids. I kept trying to push on, but the convulsions were so severe that I eventually pulled off to some sun-drenched rocks on river right hoping I'd warm up. No dice. I was a machine-gun of rattling bones with my 0% body fat. Luckily, my team was there to help, and in no time, my three lovely ladies had literally convinced me to strip naked and had me in an emergency bivy and warm sleeping sack. Problem was, we were on the wrong side of the river, and were now clock-watching and concerned about impending darkness. Luckily, while the body was weak, my mind was still sharp, and I was fully committed to getting us out of this jam. Eventually, we ferried me back to the other side, and regrouped. I properly laid down and allowed myself to dry off. Within 5 minutes, I stopped shivering, just in time to avert my teammates from sending out an emergency message. I'd already convinced them not to signal that we needed rescue, but we had been contemplating sleeping out again.
Then, I had a stroke of genius. Everyone was getting a little chilly now. We decided that everyone should put on dry clothes. We would then make a short bushwhack back to the main trail, and hike back out towards there the final CP was. From there, we'd send 2 people over in a raft to punch the final control, and just hike back to the spot where our bikes were waiting. Obviously not as fast as rafting, but imminently safer! Turns out our instincts were good, because when we arrived at that spot, we learned of several other teams that had gotten into even deeper problems than us, and had called for rescues. Ultimately, this move both saved our race, and meant we didn't have to camp out overnight, and could now focus on getting to the finish line. While I was a bit run down from the ordeal, I was still strong mentally and physically (fit for duty as they say), and lead the charge onto the final section.
The final section was just one final reminder that this is a tough race. It was a relatively straightforward mountain bike leg with only a single checkpoint to grab, but they managed to send us up one final mountain, and a nice screaming descent back down to the finish line. Apart from some exhaustion, it wasn't overly tricky, but finding the motivation to push our bikes up another really long, steep uphill with our heavy packs was a bit of a challenge. I kept saying that once we reached the top, things would be better. Thankfully, they were, and our final 10k or so were quite nice. Well, apart from the very final 2k which was VERY steep and rocky descents into the resort. We were extra cautious as it would have really sucked to get injured here! However, I'm happy to report that we crossed the finish line sometime after 2am on Sunday morning, with a great sense of accomplishment, beers in hand, and a desire to eat lots of food, then crash out!
So ends the longest post I've likely ever written, on the toughest race I've ever done (so far). In spite of the challenge, I was immediately thinking about the next one. Re-integrating into 'normal society' has been a bit tricky, and I'm now quite sick a few days later, but I've definitely proved myself capable of this kind of feat, and know I could do even better.  I know it is virtually impossible for anyone reading this to REALLY know what it is like if they haven't done it, but hopefully this gives you a flavour. I'd like to thank Deanna for her unwavering support when I undertake these adventures, and also a huge shout-out to my dad for actually showing up on course! That was really cool! I have a few weeks to rest, and then it's on to the 24 hour Wilderness Traverse race, which I'll be doing with my 'regular' team. We'll be pushing for a win here, so this will be a completely different style of race in terms of pacing, so stay tuned for that report next! Till then, get out there, and soak in the natural world around you!
To close off, I'm embedding a couple summary videos from the event as well, that can give you a sense of this race. The first is a short overview video, and the second a more comprehensive video that tracked all parts of the race.