Would somebody PLEASE turn up the heat on this year's winter? Please?? I'm starting to really get tired of taking an hour or more to thaw out from training and racing activities. In fact, I've gotten more mild frostbite and windburn this year than I ever have, this in spite of the fact that winter actually came a little late this year! But I digress, you don't want to hear me moan about our frosty temperatures, do you? Nope, you're all here to read yet another race story, aren't you? Well, in fact, you're in for a double story this time, seeing as I raced in not one, but two races on Loppet weekend. More specifically, I was actually signed up to take on both of the long events, that's a 51km classic ski race on Saturday, and a 51km skate ski race on Sunday! I've never tried that out, and never even skate skied that far in one sitting, so this could be interesting!
So just what got into my head to do both this year? Well, chalk it up to a bit of a desire to prove to myself that 40 is just a number. Yes, friends, dear ActiveSteve will be celebrating his 40th birthday later this year, and to celebrate, I've decided to audaciously tackle a slew of endurance challenges this year. I already mentioned the Rudy Award in a previous post. Well, this time, I'm talking about a little-known, completely innocuous thing called the 'Triple Ski Challenge'. The only reward? Your name goes on a simple website listing the year of the accomplishment. To get your name on it, one only needs to complete the CSM at any of the CdB levels, then follow that up a week later by finishing both the long events at the Loppet. And so I found myself covered in lycra and polyester at the start line of the 51k classic event with lots of fresh snow and freezing cold temperatures.
The beauty of the Loppet this year is that once again, for the long classic event, the race was point-to-point. We started out at the Wakefield Parking lot, making our way to Lac Phillipe, then O'Brien Beach, up towards Huron Cabin, then making our way to the finish at the Mont Bleu School in Gatineau. This is truly a beautiful course, and I'm really glad they are able to make it work logistically. Given that I'd skied 160km the weekend before, I stayed pretty low key during the week. I did get out for maintenance skis on Tuesday, Wednesday and Thursday, but just at low tempo, and testing my waxes out. For the classic, I was actually using brand new skis, so I had to ensure the wax pocket was set correctly. These skis are super light, and I was looking forward to trying them on a long ski. However, I could have done without the -20 temperatures! To compound the problems, there had been about 10cm of fresh powder dumped the night before, and the trails were not groomed! Of course, this was more of a problem for the leaders, but it affected everyone.
I was set to start in Wave C, which got underway at 9:04. Luckily, the buses that took us to the start stayed on site, allowing us to stay warm on the buses until it was time to line up. The start area was funny, as the trail basically snaked around the fields near us, so you could see all the people ahead for quite a while. It made things look very busy, but all told, the start managed to go off without a hitch and I never felt like there was much of a bottleneck. They really do have this even dialed in.
Although the going was tough, and my legs were tired, the sun was shining brightly, and it was hard not to smile when I raised my head just a bit to take it all in. It was a quintessentially beautiful winter day in Gatineau Parc. Skiing on fresh snow, blazing sun, and snow covered trees everywhere you looked. Now if only there wasn't this pressure to go FAST for 51km! For my part, knowing I had the next day's race ahead as well, I focused again on a steady pace at about zone 3 rather than pushing my max level. This did allow me to enjoy the day a lot more and make sure I didn't burn out. Aid stations were well spaced, and although I had brought some of my own food, I stuck purely to race food, which included chocolate covered raisins, and my favourite, Fruit2, washed down with warm Gatorade.
I actually felt great the whole day. Probably due to the fact that I wasn't pushing too hard. When I saw people on the trails that I knew, I was quick to have a chat with them, and pull away all smiles. I felt like I had energy on all the hills, and was never lacking grip either. What more could a fellow ask for? Well, the finish line I suppose.
I ended up crossing the line after about 4:48. Definitely not breaking any land speed records, but pleased with the way the day had unrolled. Heading inside at the school, I was happy to bump into friends and talk for a while, and also enjoy the post-race meal. There was much laughter and happiness.  Even better was learning that Deanna had snagged 2nd place in her category for the 27km classic ski. I was stoked for her as she picked up her medal. Although we could have lingered longer, we hastened a retreat home, on account of me needing to prep skis for the final challenge. I was racing the 51k, and Deanna was again challenging the 27k.
A funny thing happened later that day. As I was prepping all our skis, I was checking the weather. It was now calling for temps of -24C with windchills hitting -40C, and steady winds of about 30km/h during the entire event for the next day. This was bad news. It gets VERY difficult to race in those kinds of conditions, and in fact, I had never had the prospect of quite as bad a race. Shortly after seeing that forecast, word started filtering through that the races were being modified in light of the extreme cold. My 51km race was shortened to 42km, and Deana's was being shortened from 27k to 21k. These don't seem like big changes, but it was still a nice thing to read, given how much I was now dreading getting up early for these races.
At the end of the, all we could really do was laugh. Oh, and dress even warmer, including taping and using vaseline on our faces. Frostbite wasn't just a risk, it was a likliehood. In a race, the plan is to wear as little as you can get away with, to promote moisture management while not getting cold. However, this was going to be pretty tricky to race for. In the end, I did wear a light jacket as an outer layer, but stuck to just thermal and tights on my legs. I had also picked up nice lined boot covers for my feet, which should keep my feet warm. We were dressed and out the door shortly after 8am, anticipating our 9am start. Once there, we bumped into lots of people we knew, every one of them worried about the conditions. Some were talking about not starting, others about bailing at the 8k mark (there is a first loop of 8k that takes you back to the start). However, for most of us, it was just a matter of wanting to get things started, and see how it went.
We stayed indoors until the last possible moment, as the winds in the field at the start were quite miserable. There were only a handful of spectators actually standing outside to cheer us all on. It was really tough to keep any warmth on my body before getting underway. The gun went off, and I double poled for the first couple hundred meters, as much to warm up as to avoid tripping over other racers. The skate races are always tricky at the start with flailing limbs and skis. People always snap poles at the start, and trip over skis. I focused on staying upright and avoiding danger. But there was no avoiding the crazy headwinds we were skiing into. I couldn't wait for the first set of hills, which would take us into the trees and provide some relief from the wind.
I knew there was no way in hell I'd have a stellar race day. It truly was a race of attrition. Only the strongest would get through a day like this. Between the past weekend and the day before, I was starting at less than peak physical shape, but my mental toughness was probably at an all-time high. As such, my thoughts of abandoning at any point were only a low-level nagging voice, not a screaming lunatic. The same can not be said for many others. When I was finished and reunited with others in the cafeteria, I heard lots of stories of people, including good friends, deciding to throw in the towel at 8k. After all, with any exposed skin, you'd have basically no feeling there, and be risking frostbite, with the hardest sections yet to come.
Back onto the trails after that 8k point, I redoubled my efforts to stay smooth and ignore the pain. I also made it a conscious point to fully stop at each aid station and have at least a couple cups of warm drinks, and eat a few things. I can't imagine the calories I was burning up out there. With the 42k course we were now on, the hardest work was front loaded. Meaning the first 24km or so had a lot of climbing in the woods to get to the highest points in the parc. Normally, that would mean you could be excited about the second part, which featured lots of downhills, most of them on wide open parkways for easy descents. However, if you combine the windchill factors along with very high speed descents on skis with very little clothes, and you'll understand why even the downhills were painful on this day.
One thing I will say is kudos to the race organizers for being very cautious and taking good care of us. At every aid station, as well as at the bottom of pretty much every descent of consequence, they had first aiders stationed. These volunteers would make sure each and every skier showed them their face and confirmed how they were feeling. They pulled any skiers with obvious frostbite off the course at least for a short bit to try and warm up their faces before letting them head back out. For my part, I did a good job maintaining circulation. On all the downhills, I'd just tuck in, bringing my big mittens up and covering my exposed face. This, combined with breathing warm air on my face in those moments ensured that I could at least briefly get blood flow back into those areas and prevent any serious damage. That being said, 4 days later and I'm still showing a bit of windburn and brown spots on my face which are telltale signs of exposure. But, I'm no worse for wear!
My strategy of slow and easy also seemed to finally be paying off. I had been using what's called one-skate technique for much of the course, which kept me balanced and skiing smoothly. The upshot was that the further we went the more people I would slowly overtake on the way to the finish. However, that really wasn't my motivation anymore. I just wanted to get this damn race over with, and make my way back to warmth and my awaiting friends and wife. At a time of around 3hours and 48 minutes, I pulled under the finish line banner. I promptly went to retrieve my down jacket and head for the cafeteria. There, I bumped once again into my friends, and learned who had stuck it out, and who had pulled the plug. Unfortunately, Deanna was one of those who pulled the plug. She had serious concerns for her face, as she couldn't feel anything, and was unsure about frostbite, so rather than risking it, she joined a group of 6-8 people we know that also decided to stop at 8k. I was sad for her, but completely understood. Not everyone is as foolish as I am 🙂
After warming up a little bit, and trading stories with other warriors from the day, it was time to finally head back home. But not until I stopped at the medal table to retrieve my certificate showing I had tackled both the long races, and receiving the commemorative pin that goes along with it. No medals or podiums for me that weekend, but another great testament to perseverance. However, needless to say, I was happy it was over. After all, we had sort of given up Valentine's Day weekend, and I was also about to fly out to Edmonton on Deanna's birthday, so to say it was without some form of sacrifice would be a lie. Luckily, I have a very loving and understanding wife, who supports my desire to challenge myself the way I do, and gets that it is part of who I am. Thanks Deanna! You are the best!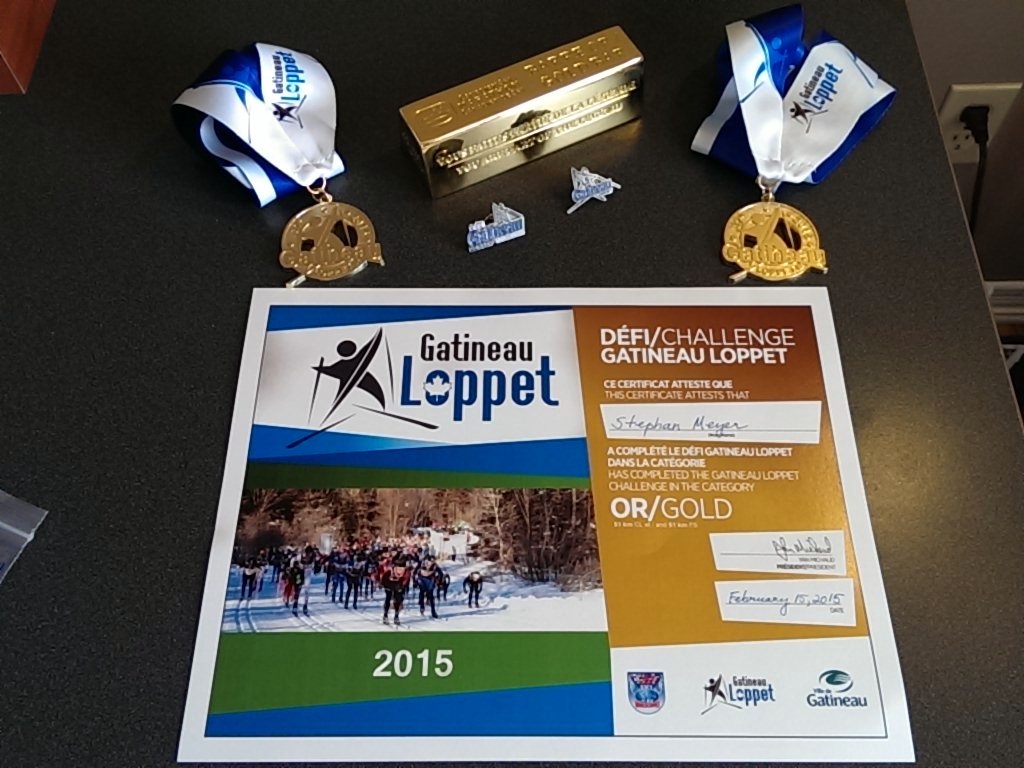 To celebrate the end of the challenge, we had gotten a great invitation to join some ski friends for a post-Loppet and CSM pot luck party. When we arrived, the house was full of race-weary ski friends, all engaged in swapping stories of this year's races, sprinkled in with tales of many other races in years past. Although I had been reluctant to go out on account of being beat, it was totally worth it. It is always invigorating to hang out with others who know what you've been through, and truly appreciate what it takes to get through it all. For that, I would definitely say we have an amazing group of friends.
As with the CSM from the weekend past, there aren't may pictures that tell the tale of the struggle, so my words will just have to do this time around. Just one last race to go this winter season before I start turning my mind to trail running, mountain biking and kayaking! Stay tuned for the final chapter in Winter 2015! Till then, as always, I hope you are all staying warm, but don't forget to still get out there and enjoy what we have around us!