Greetings friends. I'm pretty excited to be able to write a blog post about a race I recently did in Pennsylvania. Why? Well, for starters, it was a 44 hour adventure race. Also, I have never been to Pennsylvania for a race. And finally, it was because this race was not even on my radar until a few weeks before, when Deanna pointed out a post on Facebook from a friend stating they were seeking a team-mate. Had she not encouraged me to throw my name in the hat, I wouldn't have even raced a multi-day AR this year! How sad would that have been? Read on for my tale of climbing mountains on my mountain bike over and over again….
48 Hour races (44 in this case) in the AR world are one of the best challenges for a middling team. You have enough time to get into real trouble and/or make some really great decisions to help your standing. Anything can happen, and you definitely start to hit the wall of sleep deprivation and physical exhaustion. Going into a 48 Hr race, you know you will not sleep, so it is all about smart decisions and figuring out as much as you can in advance, so you are not planning when dead tired. Unfortunately, this race didn't really allow you to use that strategy, and in my opinion, this race was more like a multiple stage orienteering race than a pure adventure race.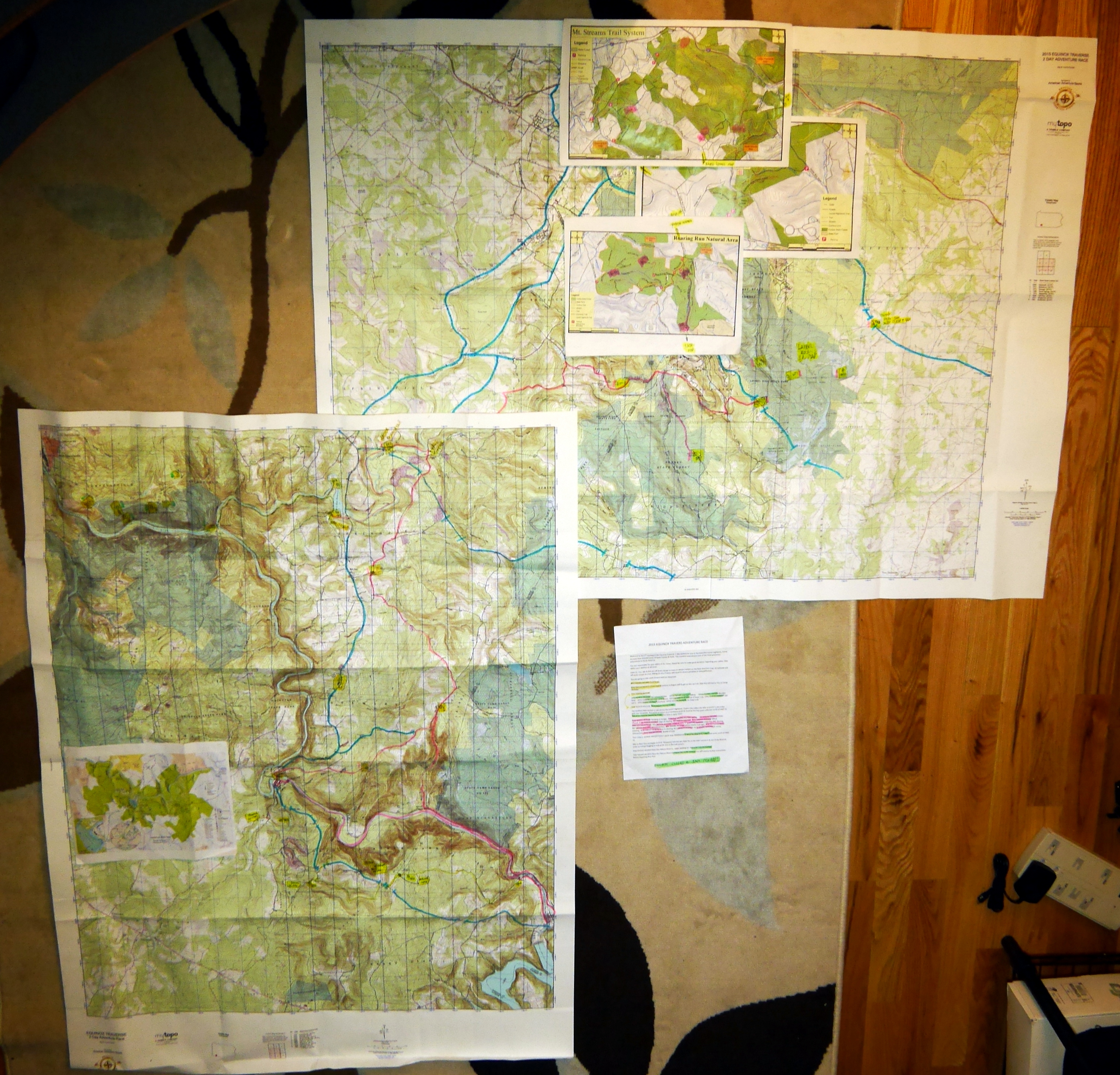 What do I mean by that? Well, here are a few things. First, the maps. They were huge, and not marked. We got them 1.5 hours before the start, along with a very brief (<1 page) instruction sheet. I started trying to furiously plot the points on it using the UTM co-ordinates before realizing they had master maps posted on a wall of a building. Unfortunately, all teams were trying to copy the maps at the same time, making it VERY challenging to transcribe, and also prepare all your gear, since it was the first chance we had of seeing the order of events. Oh right, and I should mention that I was in the navigator role so that my teammate Brad could focus on doing filming of the event, and my other teammate Jessica could focus on the fact that this was her FIRST RACE >8 hours in length!
Matters were made worse by colder-than-expected weather, forcing organizers to completely re-imagine the course a day earlier! They had to cancel rafting, swimming, and ropes sections right off the bat, forcing extra mountain biking on us. As a result, we also only got instruction for about the first 20 hours of racing. The next sections would be revealed to us later (or maybe just made up as we got there??).
So, where exactly was the race and what was it? Well, this was the Equinox Traverse Adventure Race, and took place in the Laurel Highlands of Pennsylvania (near the Maryland and West Virginia Borders). This region features many state parks and state forests, leaving lots of options for adventuring. It is also very close to the highest point in Pennsylvania, Mount Davis, at 3,200ft elevation. While we did not climb that feature, we DID go up and down MANY >2,000 ft climbs during the course of our race.
So, back to the start line. Maps now marked and roughly folded to fit into my map carrier on my bike, we straddled our mountain bikes to get ready for the rolling start as a group. We had a roughly 2k road section where we were to stay together before we were cut loose to hammer to the next transition. This section was a taster for what would become a theme of this race. On our bikes. Climbing long sections, then bombing down others. On a combination of roads, gravel roads, fire tower road, trails, and singletrack. Not to spoil the surprise, but we basically spent ~35 of our 40 hours of the race on our butts doing this!! Not everyone was as 'lucky' as us, as you'll learn.
Our first section didn't feature any real CPs to be punched, just a nice bike section to the first transition of the day, where we were switching to trekking. We started the bike leg at 9am, and got into the first transition at 11:15 am. You can click here for detailed results and times for the race. At this point, we took the time to organize food and maps before heading out. We didn't want to overlook anything, as we only had until 6pm to get as many CPs in this area as we could, and we wanted to get them all. This area featured some great trails and elevation gain giving us impressive views of the area. I wished I could pull out my camera and snap pictures, but my hands were full with maps and compass, navigating and keeping us on track. We quickly discovered that there were plenty of trails not indicated on the maps. When trekking, I can say that I personally HATE that! The easiest is to take a bearing and just bushwhack in my opinion. When you have myriad trails, you have to take educated guesses on which might help, and decide then to abandon them.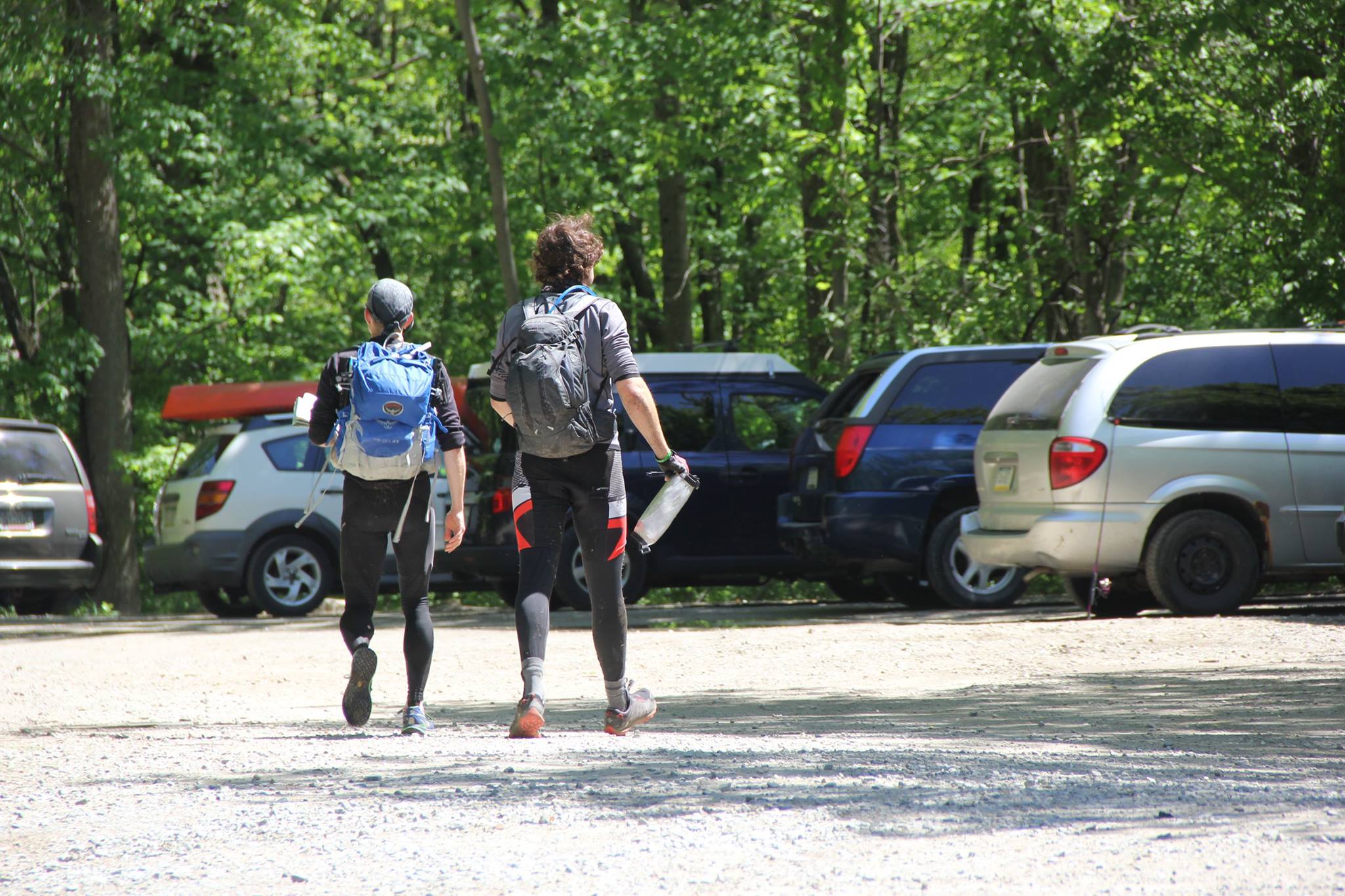 Luck was with us for the most part, and the route choices and trails made general sense. It helped that our destination was often the highest point in an area, so we could read the terrain around us for cues and clues. It took us a little longer than we'd hoped to grab our 2nd CP (the first was an easy grab on a small island not far from the TA). This CP also introduced us to the fact that this area was THICK with stinging nettles and briars. The best sum-up would come from a post I came across on Facebook after the event:
The only hints I'm giving away for the Equinox, is if your in the stinging nettles, briars so thick Peter Cottontail would have hard time crawling through, knee straining rock gardens, seeing occasional piles of bear poop and maybe hearing the sound of a baby rattle in the middle of the woods…..you might be close to a CP. Oh and ticks.
If you haven't had the pleasure of pushing your way through a sea of stinging nettles, I do NOT recommend it. The going was very slow, and it definitely tested our mental fortitude. Looking at the time we'd spent already in this section, we got concerned about getting the remaining checkpoints in time, but pressed on, deciding to run to the furthest CP in the section, and making our way back. Once again, we had a slight challenge getting this one due in part to mis-reading the cue sheet descriptions. In reality, our navigation was in fact bang on, it was just finding the actual CP flags that seemed to challenge us, as they are often in an area of 100 square meters or so, and it can take time to locate them. Once again, although we were a little annoyed at the time delay, we again re-grouped and pressed on, with me adjusting our route plan on the fly in hopes of getting lucky on the next few CPs.
Luck was with us from that point for the remainder of the trek. We picked up some very useful trails, and had gotten more used to 'guessing' where the CPs might actually be. We also had the chance to do some classic straight-line bushwhacking, which netted us some solid progress and ending up finding the rest of the CPs on the mountain (while enjoying a few glimpses of the spectacular views). Time was tight, but we were confident we could run back to the TA in time. Luckily, backtracking was made simpler as the route I had chosen took us back to a point where we'd be able to basically just double back on the 'right' trails more easily. However, it was still a real push to wrap things up quick, as you'll see by our time in at the TA. 5:56pm. Yup. 4 minutes to spare! While many teams had already left, we learned that several teams had not 'cleared' the section, so we took this as a small victory (and personally, I'd say in retrospect, that was our greatest accomplishment in the race).
The team was cooked from the recent effort, so time was spent re-grouping, filling water, etc, before taking off. This was perfect for me, as I had not even started planning out our next route choices on the bike, which involved plotting 3-4 supplementary maps, and preparing for a long night of cycling, much of it in remote park locations. As I sorted the routes out, it seemed very likely to me that we'd face our first true decision point on which CPs to skip, since our next deadline was 4am, and there was a LOT of ground to cover. Sadly, we mis-interpreted another little instruction on the sparse directions, which noted we had to check in at TA3 by 4am, and would not have access to any CPs north of a certain highway. Uncertain of which road that meant, we took that to mean we were not allowed to grab any more of the CPs in this whole quadrant by 4am. As we learned later (and others also made this mistake), that was not true.
So fast forward on the bikes now. I had plotted as conservative a route as I could (i.e. avoiding as many of the crazy long climbs as possible), while having a clear plan to get as many CPs as possible, while giving us 'outs' and shortcuts as needed in some of the parks. I was quite pleased with the plan I had devised as it should have maximized our ability to grab CPs. The plan involved working on clearing the 'south' area of this leg first, then working our way north before veering east to the TA. In effect, it meant we were grabbing CPs that we'd eventually (although at that time unknown to us due to not having the information yet) see again, and COULD have picked up AFTER 4am! Looking back at the maps, it isn't clear that we would have done things differently, as the alternative was a LOT of trails and tougher biking, and we were already not that fast at this point.
I will state that although this section was now in the depths of the night, it was actually quite fun to navigate and ride. There was a good mix of route types, and enough trails and challenges that you had to be sharp, but not 'perfect'. Given more time and speed, clearing it wouldn't have been that difficult from a navigation perspective. However, hindsight is 20/20, and in the end, we left a LOT of CPs out on the course once we made our move to head to TA3. Some of the CPs were so far removed, and required really long slogs up or down trails that were un-rideable that losing an hour on 1 CP was quite easy. Again, we made our priority getting to the TA before that 4am cutoff a priority, as we were warned there would be 'severe' penalties for missing them.
Let me digress here to point out a complaint we felt is warranted here. The notion of a 'severe' penalty was completely unexplained to racers. There was not a single 'rule' about the race, nor how it would be scored or how we'd be ranked depending on these cutoffs, etc. This left us uncertain what the best choices to make would be. Rush to make cutoffs? Grab an extra CP or 2 to get more points? Would there be a short course option? Would we be disqualified for missing cutoffs? It was frustrating to have more questions than answers, especially when we were out there trying to make a decision on what to do in a pinch. So, we made the best decisions we could, and hoped for the best.
Digression over, I'm happy to say we yet again got to the cutoff with 8 minutes to spare. You'll note on the timesheet we cut it closer than anyone else EVERY time :-). This particular cutoff was at a 24 / 7 gas station. At this point, it was FREEZING outside (like 4-5 degrees!), so we loved the heat indoors. We also loved the gas station Pizza, Burgers, and other food that we bought to fuel up. Once again, we took our grand time here. In part to fuel up, and also so that I could plot the next section, which was only revealed to us now. It involved quite a bit of back tracking, and then entering an area called 'Bear Run' and following what they said were orange ribbons to the next TA. We were given no information on what awaited us there, only that we had to make it there by 10:30am.
Seemed easy enough. 6.5 hours to bike to the next CP? Not so fast tiger. First, by the time we left, it was already 5am. Then, Jess flatted out as soon as we got underway, which I fixed as fast as I could on the roadside, but this still cost us time. THEN we made the decision to pick up 2 CPs from the previous section, now that we knew we were allowed to. We were happy to grab them, but didn't realize the fresh hell awaiting us on the way to Bear Run. For starters, the climbing was really starting to wear on poor Jess. She was hurting and struggling, so we took some weight from her, and did what we could , but admittedly, progress on the roads was slow. The focus was on eating, drinking, and bouncing back, which she did by the time we got to the 'entry' of Bear Run, which was a flagged roadside trail entry. The directions just said to follow the flagging tape to the CP. We assumed that it would take a while with the mountains, but at least it should be straightforward, right?
WRONG! The flagging was pretty consistent for the first couple kilometers INTO this park, then, all of a sudden, it STOPPED! Ok, now what? We were well into the park, but with no map indicating ANY of the trails we were on (even though they were named). Once again, all we knew is that certain roads were completely out of bounds. Logically, we new that we might hit one such road, and wanted to avoid it, in case if would lead to disqualification. That meant a bunch of climbing up, looking for flagging, then changing our minds, doubling all the way back and dropping all the way down off the mountain, still not finding tape. We heard the road, worried about the DQ risk, and eventually decided to head back all the way UP, agreeing that either we'd missed flagging, or it didn't exist, and that we should have just kept going up and around. This was definitely a low point on team morale, but the worst was yet to come.
Once we got ALL THE WAY BACK UP and a whole lot further, we finally saw another team, commenting "oh look, another team trying to follow the flagging". They were trekking, so at least we knew what was next. They were kind enough to: a) share their own absolute frustration at this part of the race and b) share an additional map they had gotten AFTER the bike showing the trails and their names in this region. This indicated that we had to go ALL THE FRIGGING WAY BACK DOWN, and that we had been dangerously close to the TA and not known it (like 10-15 minutes away). We had lost many hours by now. Ultimately, although the cut-off had been noted as 10:30am, we only showed up at 1:21pm, but were told the cut-off was not being enforced here. Small miracles!
At this point, we got the lowdown on the next section, which was an orienteering leg in the Bear Run State Park. It looked quite easy (with the now-supplied map), but time consuming. Teams seeking to clear the whole course were taking about 4 hours to do so. Our main issue was that in order to make it to the NEXT transition, we still had a lot of biking to do, and were looking at a 6pm cutoff. We had the idea to grab at least 1 checkpoint near the TA, but after overhearing several other teams discussing the time it would take to bike to the next TA, we got spooked, and decided to pack back up and get right back on our bikes. All told, we spent 40 minutes in the TA. This was spent eating, addressing sore parts, and mapping out the next part of the race. This was the FIRST (and ONLY) chance we had access to our miniscule 40L team gear bin. It basically only had room for a little food, and spare clothes should we need it. In this TA, I was in a bit of a funk after the last major delay, and not excited about riding the saddle for many more hours. However, such is the way things go sometimes. We'd now been on our bikes from 6pm Saturday to 1pm Sunday, a total of 19 hours, and about to keep pedaling.
Once again, the route we were going to follow was a bit of back-tracking in the State Park, then we had to make a choice on how to get to the transition area. We decided to take a bit of a gamble by heading down an extremely steep ATV trail from the top of the mountain we were on down to the river, then follow this ATV trail along the river into a village before linking with the road many other teams were likely taking. What a ride! We had to stop numerous times to let our forearms have a break as well as make sure the brakes weren't overheating or wearing out. It was STEEP! What a rush. At the bottom, we discovered our ATV track was not as 'smooth' as we'd hoped, so any time gain we might have had by taking the shorter route was likely offset by the slog we faced. I now hit my absolute lowest in the race. We often use a scale of 1-5 to share with the team how we feel. I reported a 0.75. However, that merely frustrated me, so I ate more, blocked out everything else (not even talking…), and just plowed on hard, taking no rest or giving me any time to get frustrated. I was determined to not make this be a factor in our race. After a little while I bounced back (as we always do), just in time for a stand-off we were NOT expecting!
Just before we hit a real road in the village we had targeted (and dangerously close to the cutoff) we realized we were about to cross a sign that said "Private Property". A mere 500 feet from the road we wanted. And of course, the owner was on his porch, and none too pleased. We had a genuine standoff here, uncertain whether we were going to be fired upon, have police called or what. In our exhausted state, we did all we could to assure the gentleman we meant to disrespect, and were merely 'lost' and didn't realize the property was private. In all fairness, this was true. From the map, this trail clearly went across state park land (free access) and was not clear that the final 500 feet might be private. We lost precious minutes before finally somehow convincing / promising him we'd leave quickly, quietly and would NEVER return. Apparently they are very zealous of property rights in this area. Duly noted. Reinvigorated by the adrenaline and fear, we roared off on our bikes, now more than ever determined to make the 6pm cutoff. A few quick route decisions, and we were pulling into the TA, seeing a sea of bikes, but no other teams. On the plus side, it was 5:59pm!!! We'd made it. Brad was ecstatic.
Just as quickly as he was ecstatic,  he was crushed. As we were hugging the fact that we'd 'made it', the race crew clarified that we had to be on the water at 6pm, not arrive at the TA. So we had missed the paddle section! This also meant we would miss the next trekking section, since it involved trekking from the kayak pull-out BACK to this point before grabbing bikes and cycling to the finish. However, the "good news" was that we could just take our bikes and do the trekking section using our bikes before making our way to the finish. We had now been awake for about 35 hours, and on our bikes for the last 24 hours straight. We didn't immediately see the fact that we'd get to keep biking as 'good news'.
For my part, I let Brad and Jess sort through their feelings about this while focusing on plotting the next section on the maps anyway. There was little point to getting angry now. On the plus side, there was no way we wouldn't be finishing the race at least, and getting out as soon as we could would be helpful, as we still had some daylight to use to find the final 4 checkpoints. I soon realized that we had a VERY long climb ahead of us, and didn't want to share the extent of this with the team just yet, instead just encouraging everyone to get ready and head back out. Which we did, but not before witnessing the eventual winner of the race running into the TA having finished both the paddle AND the trek, and back to grab his bike to head to the finish! He had a mere 7-9 miles left on rail trail to finish the race, whereas we were now facing many more hours on trails and access roads on our bikes before getting there. If nothing, it was inspirational to see a solo racer that far ahead and winning!
Off we went! We made our way to the bottom of what was called 'fire tower road', a climb of probably over 2,000ft total lay ahead. Luckily, a nice old timer at his house invited us to use his outdoor hose to fill up our bladders with fresh filtered creek water. This kind of made up for the last cantankerous fellow. We were warned by him (and several other people we saw on our way) that this road was NOT friendly, and very steep. Lol. If only they knew what we'd been up to for the past 32+ hours. We slowly made our way up and up and up. When we reached the top and grabbed the 1st of the final 4 CPs, we started running across teams on foot completing this trekking section, including friends. They were a bit confused seeing us on bikes. We explained our situation, wished everyone well, and kept going. Night was now upon us again, but luckily, I felt confident about the route choices, and just settled in for many more hours of riding at a slow pace to keep us all together (Jessica didn't have a proper light for night 2, and was a bit bagged).
For the sake of brevity, I'll just say the last 3 checkpoints, while not incredibly hard to find, did take us quite a little while to get. The final CP involved a long ride on a fun single-track trail (usually limited to hikers, but we got to ride it), then a long road climb to a park summit. Once we finally located the CP hidden in the woods, we knew it was just a matter of downhill riding to the finish line. We had a mini-celebration up there, knowing we had succeeded.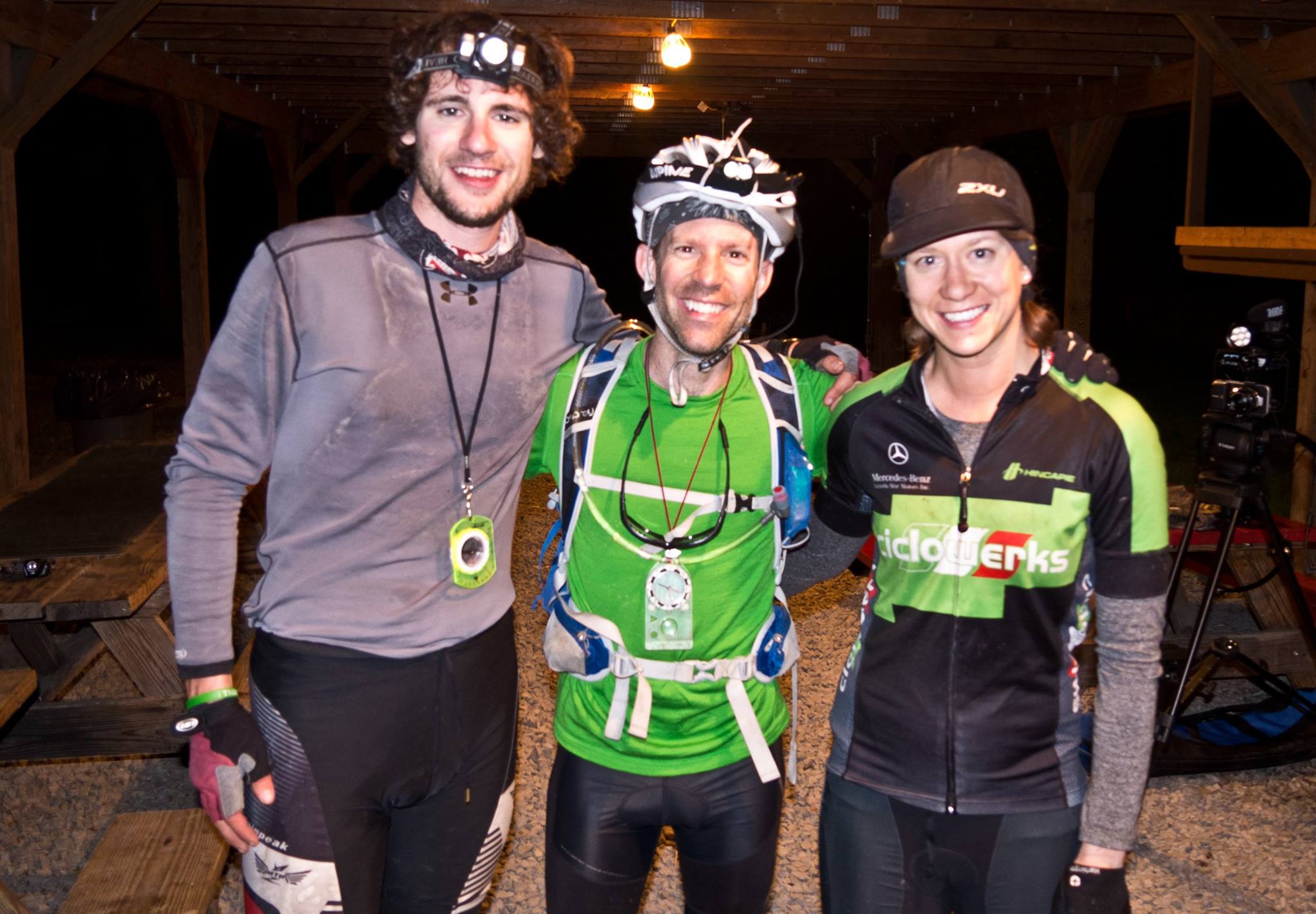 We rolled across the finish line at 1:08am. Technically, this put our finish time somewhere in the middle of the pack, albeit having finished an 'alternative' course. Our category standing put us in 6th of 9 teams, and overall  8th of 16 teams, based on our points. However, more importantly, we finished the race strong, as a team, and with smiles on our face (proof above). We had raced hard for 40 hours, been awake for 45 hours straight, covered about 260 km (most of this on mountain bikes), and used our bodies to climb 25,000 feet or more of elevation! Not too shabby. I was happy to race with both Brad and Jessica, and proud to call us a 'Team'. We had a great attitude, helped each other out when needed, and managed to show Jessica just how far you can push yourself. I'm pretty sure she'll be back for more!
The Video
Now, as a reward for sticking with me through this really long post, I have a treat. As mentioned, Brad was filming for this race, and as a result, we have a full video of our experience. Click below to watch it. Put it on full-screen HD and see what 40 hours of racing looks like from the inside!