Howdy all! The title pretty much gives it away, but in case there was any doubt, this post will go over my recent race experience in the Muskoka region as I tackled the inaugural Ironman Muskoka. As some of you may be aware, this wasn't my first time racing in an "iron-distance" triathlon, but it was my first taking part in the big corporate machinery known as World Triathlon Corporation, the group that puts on all the Ironman races globally. Ironically, in the week before the race, the entire corporation was actually bought out by a Chinese company. So I guess in a way, my Ironman standing was now 'made in China!'. At any rate, this would be my 3rd full iron distance triathlon (almost 4, but the last one featured a half marathon instead of full marathon for the run.
For the uninitiated, an Ironman is a swim, bike, run race, in that order. The distances are not inconsequential either. The swim is typically 3.8km in length, the bike is 180km, and the run is a full marathon, 42.2km. The events are done in order, in a non-stop fashion, on a marked course. There is an absolute time limit of 17 hours to get it done, and some intermediate cutoffs (that really just take people off the course if it is clear they'd miss the cutoffs. Between each event you head to a transition zone to change your gear. In addition, many say that nutrition is the 4th leg of the event. Staying hydrated and properly fueled throughout the day is a big challenge to many. They say over 50% of competitors will experience some form of distress arising from challenges in either nutrition or hydration.
If you're wondering about my preparations for this kind of race, there really was no specific preparation. On account of all the other types of races I was doing this summer, my only real preparation has been getting out there and doing general training and racing. If you surveyed the 1300 athletes that took part in this Ironman, I'm pretty sure you'd learn I was the only one who did a 6-day trail running race in the mountains 2 weeks before this race. Most folks would have chosen to 'taper' leading up to the race, so that gives you an idea about my prep ;-). My principle goal was to get 'er done, and have fun doing it. As a friend reminded me, this was an opportunity for me to do something I love all day long. I should be ecstatic, right? Truth is, I was excited, and nervous. I was looking forward to tackling a race of this magnitude and seeing what the fuss is all about. So I went in with a good attitude.
Now, what can I say about the venue before I get in to the race specifics? Well, for one, the host site was Deerhurst resort. This is a place that holds a special place in my heart. Not only have I raced in a number of events there, it is also the site of where Deanna and I got together initially, AND where I finally proposed to her! Unfortunately, she was unable to make it with me to this event, but I still got to head down to the water where we got engaged, and felt her presence with me throughout the entire event as a result. It's a gorgeous setting for a race, and they had things very well laid out for the race looming in the next couple days.
Pictures from the Race:
Race registration and kit pickup went off without a hitch. I was among the last athlete to actually check in for the event. Many people arrive days in advance, so they checked in the day before. There was a 5pm absolute cut-off, and I only made it on-site around 4pm, thanks to road works on highway 60. After registration, I made my way downtown to watch the IronKids children's races, and take take part in the full athlete briefing. There was even a beer gardens and food vendors on site downtown. Again, the town definitely rolled out the red carpet for us. Race briefing was entertaining, as they actually acted out the entire race day, including transitions and clothes changes. After that, 4 different bands took to the stage to entertain folks well into the night. However, most athletes sadly didn't stick around much past the briefing!
The Saturday prior to the race was a low-key day. I managed to get out for a 1.5 hour bike and a 45 minute run to make sure everything was working as expected. I had put on brand new tires the night before I left Ottawa, and really wanted to test them. After that, it was just time to relax, and check in all my gear at the race HQ (run and bike stuff, as well as leaving the bike overnight). That evening, I had a lovely meal with my awesome hosts, and crashed as early as I could for the 4am wake-up.
Pre-Race Video:
Morning came far too early. It was dark and chilly out. I rubbed the sleep from my eyes, had my bagel and bowl of granola, and pured myself into the car to head to the start. The transition zone was hopping with activity. I got my body marked, added my nutrition and drinks to my bike, and headed for the water. The swim was a rolling start as opposed to age groups. That means is works like a running race. You line up next to a sign that reflects the time you think you'll take to finish the swim, and get in the water with people at your speed. In theory, it means less jostling in the water, and avoids getting kicked and bumped. For the most part, it worked well. I got in the water with the 1:15-1:20 bunch, and set out at a nice steady pace. I had no major expectations based on my challenges breathing on account of my lingering cold. However, when I finally pulled myself out of the primordial soup at the 19th hole to find my land legs, I noted that my actual swim time had been 1:10! Not bad at all.
I let the magical wet suit peelers do their job stripping me of my rubber cocoon, then trotted off up the hill to the transition zone within the Deerhurst Resort ballroom. I wasted no time in stripping naked to apply chamois cream before putting on my cycling shorts and jersey. Volunteers were on hand to help us with our gear bags and clean up after us. It was a great help to racers. I did some quick filming, then jogged to the start of the bike, pausing to allow sunscreen appliers do their thing (even if it was overcast).
I was simultaneously looking forward to and dreading the 180km course. I knew it was quite hilly and challenging, but I'm pretty good on hills, so hoped I'd eke out a 6 hour ride in spite of the challenges. Unfortunately, I was untested this year at racing 180km on my bike. I'd done Rideau Lakes, which is 180km each day for 2 days, but that is not at race pace, and not part of a 3-phase event like this. My focus had to be on nutrition, hydration, and energy conservation. Running is traditionally my strong suit, so I wanted to make sure I had gas in the tank to pull off a good run later.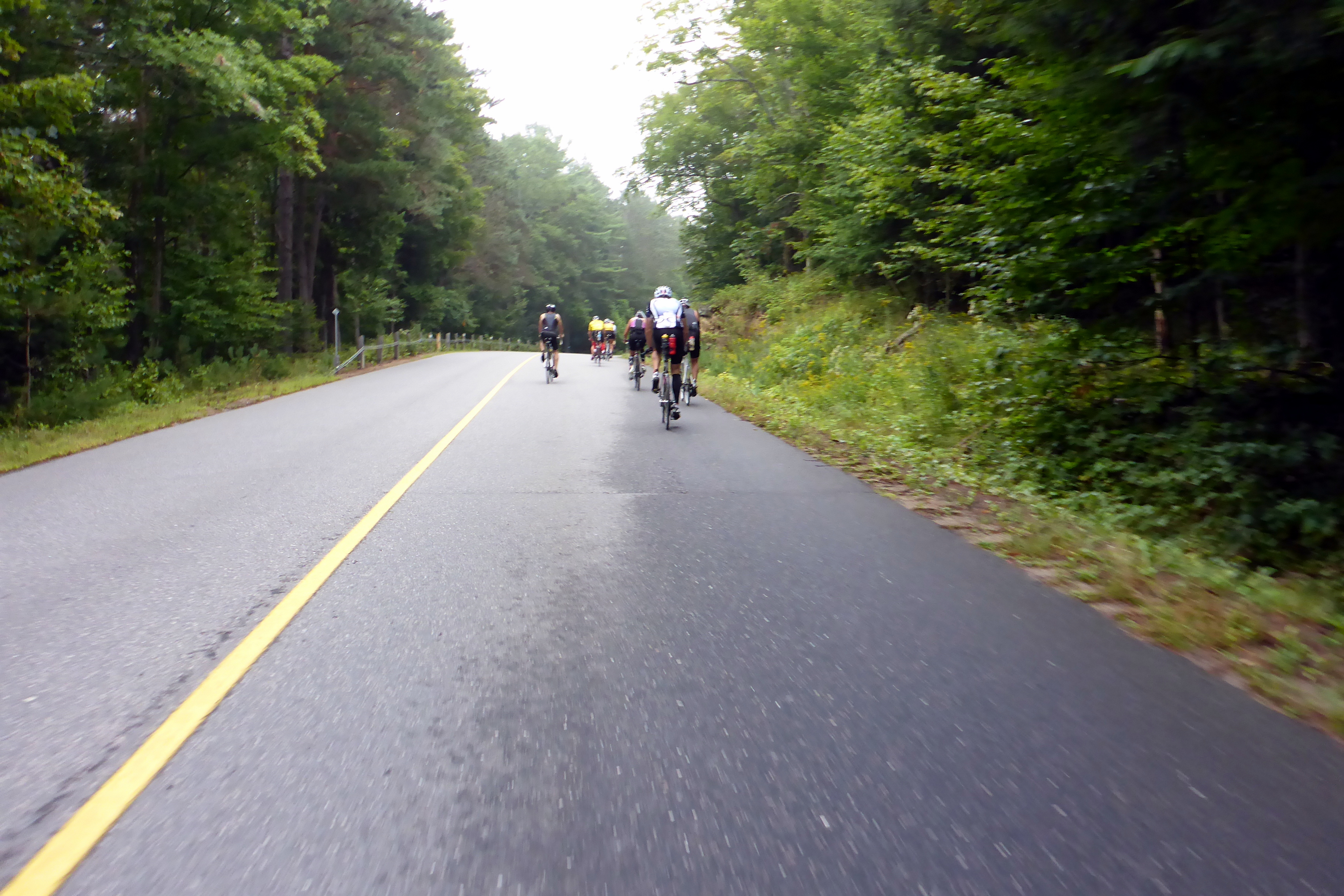 I felt very smooth and relaxed on the bike. For the most part, I held my position, and in fact seemed to pass a good number of folks on the first loop. I was passed by some as well, in particular the speedy cyclists that are not strong swimmers. My nutrition was quite simple. I avoided all aid station food and stuck to my Fruit2 and Fruit3 bars. I wanted to avoid GI issues all day if I could (and trips to the potties). I'd had a Boost before the start of the bike as well, to kick start my nutrition. I also had a bottle of Hammer Nutrition Perpertuem on the bike. I had mixed a 3-hour bottle, and had another 3-hour bottle ready to be mixed at the special needs area at the 90-100km mark.
Everything seemed to be dialed in and working well for me. Even the 2nd loop didn't seem too bad. I knew where the hills and turns were from the first loop, and where I could push a bit vs. save a little energy. I dare say I was having FUN the whole way, with a smile painted on my face much of the way. I stopped twice for a roadside pee break, both times at about the same place on the loop. The scenery was great, and the slightly overcast skies for most of the bike helped. It only started getting sunny at around my 135km mark. We were now into the afternoon, and I realized this would mean a hotter run, so I tried to ensure I kept well hydrated.
I was soon on my last 10km chunk of the course and heading back to Deerhurst. This section has the steepest hill, and while I definitely felt it in my legs, I still felt pretty good overall. Having not really paid too much attention to my time, I was very happy to see my time was just over 6 hours when I finally pulled back into transition. I believe it was 6:04 on the official clock. I should be able to comfortably break 12 hours unless things went really poorly on the run. My original goal had been 12:30, with an internal goal of sub-12. In other words, I was having a good day and getting what I deserved so far.
Back into the big hall I went, once again stripping off my lower layer to swap the bike shorts for running shorts. I opted to keep my cycling jersey on, since it fit nicely, and was good at thermal regulation. It also benefited from having pockets to store food and my camera. I decided to stick with my 100% self-fueled race, using only what I brought instead of grabbing food at the aid stations. The reason for this was that I KNEW it wouldn't bother my stomach. Of course, it meant that when I ran back out to the course, I felt laden like a pack mule! I'd brought way too much food for a 4-5 hour effort. I ended up jettisoning some Mojo bars by the 1st Aid station on the run. The bouncing was just driving me nuts. My only course food was on the hydration front. I had to switch to Gatorade from my usual Nuun, since I had no bottles. I alternated aid stations with water and Gatorade (or both). As I'd soon find out, this might have been a bad idea.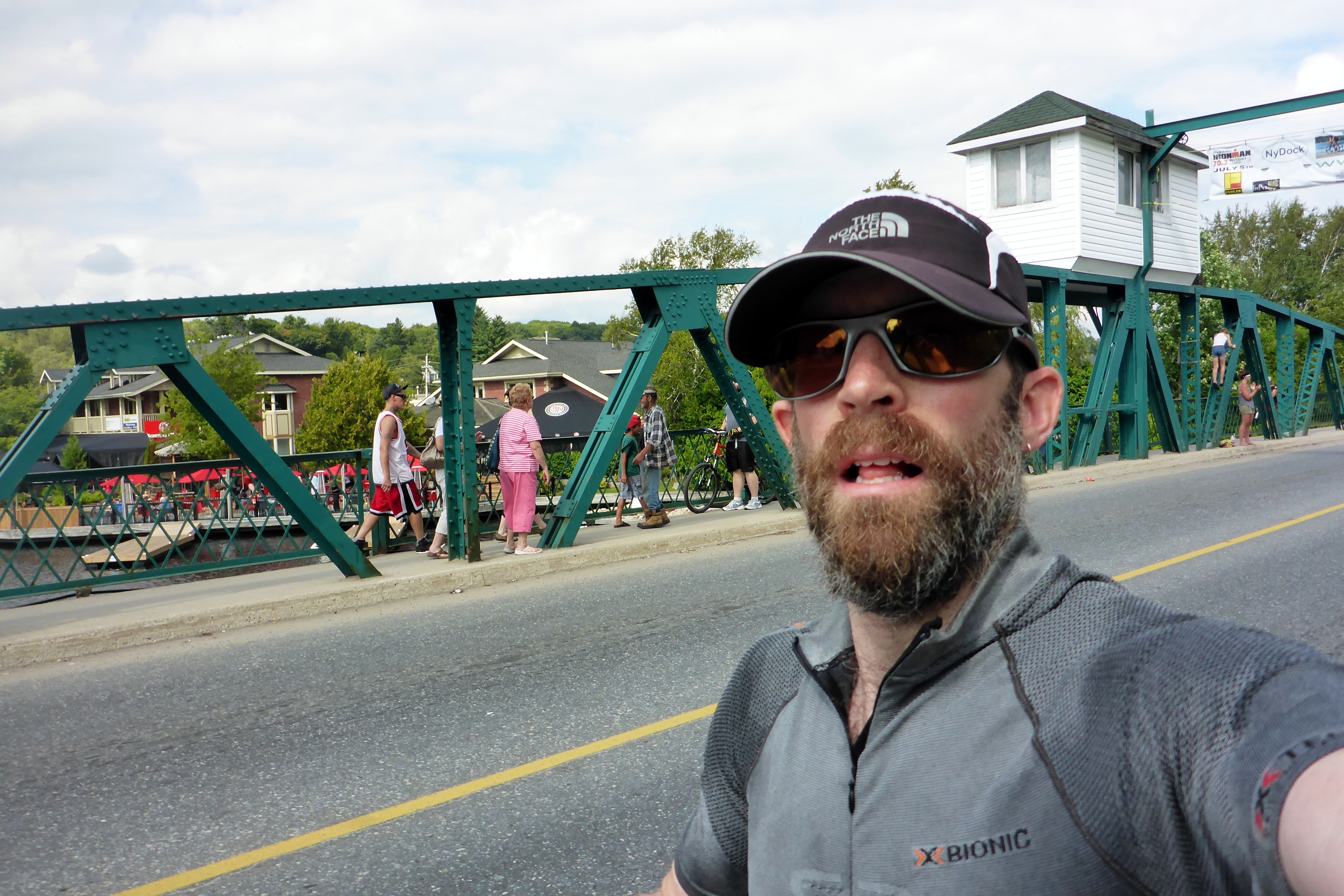 For the most part, loop 1 of the run (21.1km) was not too bad. I wasn't exactly breaking any PBs, but had to remind myself that I'd already swam almost 4k and biked a HARD 180k course. So the pace was obviously lower. Energy-wise though, I was good. Looping around for Lap 2, I had already watched the winners come in, and was blown away by their performances. There are some amazing athletes out there! Running back into Huntsville in the now full heat of the day, I could start feeling the tightness in my legs. I focused on a very even stride, making sure I minimized any extra movements, lest I risk cramping. I also popped a few salt pills, and even Ibuprofen, since my plantar fasciitis was flaring up badly. I knew I'd get through the rest, but knew it'd be a mental struggle combined with actual physical pain.
My plan worked well, and with short, even strides, I was on the final road (and 3km) from the finish. Then at 2k out, disaster struck! Both my quads completely spasmed and seized up. I was stopped dead in my tracks, and it was all I could do to not fall. I screamed out in agony alerting all those around me of my pain. I got some sympathetic looks and words from other racers. One fellow even stopped to fish out more salt pills for me to take. Unfortunately, I knew it was too late to really help. I stood there massaging my legs for precious minutes, trying to coax them back to life. I briefly envisioned myself needing to CRAWL 2k to the finish. It wouldn't have been pretty, but I WOULD have done it.
Luckily, I got the legs under control enough that I could start a cautious walk, being very careful not to trigger more cramping. At the aid station a few hundred meters away, I had a cup of chips to get more salt in me, and decided I had to just keep going. When finally back on Deerhursrt drive, I managed a very half-hearted jog-shuffle into the dying sun. Daring to look at my watch, I realized that I was still well on track for sub-12, so I didn't worry any further about my state. Instead, I took the time for me. I took in my surroundings, marveled at the beauty of the setting sun over the tree tops and the manicured greens of the golf course, and realized just how lucky I am to be able to do the things I love to do, and with the support of the woman I love. Everyone goes through these experiences in a race like Ironman, and crossing the finish line without having had that kind of struggle or adversity truly would be a shame.
Speaking of finish lines, it was soon my time to hear my name being called. "Stephan Meyer from Chelsea, YOU ARE AN IRONMAN!". Yes, they call out every single athlete that crosses the line to recognize their accomplishments. After crossing the line, I let myself loosen up a bit and not worry about legs cramping again. Instead, I focused on getting some food in me, and collected my hat, t-shirt, and medal :-). After chatting with other racers and volunteers at the post-race food area in Deerhurst, I dragged myself back out to the finish area to watch more athletes cross for the next few hours. Wth over 1,300 athletes, there were still plenty of folks out there battling their own demons and physical limits just to hear their name be called! It was humbling and inspirational watching all the people streaming in.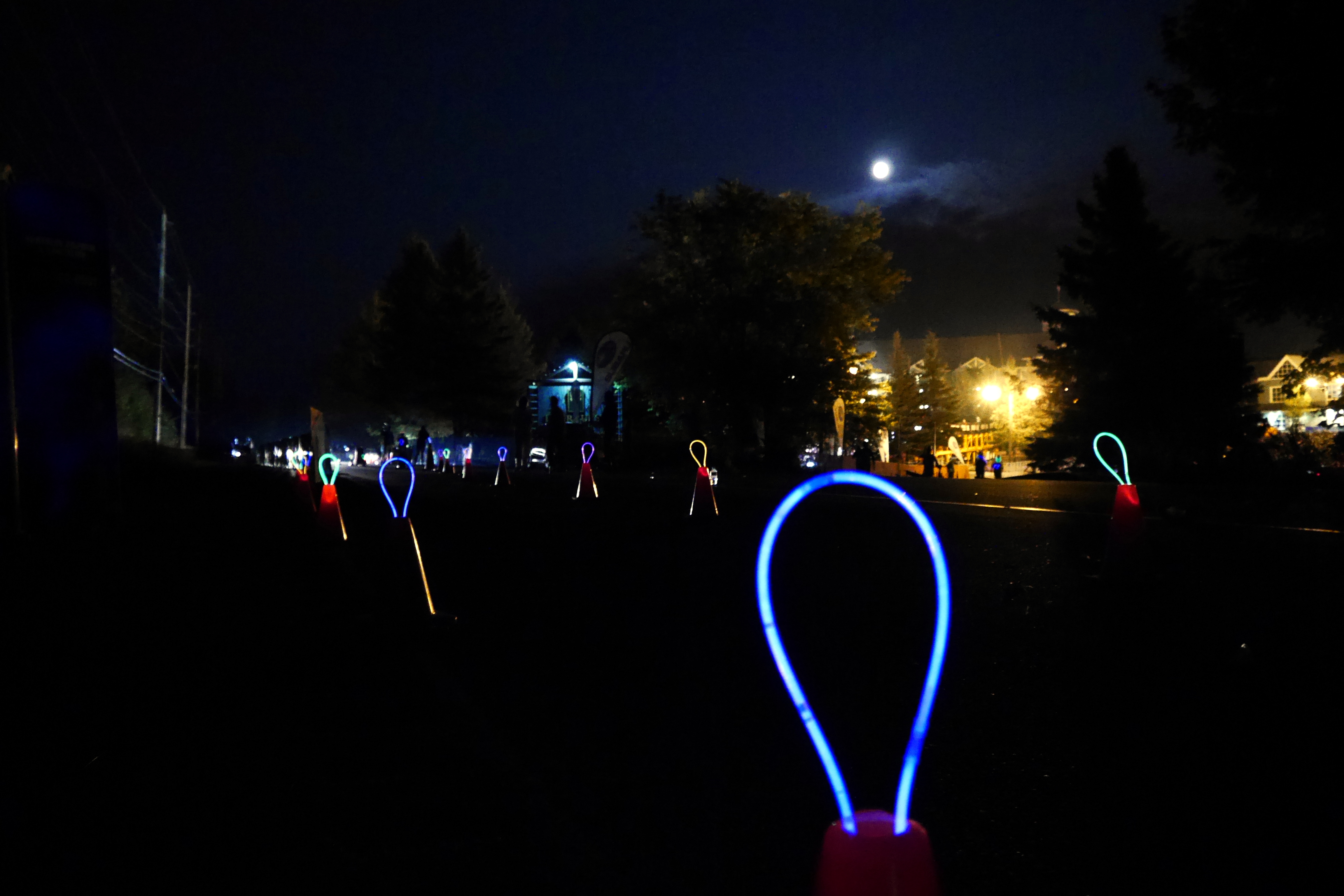 The party lasted WELL into the night, as the final cut-off was midnight, 17 hours after the start. For my part, I'd capped off my race at about 11 hours and 45 minutes. Not my fastest time ever, but a time I was very pleased with. Of course, my mind was already turning towards my next challenge, which lay only 3 short weeks away, when I'd be taking part in Ultra Trail Harricana and trail running a continuous 125km in the mountains of the Charlevoix Region. How the heck will I pull that off? Well, I'm sure I'll be carrying LOTS of salt pills this time to hopefully avoid cramping. In addition to that race, I had a trip to Las Vegas for a full week in the middle, which is where I'm writing this up from!
The next morning, there was an awards ceremony to recognize all the overall and age category winners, as well as to hand out the coveted slots to the Ironman World Championships in Kona in 2016. We had a bit of breakfast along with that. After the awards wrapped up around 11am, it was time for everyone to make their way back to their respective homes and training grounds, to reflect on their experiences. Personally, I was just looking forward to stuffing my face with lots of junk food for the next week! So there you have it, my tale of Ironman Muskoka. As you may have guessed, I lugged many cameras along with me, and as a result, I have a video to show for is (actually, 2!). The first was embedded up top, and below is the final, race day video. Enjoy both, and here's hoping everyone is still getting outside and making the most of the tale end of our good weather!
Race Day Video: