Hot off the heels of securing my permanent bib at the Canadian Ski Marathon, I found myself once again boarding a bus, skis in hand, ready to tackle another great adventure. Less than 6 days after finishing the 167km journey of CSM, I was set to race two days back-to-back at the 40th Annual Gatineau Loppet! Day 1 would be the 51km linear Classic race, followed by repeating the exact same 51km course the next day, but this time on skate skis. Beyond the challenge of just mentally preparing for such a feat less than a week after CSM, this time, I had to put myself in 'race' mode. As CSM was not a race, but an event, the mental game at the Gatineau Loppet was different. The reward however, is that by completing both weekends, I would once again be successful in getting my name on the wall of the 'Triple Ski Challenge', a relatively small group of folks who tackle the full marathon, plus the two back-to-back long loppet challenges.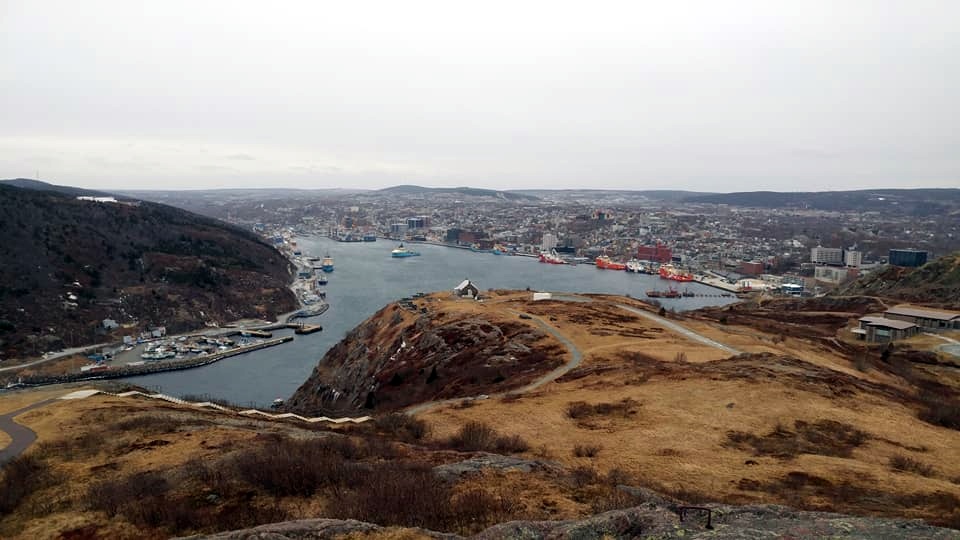 So, just how does one prepare for such a challenge, with only a week of 'recovery' available to them? Well, in my case, it consisted of flying out to St. John's Newfoundland for work for much of the week. Yup, that's right, no good strategy, other than trying new beers, exploring a city I hadn't seen in a long time, and putting in a couple long days of work and subjecting myself to countless millions of germs floating around the airplane cabins. In spite of this (or perhaps because of it?), I actually felt pretty ready for the events on my return. I'd had to mostly prepare my equipment before leaving for the week, so when I returned, I didn't have much to do other than final coats of wax on the skis and choosing my clothing layers.
This year marked the 40th anniversary of the loppet, and to commemorate this, both long distance events would be run on a linear, point-to-point course. This meant on day 2 we'd actually be skiing in areas of the park that are usually never groomed for skate skiing. Much like the CSM, we ended up getting lucky with the snow for the event. One of the main trails, the 36, is a key connector on the route, and for much of the season, it had not been open to skiers due to conditions. Thankfully, in the last 2 weeks leading up to the event, there was enough snow to enable grooming it to suitably safe conditions for a large number of skiers (between the two events there was nearly 800 skiers). As to the weather, the entire weekend looked pretty solid, with day 1 being the colder of the two with temps ranging from around -10 to highs of 2, and day 2 starting already warmer at -5 and potentially hitting 5 degrees. The plan was simple: ski fast and try to finish before things got too warm!
To fuel up, Deanna and I gorged on a giant frozen lasagna with garlic bread on both Friday night and Saturday night. I'd managed to get pretty consistent sleep most of the week, so I was pretty much as good as could be hoped when I hit the start area on Saturday morning. I had been placed in Wave 'B', starting a mere 2 minutes after the elite wave. While I obviously had no plans of finishing at the head of the crowd, I was curious to see how things would go this year. I'd done the 51k classic last year after CSM as well, and remembered having a really hard time getting the engine going and finding decent grip.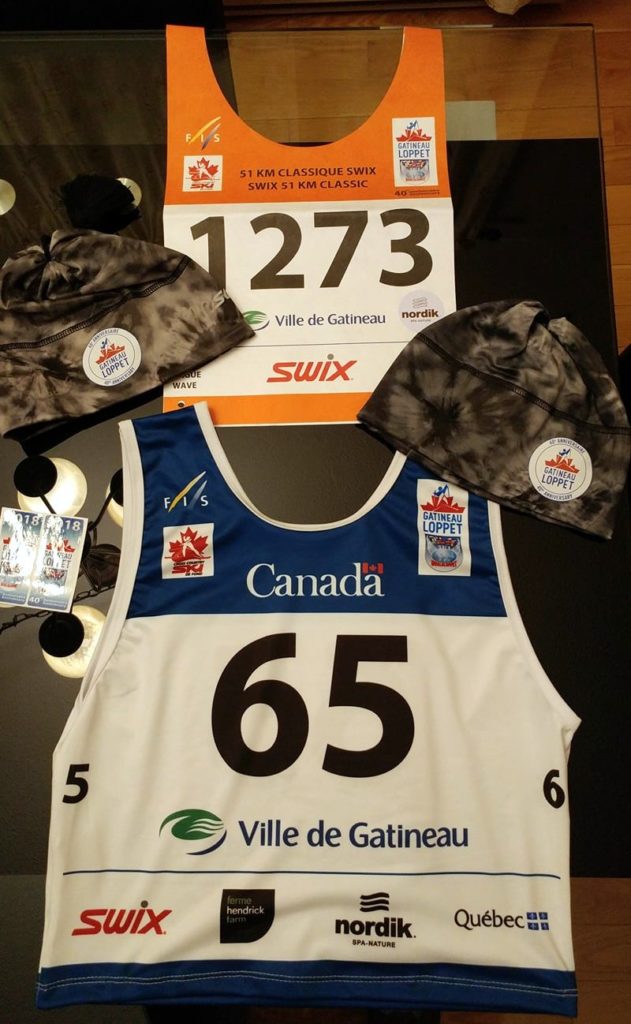 I arrived with lots of time before the start, allowing me time to test my grip in the practice zone. While I'd relied on skin skis at the CSM the week before, I was using proper wax racing skis this time, so of course I was a bit nervous as to whether I'd set them up properly. Happily, in my practice loops, I had what seemed to be just the right amount of grip to allow a decent kick without so much that it dragged on the glide. Checkmark for one mental victory. I got lined up in the start coral surrounded by a mix of people I knew and people I didn't, and awaited the start signal.
Once underway, I felt fairly comfortable with my pace, while not pushing too hard. I was 'in the mix' in the B wave, without chasing too hard. My goal was really to ski consistently and not lose steam later in the event when things got tougher. The way the course is set up, the first third is sort of undulating, not too technical skiing. The second third introduced some more technical terrain and descents, as well as the largest climb of the course. The final third is a bit of a reward. This section is predominantly downhill and culminates in some nice trails to ski back to the stadium.
The opening third was great. I found myself skiing a lot of it with the incomparable Lise Meloche, chatting a bit when we could, and trying to stay on her heels as best I could and copy her effortless style. I made a point to grab food and drink at every aid station that we passed by, since it was easier than diggin in my waist pack for my own food. Once we got to about the mid-point, along the #36, Lise pulled off to the side to switch her left and right skis. I pressed on, planning to do the same a little later on. Changing skis like that can help as you tend to wear the wax down more on one edge of your skis. By swapping them, you buy yourself a bit more time on 'good skis'. In a 51k race though, you are quite likely to take a performance hit at some point.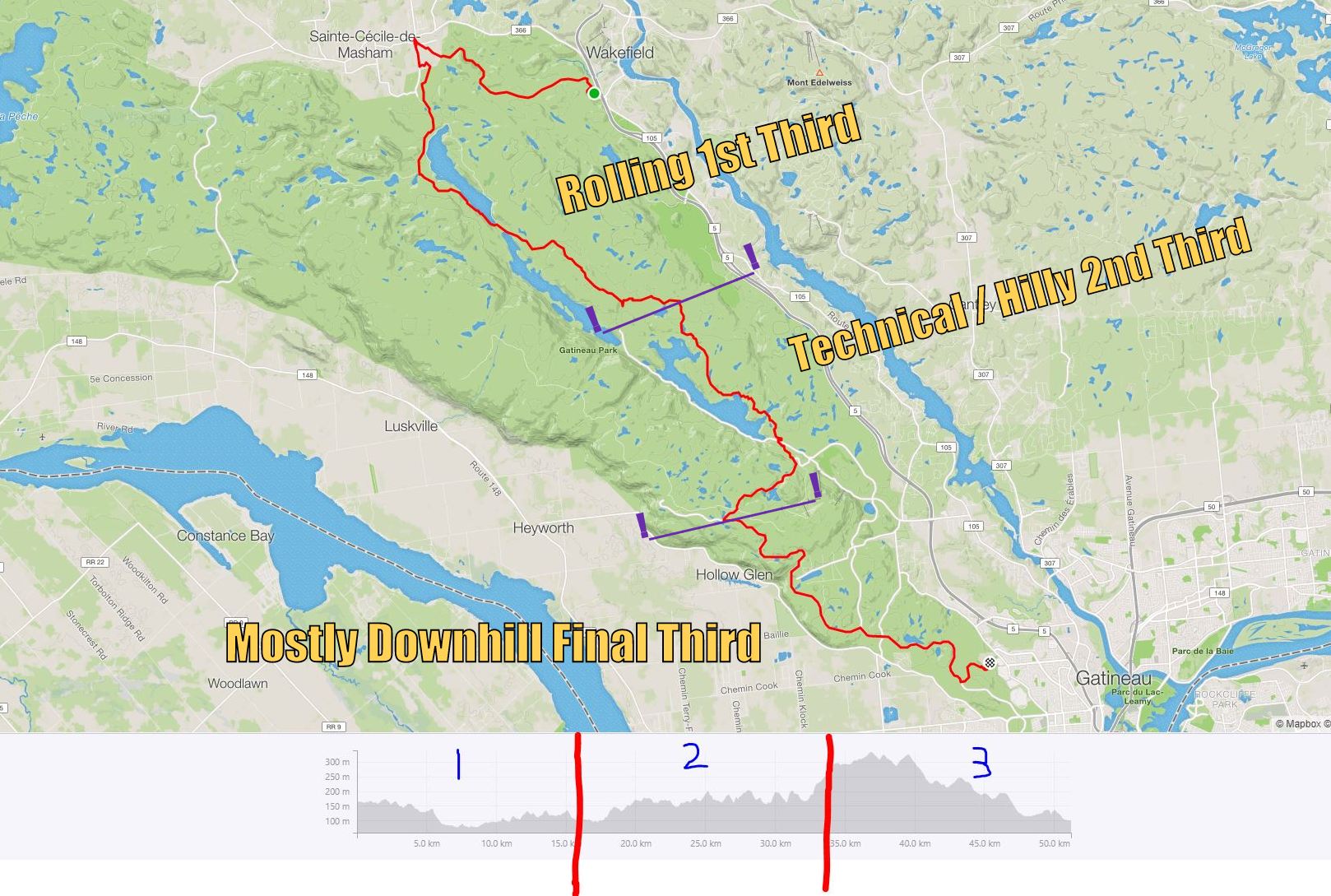 A bit further along the 36 I had my only little 'problem' of the day. We were hitting the challenging little (i.e. FUN) downhills, and I was caught out behind a slower skier. I was using momentum and trying to keep my pace, whereas this fellow was slaloming back and forth unpredictably. I announced my presence and called "Track" a few times to no avail. This lead to a collision on the far left when I was going for my pass. As we crumpled in a heap, it was then I saw the telltale white headphone cords dangling from his ears. Of course! He was completely oblivious as he was listening to music. This is exactly why headphones have no place on technical courses. Annoyed, I pressed on, with a now rather tender left buttock from a hard impact.
By then Lise was back with me, and we skied on uneventfully. The next milestone was P11. I skied in feeling good and just grabbed food and drink and pressed on to the next hard uphill slog (the start of the longest uphill slog). Lise had stopped to take advantage of a wax bench to re-apply some grip wax. I should have too. Instead, I suffered the next section. I slipped a lot more, but pushed on, wasting a fair bit of energy fighting my skis. When I finally emerged on the parkway, I hoped things would improve, so I set off up Champlain Parkway knowing it was the last major climb.
About that time Lise steadily stalked me down and chugged along past me without any slippage. I realized I HAD to put more grip wax on, as I was just kidding myself at this point. This meant doing so trailside standing in deep snow. Bad tactical decision that cost me precious minutes, but at least I was able to then move on with a semblance of a real skier once again. However, by then I had lost sight of Lise. Regardless, I found my stride once again, and decided to get 'er done. I enjoyed the last 16km of the course, as the conditions were really nice and the weather quite co-operative.
I hadn't paid any attention at all to my watch throughout the race. In fact, I don't even bother with a heart rate strap anymore, relying rather on feel. I had no sense of how I'd actually finish. My original hope had been to finish around 4.5 hours. I forgot that last year I'd actually finished in 4h11. Either way, you can imaging my surprise when I noticed the clock was just rolling 3h40 as I crossed the line! I'd effectively shaved over 30 minutes from my previous time!! Not too shabby. Of course, conditions may have been better, but I also felt better.
Regardless how well I felt at that moment, I immediately had to shift gears to prepare for the next day's race. I filled up on the post-race meal, hung out with friends for a bit, then loaded up the car and headed home to wax my skate skis, rest, and do some light recovery. I had also planned to get a good nights sleep. After, the next day, for reasons not entirely clear, I was set to race in the 'A' wave!! That's right, I'd be with all the hot shots. I suspect it was due to the fact that last year, in spite of starting in 'E' wave, I finished 38th overall 🙂 Here's hoping I'd have speed skis!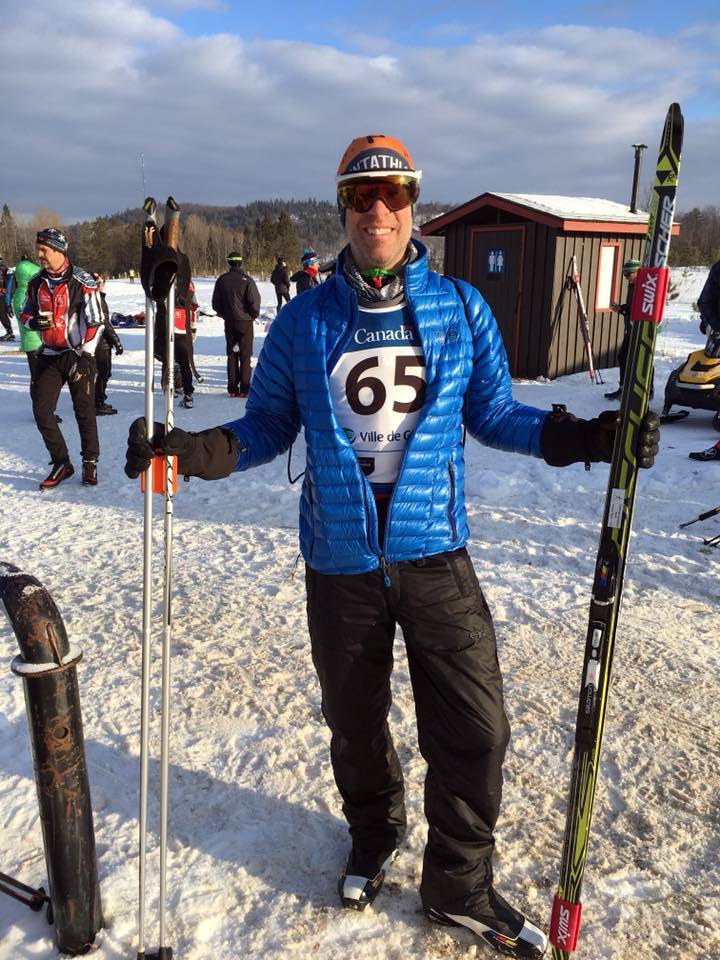 The next morning, Deanna and I both boarded buses for the start line, as we were both racing the 51k skate (albeit different waves). In my wave, I felt pretty pumped to be wearing one of the lycra bibs denoting Wave 'A', but had no illusions. I lined up near the back of the wave with a few other friends from my club that I figured I'd like to ski with, including the amazing Annie Jean. Overall, I felt fairly rested and ready to give it a go. I just focus on my technique and pray that the engine held together the whole time. I knew I'd inevitably be passed by faster skiers from other waves, but unsure how many that might be.
When the race got underway, I was happy to see that I was able to pretty much stay where I was in the crowd. While the true 'elites' took off, I kept my grouping in sight and around me. Annie and I seemed to be skiing at a pretty even pace, so we stuck together much like Lise and I had the day before. When the first 'B' wave skier passed, I glanced at my watch. 8 minutes! That means despite a 2 minute lag, he had caught us!! Luckily, it wasn't until the 22 minute mark that the next person passed, so obviously this person had been in the wrong wave!
Snow conditions were really good, and in spite of me not having the really high-end waxes available to me, I felt like I was getting pretty good glide. As the course was the exact same as the day before, I had a pretty good idea where all the places to push and where to just cruise were. As with Day 1, I made a point of eating and drinking at every aid station to keep the engine running smoothly. Before entering the middle 3rd of the course, Annie and I had been joined by Lise. Any day I can more or less keep up with an Olympian and one of Canada's top trail runners is a good day in my mind! I enjoyed the company and the kilometer pretty much flew by.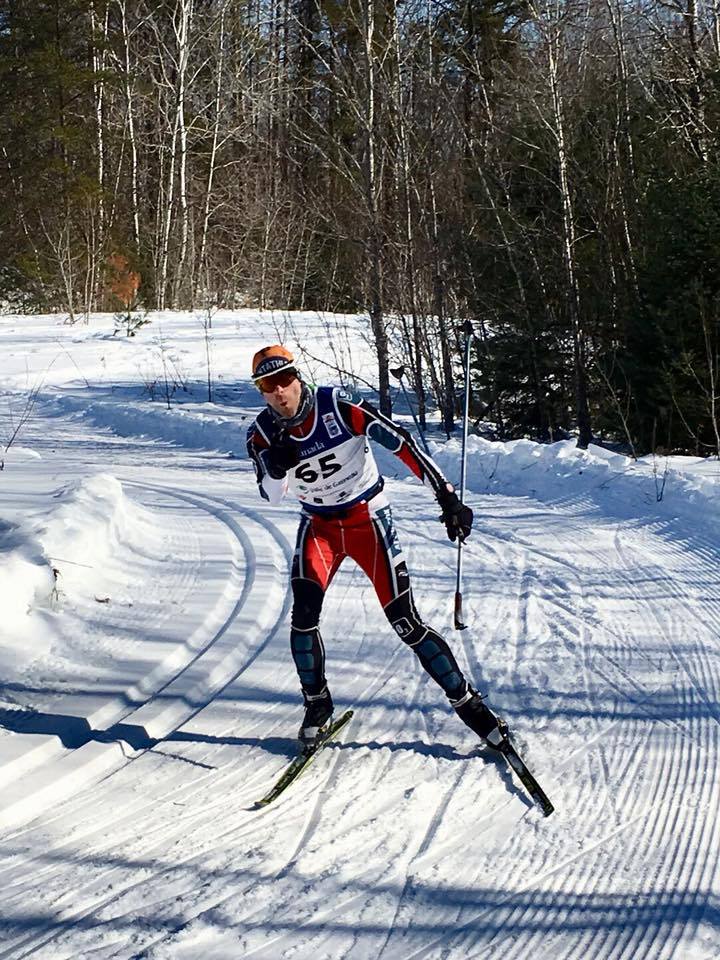 Happily, there were no wipeouts or close calls this day. Just a solid effort on the skinny planks. Also, with skate skis, what you have is what you get. No way to really re-wax on the move. I like that aspect. You don't need to figure out the right time to stop or fuss with different waxes. If you made a bad choice at the start, you suck it up and move on (and suffer, as the case may be). After we made it through the tricky bits and started our way up the parkway, I felt I was running a bit out of steam. Lise and Annie gradually put some distance into me, and I couldn't really respond. I figured the closing 15km or so would more or less be me on my own, which I don't really mind.
Once I got to the top of the climb, I got a bit of my mojo back, and found my one-skate groove again. For the ski nerds out there, I was happy with the amount of the course I covered purely on one-skate. I'd say probably 80% or more. I've really been able to find the groove this year, and appreciate the efficiency (even if I'm no the fastest). In the closing kilometers, the temperatures had warmed to the point that the snow was definitely getting soft in spots now, slowing me down. The best approach was to try and stay as much in the shadows as I could, either in the classic tracks when heading downhill, or on either side of the trail anywhere else. Most people had the same idea, so it wasn't like I was weaving or anything.
Like day 1, I hadn't really looked at my watch at all other than at the beginning. I didn't want to jinx myself or put any pressure on myself to hit any silly intermediate time goals (i.e. next aid station by X:XX). That way, I was most likely to ski efficiently the whole way. When I finally emerged from the woods into the open fields of the finish area, I worked myself smoothly back into a nice technique to finish strong. In the closing 200m, I squinted at the clock, SHOCKED to see that I was going to finish BELOW 3 HOURS!!!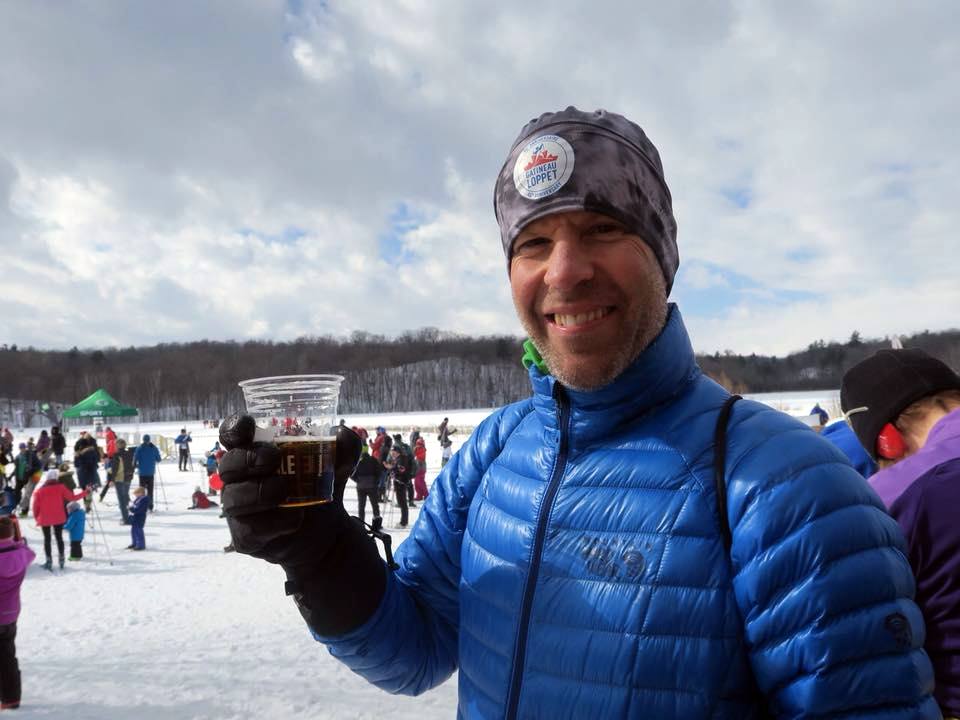 My final time was 2:58:11!! The announcer remarked on my huge grin as I crossed the line, arms aloft. At the start, a few people were talking about how this 'could' be the year they broke 3 hours. These are folks that I consider faster than me, so I felt for me, a 3:30 or so would be just fine. So I was absolutely blown away that after the challenge of a Gold CSM the week before, with 167km of hard skiing, and the 51km of skiing the day before, I pulled this off! To put it in perspective, the last time I tackled gold CSM and both loppets, my loppet times were 4:48 (for 51k classic) and 3:41 (for 42k skate!!). This year's times were 3:40 for the 51k classic and 2:58 for the 51k skate! That is truly amazing for a 3-year difference.
These were easily my best-ever ski race finishes, all things considered. Apparently all the hard work and great guidance from mentors like Dave McMahon and Lise Meloche are paying off!! I know that endurance racing is something that takes a long time to develop, so it really is playing 'the long game'. I'm just happy to see that I'm really coming into it. Here's hoping that all this pays dividends into the summer, where I yet again have plans to push myself to new limits and try more fun trail ultras. The most important part of all of these is that little 3-letter word. FUN. While I do train hard, and sometimes don't really want to, I still ENJOY it. It is fun, and definitely better than watching the world go by from the sidelines.
With that, I will leave you all for now, and hope that you are also finding what drives you, keeps you sane, and keeps you healthy and active. And mostly, I hope to see you all out there in my travels! Always great to see happy people enjoying the great outdoors!