Ahhh, winter racing. As you know, sometimes, I plan to enter races far in advance of their actual occurrence, and sometimes, I just sort of throw my hat in the ring for something to do. This post, a report from the Endurance Aventure Winter Triathlon, falls pretty much into the second category. I knew about the race for quite some time, but since I didn't know anyone heading up for it, I didn't sign up right away. However, upon learning that a few friends were heading up for it, and the fact that I had some space in the calendar, I decided to make the 2.5 hour drive up and make a go of it. And just to make it more memorable, I opted to cover the event for Get Out There. Read on to find out how this race played out and how I did.
I've been burned in the past by making winter road trips for races, but decided that the 2.5 hour drive shouldn't be too bad, even it we got snow. Luckily, conditions were actually perfect for the drive. The race was actually set to get underway at 8:30am on Saturday, so Deanna and I opted to make an overnight out of if an booked a little room in a local motel, along with others from the Ottawa crowd. I was actually pretty happy that Deanna joined me, as it meant that she was able to snap some great pictures of the event. She posted them up on flickr and on facebook, but to make it easy, I'll just let you check 'em out here 🙂
Another good reason to take part in this race was that it would give me a chance to see how I might stack up when I take part in the ITU Winter Triathlon Format race in March, where I'm racing as an 'Elite' race. It's a long story, but I really think I should be an age grouper there, but in the end, I'll be lining up with Olympians and Pros. Yup, I'll probably be dead last in that race, but wanted to see if I can actually make the 1.5 hour cutoff time limit! But I'm jumping ahead, aren't I? What exactly is this race? Well, as a triathlon, it's 3 events. In this case, the format is Snowshoeing (4.2km), followed by Speed Skating (12km), and capped off with Skate Skiing (6km).
The part that really had me intrigued was the venue, and specifically, the speed skating portion. At 12km, and this being my worst discipline (I only skated once this year before the race!), I knew I would be slow, but the course looked cool. We had to do 14 laps of a natural course that wound its way through the forest! No joke! The night before, 3 of us headed over to check this out, and it was pristine. Perfectly smooth ice, wide enough for about 2 racers side by side, and featuring s-turns, inclines, and declines. It would definitely be a challenge, but a cool one. So, let's look at my performance.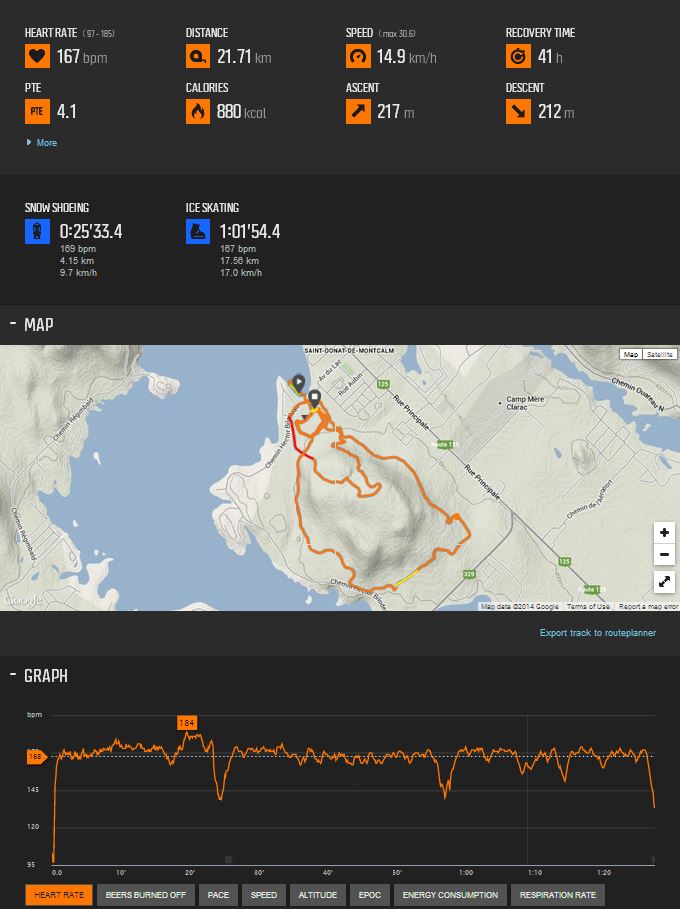 The first thing you might notice is that I *did* make it in under 1:30. Not by much, but I'm pretty sure I can improve on that with a different course and different conditions. Although the weather had called for relatively warm -9 or so, when we awoke early to head to the venue, it was more like -25! I was freezing, and not at all looking forward to the start. I knew I'd warm up, but I had to change gloves, and ended up keeping a jacket on the whole time. Cold fingers make transitions painfully difficult, and low temps wreak havoc on my filming as batteries tend to die quickly.
For the snowshoe, the course started pancake-flat for about 400m, then went on a wild romp straight up a mountain. I hadn't counted on that. You can see by the relief in the image that this site was in fact a large hill, featuring 125m of climbing in about 1.8km. One racer directly in front of my at one point decided to toss his breakfast and had to step aside. Others also mentioned that breakfast was quite possibly coming back up on account of the effort. Luckily, mine stayed put in my stomach, but it was still tough. James and I were running neck and neck pretty much the whole course, with him right on my heels, matching all my passes. We had started the race back in the pack a bit, but made up several spots on the snowshoe, which I knew would be my strongest discipline in the race. I pulled into transition just ahead of James with the 10th fastest time, and would only drop back after that.
I had a pretty quick transition, and made it onto the ice just ahead of James, but while I was fussing with camera and gloves on the opening lap, he caught and passed me. Oh well, I could only work at trying to approximate something like a proper skate technique for the next 14 laps. Sadly, somewhere around lap 11 or 12, James actually LAPPED ME! I was crushed. But not overly surprised, given my single, 40 minute skate of the year. Mental note: must do a *little* more training before my big Quebec City race in March! I ended up losing about 4 or 5 spots in the skate, but on the plus side, I got to enjoy the scenery for much longer than my competitors! Ha ha ha. A nice part was that on every lap, Deanna was there to cheer me on and snap pictures. I won't share most of the images as it is painfully obvious how poor my skate form was!
Back into transition, and it was time to slap on the skinny sticks and head out for a nice little ski. I have been working a lot more on my skate skiing this year, and hap hopes of at least making it look decent. Switching from skating to skiing took a little adjustment in the first few minutes, but something seemed off. Turns out the cold snow, and less than perfect grooming conditions made my progress feel much slower than I'd hoped. Plus, we were back out on the hilly part. Not quite as pronounced, but there was some pushing to be done. Luckily, I learned later that lots of other people found the ski a tough slog as well. In practice, I can tell my skate skiing is improving, I just need one good race with good conditions to prove to myself that I actually know what I'm doing now!
Happily, the final 500m or so were downhill, and there was a nice steep descent to the finish chute where people were cheering all the racers on (and Deanna was waiting). I had a big smile on my face from the days' effort. I knew I hadn't cracked top 10 or anything, but it was a really enjoyable race. The race setting was pretty much perfect for this type of event. Small town, friendly people, good organization, amazing course, and good competitors to test myself against. Obviously I wish I had been higher in rankings, but I was happy overall. My final time was 1:26:09, good enough for 16th overall, 15h male, and 8th in category. I'm always impressed at the caliber of the Quebec racers. It's no wonder the Quebec athletes are winning Olympic medals for Canada in Sochi!
So why did I mention chasing helicopters? Well, in spite of this being a relatively small event (there were under 200 total), they actually had a helicopter on the course filming the action! In all my years racing, this is the first time I have ever had a helicopter hovering overhead while I'm racing. It was pretty cool, and adds another bit of excitement to the event. Sadly, for my own coverage of the event, I had no helicopter support. I was left to my own devices as usual, consisting of the ubiquitous GoPro strapped to my chest, and a better camera on a tripod for before and after the race footage. In spite of my low-tech approach, I'm still happy with my coverage, so please check out the video I shot below if you haven't already 🙂
As a closing thought, I'd definitely recommend this event to anyone who is interested in trying out a winter triathlon. I absolutely loved the course, and Saint Donat is a great little community not far from Mont Tremblant. We had a nice post-race break at a local cafe before heading to the awards at the host hotel, which also offered a great spread of food as part of the race entry. Top to bottom, it was a well-run event. I'm looking forward to taking part in another race they put on this summer, the Raid Gaspesie International, a 3-day adventure race in September! If this was any indication, that should be an awesome adventure as well!