Howdy once more race fans! I have one final race report from the 2014 winter racing season to share with you. Actually, I *think* it'll be the final winter race report. Given the winter we've had, I can't really say with any conviction that I won't be racing in snow next month! At any rate, I'm here to tell you all about the Mount Orford Snow Trail Race, which is an interesting race featuring 3 different summits, which you attain by either running, snowshoeing, or skiing. You have to complete the entire race in one of those disciplines, and are ranked against those that chose the same mode of locomotion. For those not familiar, Mont Orford is about 3.5 hours away, south of Montreal, near Sherbrooke. I made the trip with two of my AR teammates, Nat and James, with the intention of just having a fun race and enjoying the final winter race of the season. I got that and more, so read on to hear the whole story!
As I was under no obligation to provide any media coverage, I haven't put together any videos this time around. However, I lugged a camera along and at least snapped a few pictures before and after the event, which you can see below.
I hadn't originally intended to do this particular race, but when I heard James and Nat were planning to head out and race, I decided to play third wheel and tag along. The first choice to make was how to run the race. Skiing really wasn't an option for me, as I don't own the right kind of skis (back-country randonneur skis with metal edges). That left snowshoeing or running. While I'm a pretty strong snowshoer at this point in the season, I made the decision to run, with the intention of using it as good hill training for the upcoming 50k race in Bear Mountains, NY. All 3 of us chose the same, which meant I'd at least share my misery with them. I also found out that Alex Provost (another AR buddy) would also be doing the race on foot.
I just realized I've gotten a bit ahead of myself, as I haven't described the actual race! Besides choosing one of 3 disciplines, competitors had their choice of completing 1 peak (at a distance of 5k) or 3 peaks, with a total of 12km to cover. Of course, the distance really wasn't the main concern here, it was the elevation gain. Over those 3 peaks, I'd be climbing 1200m over a distance of about 6km. By any comparison, that is a LOT of climbing. I've put two pictures into this post below to illustrate the challenge. The first is my GPS log of elevation compared to heart rate, and the second shows a comparison someone put together for elevation gain / 10km of this race vs. other well-known trail races with lots of climbing. Yeah. That's right. This one was number 1 far and away. I suppose that wasn't too surprising considering we were basically running straight up (and down) three different ski hills!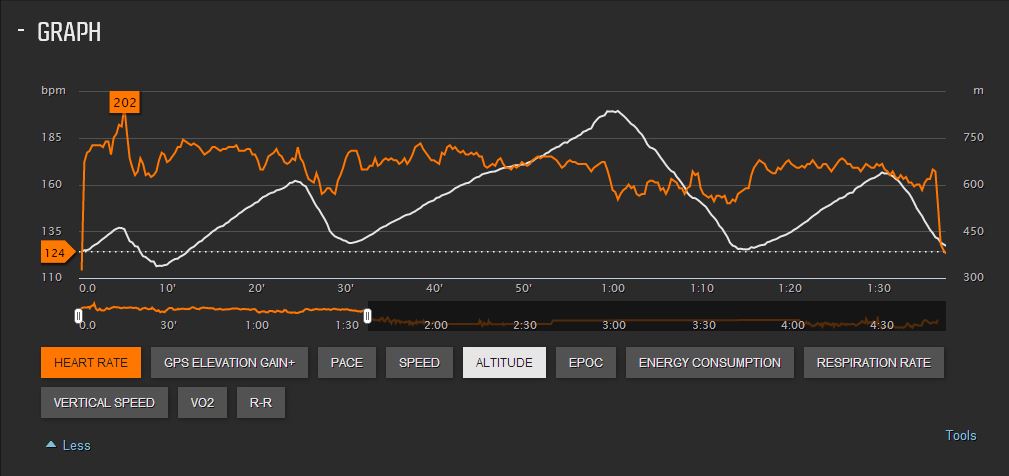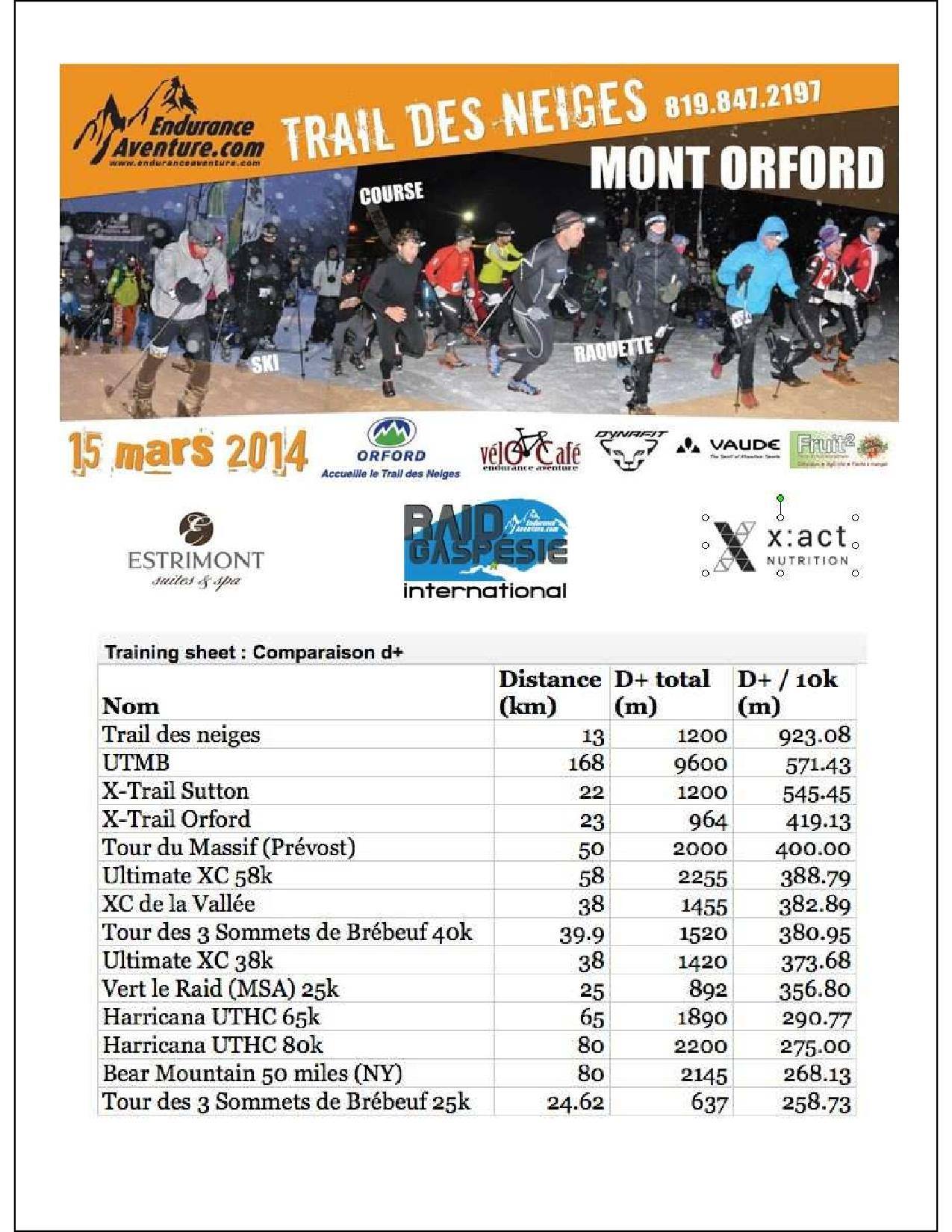 The other unique aspect of this race? Well, it was actually run at night, by headlamps. You can imagine the scene a little bit I'm sure, but allow me to cast a little more light on it by way of narrative. We left Ottawa around 2:30 in the afternoon, and made it to our hotel just after 6pm, with plenty of time to make it to registration and get set for the 7:30pm race start. There were already a good number of racers milling about getting themselves and their gear ready. The weather had been good for most of the day, with slightly overcast skies, but not too cold. However, that would soon be changing.
As daylight moved into darkness, so did the calm(ish) weather. First thing we noticed was the temperature drop several degrees, although still not too cold. More disconcerting was the marked increase in wind speed, coupled with the beginnings of snow coming down. If we were hanging out in a pub downtown, it wouldn't be a big deal, but knowing we were going to tackle 3 different peaks, I had a sneaking suspicion that the conditions as we hit the summits may be a little less than ideal. How true I'd be…
At the start of the race, I was trying to gauge how many people were tackling the race on foot vs. snowshoes vs. skis. It seemed that runners were the most represented. The year before, the first place overall racer was on snowshoes, but different conditions favour different disciplines. Our money was on snowshoes again this year, if for no other reason than it seemed that going uphill would be faster running instead of skinning up on skis. Of course, downhill, the skis would always have it! In the end, looking at the results the numbers were: 45 Runners, 11 Snowshoers, and 24 Skiers. My money should have been on skiers, though, as ultimately, the first 5 people to cross the finish line did so in fine form on skis.
James and I did a quick warmup running part way up the hill before the start, and even that little bit of running was enough to convince me this was going to hurt. Since this was my last winter race, I decided to just put my head down and suffer the whole way and push myself hard. When the race started, I took off, and rarely looked back at all. I wasn't at the very front, but definitely in the mix. On the first of 3 peaks, I managed to start passing a few people, and just hoped I could hold onto the pace for the entire race. I was blown away by how fast the ski-laden folks were skinning up the hill. For those not familiar, they use special skis with climbing skins to basically ski / hike up the mountain. They loosen the boots, and have a special heel plate for climbing. The top skiers were as fast (and in some cases faster) than me on foot!
To make the climbs as easy on my legs as I could, I had opted to use my trekking poles. Not everyone had them, but my guess was that by the 2nd and 3rd peaks, I'd be very happy to have them. By the top, steep section of the first peak, I was already relying on them a lot for weight distribution and keeping my running momentum uphill. Luckily, the snowpack was strong enough that they didn't punch through. Glancing back, I could see a long trail of headlamps all the way down the way I had run up. It was a very cool sight. Sadly, shortly after that, there weren't many lights to see. For starters, I had hit the top and had to run like a madman back down. Secondly, it was whiteout conditions up there! The wind was howling, and I was really glad that there were a few volunteers calling out from the top and with bright lights to guide us.
I crested the run, and was told to vaguely follow the mountain down to the left. Hmmm, easier said then done. If I tried to look forward, my eyes were stung with ice crystals, and the light just reflected off the snow. I was forced to look sidelong, and count on peripheral vision to see the contour of the run. Light on, light off, didn't make a difference. At one point, I chose poorly and faced a cordoned off steep run. Had to double back a bit and find the right trail. With the wind, there weren't many tracks to follow. Luckily when a skier whizzed by, I had something to at least follow on the snow, and I did so with reckless abandon.
I arrived at the bottom, grabbed a glass of gatorade, and veered off to start the 2nd and longest uphill grind. I was now mostly by myself. I could see a few people ahead in the distance, but we were basically all in our own worlds. I had been passed on the downhill by a couple runners, but managed to pass them on the long climb, only to once again get passed on the downhill. There was one particularly nasty section 3/4 of the way up where we had to cut across the hill in really deep snow, where we punched through. It was tough, but that was another plus for me, as I was able to make up 2 more spots here!
By the 3rd climb, I was starting to feel that familiar twinge in my calves and hamstrings telling me that I was starting to risk cramping. Thankfully, due to having the poles with me, I was able to keep fighting my way up the hill at a pretty good pace. I wasn't sure where I stood in the standings, but I could only make out a few pairs of clear shoeprints in the snow (as opposed to ski or snowshoe tracks). With a final push, I summited and proceeded to run down the mountain as fast as I could to the finish. When the snow (and several timing issues) cleared , I learned that I was 4th overall for the runners, ahead of a few people I expected to beat me. Given that it was a race in the heart of Quebec, I was pretty impressed. For some reasons, races in that neck of the wood seem to be very hard fought. I had been listed as 3rd for quite a while, but in the end, I had to vouch for the true 3rd place winner, as he had definitely beat me (less than a minute ahead).
After the race, we all retreated to the onsite pub for a tasty meal (at 10pm!) and some well earned beer. James had come in on only a few spots behind me, and Nat, despite really being worn out from the race a week ago, pulled in a good time too on the women's side. All in all, a race that was much more fun than I had expected, given the tough challenge. Unfortunately, 1 week later, I *still* feel it in my calves! Oh well, luckily I have a few weeks to recover and train before the first 'spring' race, an 8km prediction run. Keep your eyes open for that report! Till then, stay warm, since it appears winter is never leaving.