So there I was, setting up my transition zone. The reporters scurry over in the hopes of interviewing me before the race. Cameramen in tow, sound guys with microphones and a pretty host. "Hello" she starts, "Welcome to Quebec, where are you from?". "Ottawa," I reply. They are no longer are interested in speaking to me, mumbling something about it must be the person next to me. Yup, it turns out that my time as a 'Pro' or 'Elite' racer came and went just as fast! As it turns out, I was sitting next to an American racer, and 2 seats away from a 2 time Olympian and eventual winner from Slovakia. Yes folks, I'm writing about my experience racing in the Elite category at the world premiere of the ITU Winter Triathlon format in Quebec City.
Dusan Simocko was not the only storied athlete standing shoulder to shoulder with me. There were a total of 25 men in the race and 9 women. Among them were Olympians, World Cup Biathletes, Professional Speed Skaters, and all-around amazing athletes. Oh yeah, and me! Countries represented were Slovakia, the Czech Republic, Russia, France, USA, and Canada. I was there to cover the race for Get Out There and also race. A month earlier I had tried to convince the race director that I should just race in the age group race, to focus on filming the elites, but he'd have none of that. He knew me, and said I'd be fine and signed me up with the elites. Oh well, if nothing else, I got my brush with greatness, and saw a whole other class of racing. To save you all the suspense, I can at least report that I was NOT DFL (dead F*cking last). That honour went to another well-known adventure racing fellow I know by the name of Simon Donato. If you haven't done so yet, you really should check out his TV show: Boundless.
Okay, so back to me and the race. I was petrified. The race was a 5km snowshoe, followed by 12km of speed skating, and wrapping up with an 8km ski. And there was a 90 minute cutoff! I knew I'd be fine with the snowshoe, and could push through the ski, but it would be tight. 3 weeks ago, my total skating consisted of 1 practice for 45 minutes and then skating 12k in another race! I managed to squeeze in 3 more practices, and had the time down to about 30 minutes, which should do. For the ski, I decided to pull the trigger on buying new skis, boots, and bindings, as I still had my 'beginner' skate skis, and found a good end-of-season sale on a higher-end pair. If conditions were ok. I would be fine.
My race was set to start at 2pm, with the age group race taking place at 10:15am. I hung out most of the time filming footage for my video, as I decided there was NO WAY I'd wear a camera while fighting for my life in the elite race :-). Turns out it was lots of fun filming that race, as Mike Caldwell was in that race, and Deanna and I could cheer him on. He was even worse than me, in that he hadn't skied OR skated at all this year until this race! And he still pulled off a 1hr 40min finish, giving me hope. Have a look at the pictures below to see some great pics of the entire day.
Conditions for the morning race were perfect. The sun was up, and temperatures were around -6 or so. Both the snow and ice were really nice, and it looked like they had great conditions. Unfortunately, the day got progressively warmer, and was above zero by the time our race was gearing up. They had re-groomed the snow and zambonied the ice, but it might be a bit rough.
On the plus side, the elites were treated like champions. There was a ton of spectators, and lots of media onsite. In fact, there will be a full 30 minute special airing on TV about it. Watch my tweets for that one. Before the race, there was a full-on athletes procession where each of us was called by name to the starting line. Again, it was funny, as they'd call the name and list accolades for racers, but for me it was just "Stephan Meyer, from Ottawa!" Yup, I was a nobody in a bright red racing suit. Regardless, I was there to race hard, and finish where I'd finish.
The Race Gets Underway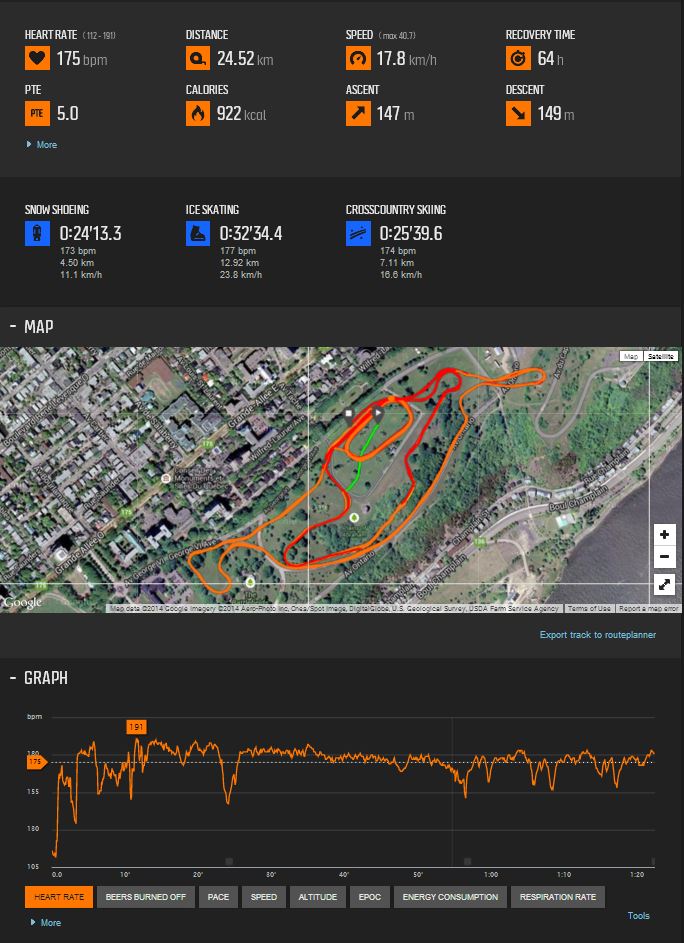 The starting gun went off, and with it, a flurry of high-speed snow and testosterone. Snowshoeing would be my strongest suit, but the voices echoed in my head "don't blow up in the opening leg…". Keeping that in mind, I tried to keep my speed in check. It was amazing to see the racers start spreading out right away. I was holding my own, and over the 3 loops, managed to finish only 2.5 minutes behind the eventual winner. I'd go so far as to say I was 'in the mix' in the first leg… sort of. The course, although on a wide-open area, was a narrow, single track. Passing opportunities were VERY limited, and I only managed a few passes on the downhills, where for some reason, other racers were much more timid than me. Mad Trapper Racing pays off! I'd hoped to finish further ahead of some people, but had no time to think about it. I cruised into transition to shed the snowshoes, don the ski boots,  grab my nordic blades and head for the oval.
Whereas the snow conditions really didn't matter for snowshoeing, the ice conditions were critical for the speed skating. I got my blades on and hesitantly began my 28 loops. My focus was simple. 1) Stay low 2) Bend my knees 3) Push to the side… just like the YouTube video I had googled a week earlier showed me. Pretty sure I didn't look like the guy in the video, but I was doing my best. For whatever reason, my cornering SUCKED. I watched as others seemed to glide around and push at just the right time and keep momentum. Me? It was a mix of gliding straight, clumsily trying to cross legs, straighten out, lose momentum, and eventually get around. Luckily there were really only 112 turns to make. Ha!
To complicate matters, the ice was not good for us. The middle was rutted and chipped out, so you had to really stick to a narrow line. A few times, cutting too tight on the corners, my blade actually punched through the ice into a void underneath! Not cool. Luckily, THAT didn't cause me to fall. However, I did fall. And YES, the media was there to capture it in high-definition glory. Don't believe me? Just check out the video below. Skip to the 2 minute mark to see my moment of fame. Oh, and the guy that fell first, causing me to fly out? Yup, that was Dusan, the eventual winner! I maintain that he was just worried I'd beat him (although I'm pretty sure he was 5 or 6 laps ahead of me by then!
For the skate, we were responsible for counting our own laps, which can get very difficult with 28 laps to count off. Happily, there was a giant video screen that would flash a list of names and how many laps they'd done. With only 34 of us on the ice, it actually worked ok for tracking, and I luckily did not do any extra laps.  Overall, I'd say my skate was average. I think I could have been much smoother if I wasn't so worried about the ice. It was cool watching some of the pros and their absolute skill on the ice. Probably the coolest to watch was Jay Morrison, national team member for 9 years (and yes, brother of 4xOlympic medalist in Sochi Denny Morrison).
But enough of the ice time, it was time to head to the chairs and get ready for the ski. I hadn't looked at my watch at all, instead focusing on my race. I grabbed skis and poles, gulped some Nuun, and ran to the line to put on the skis. The snow was definitely getting  a little soft in the warm sun, but overall, I can't blame the snow, as my skis actually felt great. I had great control and glide it seemed. In fact, on my first lap (of 3), I felt strong, and technically good. That's saying a lot, as it's taken me the whole season to finally feel like I'm getting the hang of skate skiing.
Towards the end of each lap, we were faced with a long, steady climb into the stadium area. Here, there were thick crowds cheering everyone on with reckless abandon. It was exhilarating… and horrible. You see,  the more they cheered, the harder you pushed, which was my undoing, as on the second lap, I felt the definite twinges of impending leg cramps. Calves specifically. Each steep little incline, when I'd dig in and push off with my legs, the calves would respond with fiery pain and literally spasm. It was mentally killing me, as I wanted to push, but each time I did, falling was a distinct possibility. It got so bad that I even resorted to double poling on some sections (which explains my sore abs and ribcage 2 days later!).
If there is one redeeming thought on the final laps of the skiing, it was not being passed. Of course, that was because I was already in the back, fighting shadows more than anything else. I struggled through the final climbs and pain, cruising in the sunlight to cheering fans as I did the final run to the finish line, and to my awaiting wife. I finally looked at the race clock. 1:22:25! While that time should have made me really happy, I was more relieved at being done, and not finishing last. Thinking back on it though, I will say that in spite of finishing 24th of 25 males, I'm very proud of my race. Comparing my result to the age groupers, I would have actually finished 9th overall and 4th in my category (perhaps higher, as they had better conditions). So yeah, I done good!
Luckily, the fun didn't end with crossing the finish line, as I first had a chance to pop into the Media / VIP area and snag a beer (AFTER enjoying a delicious post-race General Tao's Chicken), and Deanna a glass of wine. While there, we mingled with some international racers, and volunteers. From there, we headed back to the hotel and enjoyed another beer and 30 minutes in an outdoor hot tub. From there, it was on to a post-race social in the race organizers suite, where many of the International athletes were hanging out. That's where I got to know Dusan and some of the others much better.
But wait! That still wasn't it for the night. Deanna and I headed out to meet some of the American Crew at a pub for a beer, then when they went back to the hotel, we popped into a micro-brewery for a beer, and THOUGHT we'd call it a night, but upon returning to the hotel, ran into Mike and some others heading to a club, which is how I found myself dancing the night away with a Slovakian, a Czech, a Finn, Mike, Deanna, and Simon Donato. It was an absolute blast!
Next morning, Deanna and I strolled aimlessly in old Quebec before finally making the drive back to home, reality, and the 'non-elite' life that I'm accustomed to. To close off, if you are thinking of trying out a winter triathlon next year, you should seriously consider this one. Well worth the price, and makes a great weekend getaway!
To close off, here is the video that I put together of the weekend: