Greetings race fans on a sunny early summer day (well, getting close anyway). I'm here to bring you another little race report from a recent trail running race I took part in a couple weeks back in Bear Mountain, NY. Last year, I raced in the 50k version of this event, rolling my ankle 3 times in the process. This year, I opted to race in the 21.1k version of the race, and am happy to say I did to with NO ankle rolling! Read on to find out more about my race, and check out my re-cap video of the event.
Bear Mountain is about a 7 hour drive from where I live, so it makes for a great roadtrip opportunity. You know what that means, right? Brewery stops! Yup, Deanna and I planned out our weekend to make sure we got to stop at a few watering holes on our way down and our way back. In addition, with my race only being on Sunday, we decided to drive halfway on Friday night (to Syracuse), then finish the trip on Saturday. This mean we got to enjoy a great meal at the world-famous Dinosaur BBQ on our way. It's pretty much a must-stop anytime I'm heading into New York.
Now, while loading up on BBQ meats and beers may not seem like the 'ideal' pre-race fueling strategy, I'm not too fussed. After all, if you're not living life to the fullest and having fun, what's the point? So I will continue this approach most times (except on the off occasion I want to be truly competitive).
While in Syracuse, we stayed at a nice little house we found on AirBnB, and for the actual race night, we booked a room in a cheap motel nearby. Running the half marathon on Sunday meant that we had extra time on Saturday to actually have a bit of a tour around the area, and this year, we crossed over the Hudson and headed over to Peekskill to take in the sights. It was an absolutely stunning day, and the views of the mountains were spectacular. It really is a gorgeous area of New York. Based on the trails I've now run down there, I'd dare say it would also make a great camping / trekking destination, and there was also a fair number of cyclists, but with the traffic on the roads, it seemed like it would be like Gatineau Park, but with bigger hills, and more cars to contend with (oh, and some of the roads were in rough shape).
Anywho, I should probably talk about the race now, right? Luckily, Sunday was also looking like it would be another nice day weather-wise, so upon waking up, I threw on a t-shirt and shorts for the race. It was a little chilly first thing, but I knew I'd be heating up very quickly. At the start / finish area, there were heaps of people warming up and preparing for the trails. I shot some footage, and looked around for people I might know. There weren't too many. I was slated to start in Wave 3, so a few minutes after 9am. I found my group, and made sure I was at the front of that wave, as I was pretty sure I would be faster than a lot of people in the first 2 waves. Rather than carry a pack with food / water, I just strapped my GoPro to my head, and decided to count on the aid stations. After all, there were 4 of them on the course, and I planned to only be out there for about 2 hours.
I watched the first 2 waves start out before getting my chance. As soon as we got underway, I sprinted off and stayed at the front of our wave. Only 1 other guy got ahead at the start, but by the first big hill, I was ahead of him too.  And so began my process of picking racers off. Unfortunately, with 2 waves ahead (each 1 minute ahead), it wasn't long until I was trying to thread the needle on tricky uphill trails. Not the safest thing to do, but I had no real choice. There is something to say about the constant pick-me-up I got from passing people all along the course. I can happily confirm that not a single person passed me during the entire race! That was a nice feeling, and leads me to conclude that I had a great race out there!
I was very focused on ensuring that I didn't roll my ankles anywhere, so I ran very focused, only pausing on occasion to film sections of the run with my camera while picking my way through all the rocks and roots strewn all over the trails. It didn't take long to remember what the big challenges were for this race! For an idea of my overall race, have a look at the Strava route summary from my watch.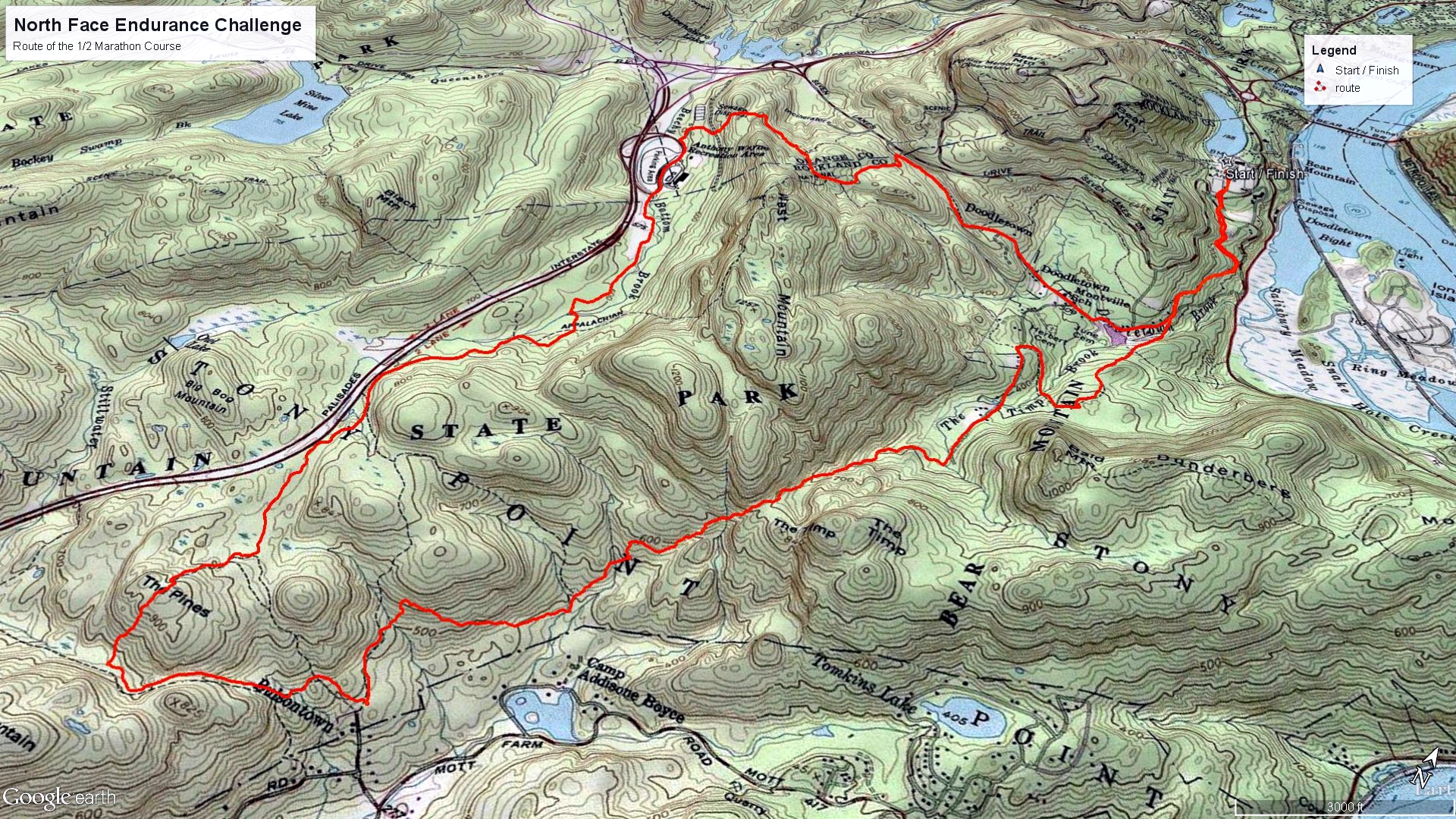 I felt strong pretty much the entire way, and enjoyed the entire course. I have been working hard over the early season to modify my running style to be more of a forefoot striker, in hopes of decreasing my chance of ankle rolling. With my new gait, I'm lighter on my feet and try to minimize ground contact. This was my first big test of the season, and my plan is to ease my way up to longer events, culminating in a 125km race in September. So again, I would say success overall. The end result are tighter calves and quads, but that will strengthen over time as well.
So just where did I finish? well, my official finish time was 1:58:24, so pretty much bang on with my prediction of 2 hours. In terms of my age category, that place me firmly in 5th place. It was also 20th male, and 23rd runner overall (in a field of over 750). The only thing I was left wondering was how much better I might have done if I had been seeded in the first wave, avoiding a few hold-ups in traffic. I can only speculate that it might have given me an extra minute or two. Regardless, I really didn't expect to win here, considering the race attracts some real speed demons. Case in point, the first 2 to cross the line did so in under 1h41mins! That's a full 17 minutes ahead of me!
To celebrate the race, Deanna and I loaded up the car and got the 7 hour return drive underway. We stopped for lunch in a small town not too far away, conveniently timed to hit one final brewery. Then, we stopped at a beer distributor for grab some local NY beers before making the long trip back. Luckily, our border stop was one of the fastest ever, so we were home by 9pm, which was perfect, given that I was working early the next morning! Yet another perfect weekend spent doing WHAT I love WITH the person I love! Stay tuned for another race report coming up from my first adventure race of the season. Till then, get out there and have fun!
For the record, here are the breweries we visited this time:
And to finish off, here is the official race video I put together from the event: