As you may recall, in our last post, we were bedding down over 4,800m to get some sleep before tackling the highest point of our trip, Thurong-La Pass. We had been looking forward to this day since the start of our trip. As this was our 2nd wedding anniversary, I'm already unsure how we'll ever beat that for our future anniversaries, but that's a thought for another day. To refresh your memories, here's ther map of the last few days, as well as the coming 2 days. Read on for the full details!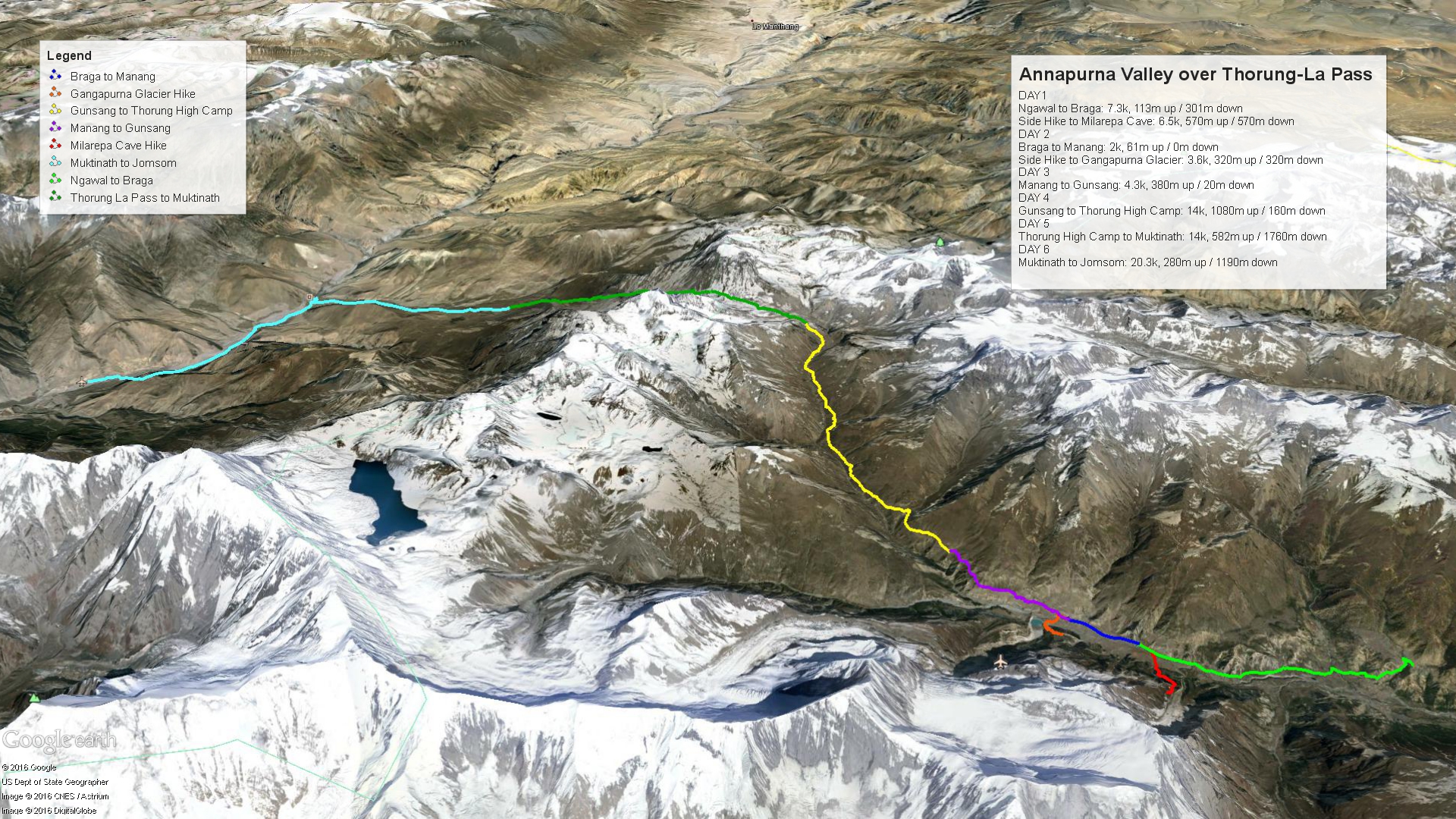 Thurong High Camp to Thurong-La Pass, Down to Muktinath
Well, this was it, the BIG day. Not only was this our wedding anniversary, but we'd also be crossing the highest point that we'd ever been at together on foot. The morning started out obviously very cold and dark, but we were pretty efficient at getting moving, packing up our bags yet again, and piling into the dining room to have a warm breakfast before finally taking off well before any light was to be seen. Our goal had been to sneak our before many of the other trekkers, in the hopes of having the summit all to ourselves (or close to it). Based on the distant glow of headlamps spread along the climbing trail before us, it was obvious we'd missed that boat. However, since we are pretty quick, we passed most of these people on our way up anyway, beaten only by one other group. In fact, it was a group we'd seen the past couple days on the trails.
Frost covered the ground as we picked our way along the trail towards the pass. Due to the cold, and general dark, there wasn't much to do other than just walk. We could really see much, nor could I take any pictures. But that was ok, as we knew that we'd shortly be at the top, and that [hopefully] the sun would be shining. Just as I was starting to feel a little chilly, I spotted the first signs of sunlight when the peak of one of the nearby mountains was hit with the suns' warm glow. Hurray!
Interestingly, in the past 2 days. we'd also picked up an extra traveler, in the form of a little furry 4-legged trekker. Yup, we had a doggie tagalong that was following us up and up, and would end up sticking with us all the way up and over, eventually even staying near our hotel at the end of the day. We ended up nicknaming him "Annapurna Arthur" after the adventure racing dog that joined a Swedish AR team at the AR World Championships in 2014.
Even though it was sunny when we finally got to the pass, it was still quite cold up there. Similarly to the last pass we'd climbed over, Deanna and I took the time to bless some prayer flags and add them to the pile of other flags already there. We were also surprised by our guide and porter with a special blessing and given special silk scarves to wear to mark the occasion of our anniversary. It was obviously a pretty special day for us! Even though we were sitting at 5,316m, we spent a fair bit of time up there, since we knew we'd be dropping down pretty low by the end of the day. We posed for quite a few pictures, including the 2nd in our 'Wedding Inception' series, where we held a picture of us holding a picture of our wedding day. Our plan is to pose for a new picture each year with the previous year's picture. As we get older, each picture will remind us of the special parts of each year we spend together married.
After the pictures were wrapped up, we ducked into the tiny tea house situated at the pass for a warm cup of tea and some cookies. In the hut, the group of French tourists we'd met the day before and who beat us to the top today actually sang an anniversary song to us and wished us well. It was pretty cool. But let's also pause and consider the fact that there is even a Tea House up here at 5,316m. Every morning, the owner trudges up from far below at Thurong Phedi in order to open it up, get the water boiling, and ready to serve tea to the first tourists that arrive. Obviously there was quite a premium paid for this tea, but given how hard it is to even boil water over 5,000m, it was pretty cool!
Tea consumed, pictures taken, and general happiness all around us, it was time to start making the downhill journey to our final stop for the day, Muktinath. Mercifully, this was a lot easier than our first pass. The path was a lot less steep, and wound lazily down the mountain. That's not to say there weren't still amazing views, because there were, but at least it wasn't a hair-raising, quad-burning descent like last time. This would make sure that when we finally reached the bottom, we'd still have energy to do a little more hiking and properly celebrate our anniversary. Interestingly, as we made our way down, we could see the lush greenery of the village far below us, and would continue to see it the whole time we made our way there!
Once in Muktinath, we checked into our hotel, notably called The North Pole. We once again were treated to a nice room with an 'en suite' and with electricity. Yup. Luxury! After cleaning up, and settling in, we had a quick lunch, then joined our guide, porter, and a couple other Nepali guys to make a trek to the Muktinath Temple. This is a very unique place, as it is both a Buddhist and Hindu Temple on the same property. That is NOT a common thing. While here, we received more blessings and got to experience the spirituality of this place. The temple is visited by people all around the world, and is considered sacred by both Hindus and Buddhists.
After this unique experience, Deanna and I returned to our hotel, and retired to the rooftop terrace to enjoy the sun, watch tourists arriving in the village, and read while lazily drinking Fanta and Beers. Once again, since we'd been quick on the hike, we were well rested and relaxing as other tourists who'd also been to the pass gradually made their way to the village for the rest of the afternoon. We had a nice anniversary supper before turning in relatively early, since we had a pretty long trekking day ahead of us. All  in all, a very memorable way to spend our anniversary. We went to sleep feeling both loved and blessed. What more could you ask for?
Muktinath to Jomsom
Interestingly, this final day in this part of the Annapurna region was going to end up being over 20km. This was rather unexpected, and was the first time we really felt the effects of the fuel shortage / blockade being imposed by India on Nepal. Originally, we were slated to walk a few hours to a place called Kagbeni before getting a jeep to Jomsom. However, due to the fuel shortage, there were very few vehicles, so we'd end up having to hoof it the entire way.
While this unexpected trekking might have bothered some, we just rolled with it. In fact, when given the chance to cut off part of the hike, skipping the town of Kagbeni in order to walk straight to Jomsom, we didn't hesitate to say NO and do the entire walk and make sure we got to see everything along the way. I'd love to say the entire day was amazing, but truthfully, the time we spent hiking after lunch was a bit of a struggle, but still very memorable. Let me explain.
The morning was pretty amazing. We made our way along the roads between the small villages in a nice sun. It wasn't too hot, and the air was still, so it was a nice hike. We were heading very much downhill. Muktinath was at about 3,760m. Kagbeni was at 2,800m, and ultimately, Jomsom at 2,713m. Kagbeni itself was a charming village, with a nice feel to it. This is the gateway to another region of Nepal, known as the Upper Mustang. I suspect if / when we return to Nepal, we'd either go to the Everest region or the Upper Mustang. In Kagbeni, we visited an ancient temple, which was very impressive.
After Kagbeni, we continued trekking along the road to another little village called Ekle Bhattee. It was a pretty small place, but a nice break to enjoy our lunch. After lunch, things got interesting. We were turning southwards and walking along a dry riverbed. Unfortunately, there is an odd phenomenon that in the afternoons, the winds ALWAYS get whipped up. Add to the fact that this time of the year the river is pretty dry, and you will understand why I said it wasn't so fun. There was a lot of sand and grit blowing into our faces, and the wind at times made even standing rather challenging! We made the best of it, fashioning buffs into impromptu bandanas, but after a while, I couldn't even keep the camera out for fear of getting damage to the optics thanks to the sandblasting!
This continued for the rest of the afternoon. We could see Jomsom in the distance, thanks to the relatively flat, straight riverbed, but it just dangled out there on the horizon for quite a while. Thankfully, the road was nearly traffic-free, so we weren't attacked by too much flying gravel!
By the time we finally got into the village and checked in at the tourist police station (a normal formality in the permitted areas where we were hiking), my foot was getting very bothersome. I was looking forward to getting off my feet, potentially enjoying a drink, and cleaning up. Thankfully, to make up for the extra hiking in the wind, we scored another nice guest house, with a shower once again! We took advantage of this to both clean ourselves, as well as our [very] dusty clothes. Once cleaned up, and the laundry hung out in the sun to dry, we wandered / toured the village.
Along the way, we picked up a bottle of Apple Brandy from a village by the name of Marpha, famous for its apples (and associated products like this brandy). The plan was to share a nice bottle with Ram and Purna, as the next day was a bit of a 'rest' day, in that we'd be traveling by 4×4 from here to the start of our next hiking region, further south in the Annapurna region. We met up with a few other travelers as well that evening, swapping stories. In the end, we hung out with Ram and Purna, enjoyed the bottle, and their company. It was Purna's first time trying the apple brandy, and he and I had talked about this being our treat after crossing both peaks. All in all, a great and memorable way to end off our time in the high Himalaya and the 2 summits we'd crossed! Next up, some trekking in a more jungle-like environment. Stay tuned for the next chapters!