Greetings all! In our last post, I took you through the more remote parts of our trek where we wandered the quiet side trails through the Nar Valley and up and over the 5,320m Kang-La pass. Well, for this post and the next, we now join back up with the main trail around the Annapurna circuit in Nepal, but also drag you all up with us up to the highest point in our trip, at 5,416m. This was the Thorung-La Pass, and was also the day of our 2nd wedding anniversary. Hard to top that! Luckily, the journey up to that height also included a couple shorter days spent enjoying the amazing scenery of the region. Here's a map of that part of our trip. Read on for the full details of the short days before our 2nd major summit!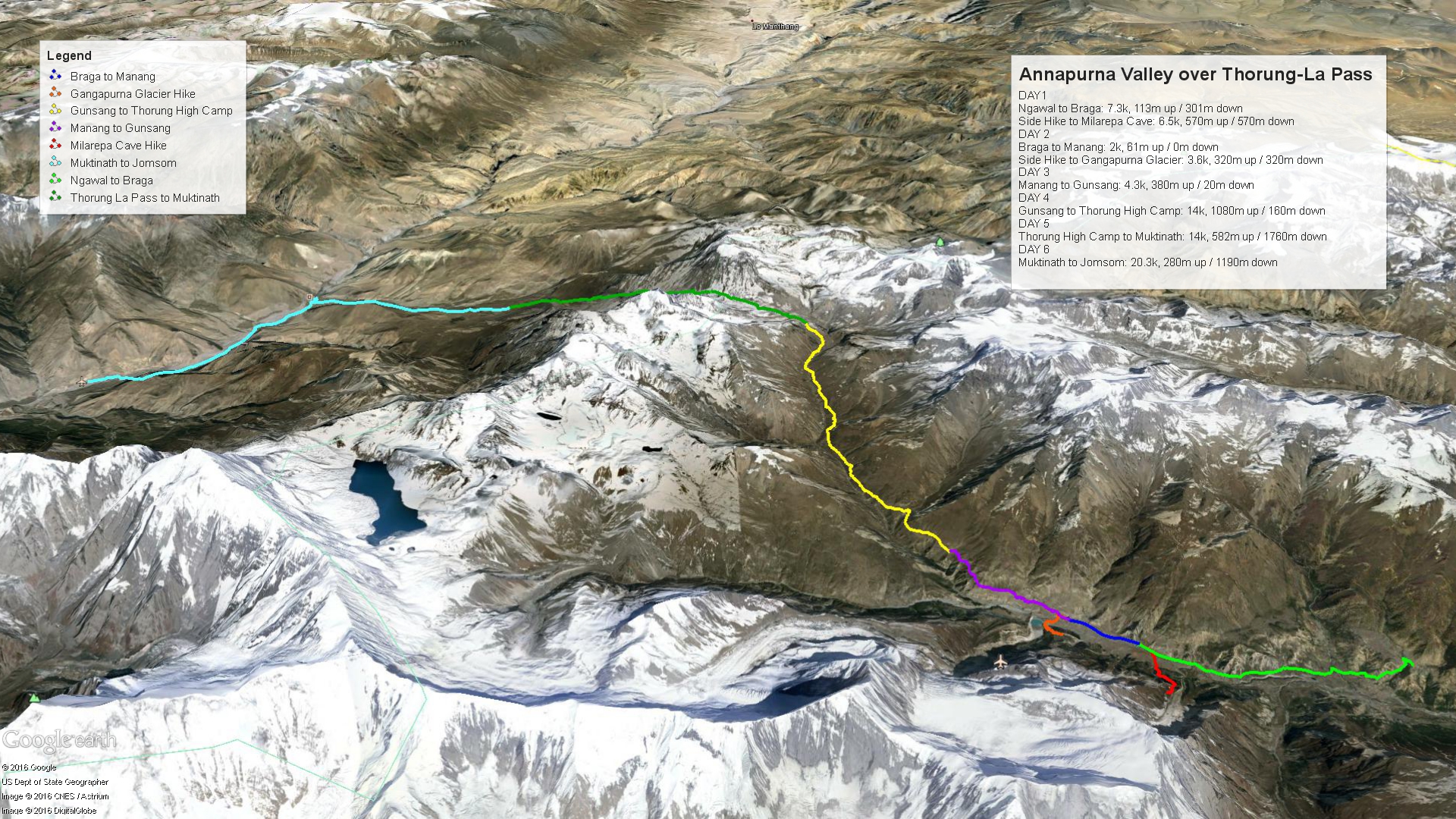 Ngawal to Braga
After our incredibly long and challenging trekking on the day before, where we climbed up and over the Kang-La Pass, it was time for a slightly shorter day to recharge. Luckily, we had just the ticket. Ironically, we made this day even shorter than the original itinerary called. Instead of making our way from Ngawal all the way to Manang (a bigger village), we opted only to go as far as a small town called Braga. Why? Well, quite simply, I'd seen on a map that there were a few interesting side trips that could be easily hiked there on the same day, so I thought it might be fun to make a short trek to Braga, then spend an afternoon doing just an easy day hike with no packs.
The actual hike from Ngawal to Braga was pretty flat and just followed along the valley floor between the two villages. The way was quite dusty, but uneventful. Due to the fuel shortage already well in effect (although not clearly appreciated by us just yet), there was almost no traffic on what is normally a local road used by tractors, and motorbikes. So we had the road to ourselves, with just the warm sun keeping us company as we plodded along.
The other reason it seemed like a good idea to have a short day was that poor Deanna was really starting to feel the combined impact of being sick along the trek with the general tiredness of hiking every day. In the end, it meant that she could make the decision to spend the afternoon at the guest house with her feet up and just read a book and drink tea in the amazing sunshine and Himalaya views. Our porter also decided he'd take the afternoon off rather than join in the side hike. So, in the end, it was just our guide Ram and myself who made the all-uphill trek to the mystical Milarepa Cave. I was okay with that, as I knew it would make a happier overall trekking party if people had a bit of personal time. After a tasty lunch, Ram and I grabbed water and snacks, and left on foot.
After the long climb, which took us through some really nice wooded areas as well as past a few Gompas, we emerged at the top near the cave. It was a very quiet area, and we hadn't seen a single soul on the entire trek. We quietly wandered around the spiritual site, eating a few cookies and having some water. It was just a beautiful peaceful day up there. The walk back was very uneventful as well, and I took the time to watch the way locals work in the fields during harvest time, using the same tools they've no doubt used for centuries. Very interesting.
To close the day / night off, we had another wonderful meal in this guest house. Interestingly, we were once again the only tourists in the area, and were outnumbered by the family members (and relatives) that lived in the area. As our supper was being prepared, we wandered over to a nearby monastery in hopes of getting to hear and see their evening prayers. Unfortunately, things were already locked up tight for the day. However, in interesting thing did happen after supper. They had satellite TV at our guest house, and after supper, we ended up watching (with the locals), a movie. What movie? Well it was The Mummy: Tomb of the Dragon Emperor. Why is that interesting? Well, part of the movie takes part in Tibet, and the Himalaya mountains, and has Yeti in it. Here we were, in the Himalaya, watching a funny fictional adventure more set in the same area, but with locals. I got a kick out of watching them laughing at the situations and locations, but also had a different appreciation for the portrayal of the region and the temples in the movie. It just all seemed a little surreal!
Braga to Manang
After our short day from Ngawal to Braga, we followed that with an EVEN SHORTER and easier hike between Braga and Manang. While passing through was certainly possible, Manang is in fact the headquarters for the region, and therefore is a notable stop. It is also tourist central, and pretty much all trekkers and hikers make a stop in this village of 500 or so houses, which is quite large for the region! Again, however, having a short hiking day meant that we'd have the afternoon to go on a side hike.
Again, the hike between the two villages was pretty much a flat walk between two points. Probably not much more than a walk from my work office to the Market and Parliament Hill. But talk about a world of difference in scenery and feel! Just thinking about that for a moment really puts the whole trip in perspective. We saw only a few other people on our hike, spotting more people working in the fields for the fall harvest than anything else. When we arrived in Manang, we were quite early for the tourist crowds, so the guest house we checked into was still quite empty, enabling us to snag an amazing room with windows on 3 sides, looking directly into the Annapurna mountains around us. Spectacular!
Not only did we have exceptional views, but this room boasted a first for us in a while. We had an en-suite (of sorts), and, wait for it… electricity! Yup, there was a single outlet in the room (getting power from a solar panel on the roof), which allowed me to charge up everything from camera batteries to my Kindle. The ensuite also had a shower of sorts, so I took my first shower in days, hosing off the layers of dust and sweat with a relatively warm flow of water. We also headed into town to buy some powder detergent, allowing me to do some 'bucket laundry' and clean some of my trekking clothes. I'd been heavily recycling my duds anyway, but it was nice to clean them up. Darn western standards stuck in my head right?
With laundry done, body washed up, and devices charging, we grabbed another tasty lunch before finally heading out for another afternoon hike. As usual, when you are in a valley, your options are usually limited to uphill hikes to take in the better views, and that's just what we did. In this case, it was a hike up and along the Gangapurna Glacier. A nice example of a Himalayan glacier that finished off in a nice glacier lake that we got to walk by. At the top of the hike was a superb lookout area with lots of little snaking trails to wander around  and take in the view from different points. However, for me, I got a bigger kick out of going pottie in what I'd call yet another excellent example of a Loo with a View. The picture above doesn't quite do justice, but you get the idea. Tiny little squat toilet here at 4000m, with fine views of the glacier and other surrounding mountains.
After our day hike, we settled in back at the hotel to meet other trekkers that had now completely filled up our hotel. I took advantage of the opportunity to get a nice cold Everest beer, and sit outside chatting with other world travelers. Deanna and I enjoyed chatting with new people and hearing lots of interesting stories and sharing in some funny experiences (which I won't get into here, but hopefully it will trigger my memory about our bare chested Canadian vagabond friend and his bag of weed that he harvested en route….). All in all, a funny and fun night, that went later than usual. And by that, I mean we may have stayed up as late as 10pm, rather than the usual 8pm curfew.
While the plan had been to spend another day in Manang and just recharge there, we awoke the next morning, and over breakfast chatted over options with our guide and porter. In the end, we decided that pressing on might be the better idea. For two reasons. The most obvious was that it would get us to a higher elevation, thereby shortening the next day, when we'd hoped to get as close as we could to Thorung-La pass (making the summit day a bit easier). The second, and more esoteric reason was that it was 'too easy' in Manang. We'd found coffee shops, bakeries, lots of tourists, cold beer, plumbing, etc. Frankly, it had been a bit of a culture shock, and we weren't ready to go back to the 'luxuries' yet. So, the plan was to press on, and move onto the tiny village of Gunsang, not far up the valley from Manang, but a world apart in feel.
Manang to Gunsang
So, with that, we moved on. Another relatively short day of trekking, and this time, with no side treks to follow up with. As a result, we didn't get going to late in the morning, taking our time enjoying a final morning in Manang. What that really means is that Deanna went back to a cafe to have a tasty coffee. We also went to the local post office to send off a couple postcards. We made our way slowly and deliberately, but still covered the 4.3k in about 1h 15mins. That left us with quite a bit of day, and not too many things to do. Luckily, we'd picked up some playing cards in Manang, so passed the time playing various games.
Lucky for us though, the weather was still quite amazing, so we also passed some time outside just taking in the view. I think that Gunsang, although it was comprised of basically 3 or 4 buildings, was one of my favourite little stops. Our guest house was tiny, but had a nice rooftop terrace with a bench on it, as well as a courtyard. When the sun was up and the air still, the roof was an ideal place to pass the time in a meditative way. When the wind picked up and made it too cold, you could sit in the courtyard, or move indoors where a nice panoramic window looked out from the dining area to the mountains across the valley. I defy anyone to look at the photo below and NOT be moved by the idea of being in that very spot and spending 10 minutes just staring out!
All in all, the rest and recharge would do us some good, as the next day would be another long one, and also finish off at a pretty high place. Our plans were to make our way from Gunsang all the way to a place called Thorung High Camp. Basically, the closest place you can sleep to the Thorung-La crossing.
Gunsang to Thorung High Camp
Here we are, on October 4th, the day before our wedding anniversary, and the day before we cross the highest mountain pass we've ever hiked to together. We got up at a reasonable hour, had our tasty breakfast, packed up, and headed out. The plan was to hike most of the way to High Camp before even stopping for lunch. This meant a near 14km of hiking, ascending over 1000m before eating again. In fact, lunch would be at Thorung Phedi, which sits at 4,525m itself!
Luckily, we didn't really have any time goals in mind, just to continue to feel strong as we went. Unfortunately, this was to be one of Deanna's toughest days. The cold was really taking its toll on her, and I could see she was struggling a bit (although trying to hide it). In the end, I took both her daypack and my own on my back, allowing her to carry on unencumbered with anything but a water bottle. This helped her bounce back a little bit, and we still made good time. It was funny to note that even though she was 'struggling', we were still faster than pretty much anyone else we encountered on the trails.
The trek just became more and more beautiful this day, as we got ever closer to the high mountains. By the time we got to our lunch break, it was clear we would be done in good time again this day, leaving us with even more time for a potential side hike / acclimatization hike once we arrived.
The most interesting part of this day would be our endpoint, which was at 4,868m. That's a pretty high elevation to be sleeping, with a LOT less oxygen than you are used to. I wan't sure how well we'd sleep and how we'd feel. Luckily, we were treated to tea and popcorn for a snack when we got to the high camp, so I knew that I'D feel great. After all, popcorn is a magical food, right?
Our room was pretty tiny, and the whole camp was in a pretty barren, but protected moonscape of a plateau high up in the mountains. There was a nearby scrambly hike that would take us a couple hundred meters higher and give us a little more chance to acclimatize before the big push on the next day. The four of us took the opportunity to head up that way, take a few pictures and just generally enjoy the views in the area. It was a surprisingly busy place, with lots of trekkers now here, and getting ready for the same push the next day.
Given the early darkness up here, and the accompanying cold at the high elevation, we didn't stay up very long after we ate supper. We went over plans with our guide and porter, agreeing to be amongst the first to leave in the morning, to give us the best shot of a quiet and peaceful summit experience. With that, we wandered down to our room, tucked ourselves into our warm sleeping bags, and tried to get some sleep.
Stay tuned for the next post, where we pick back up from here, and climb up and over the Thurong-La Pass for our wedding anniversary!