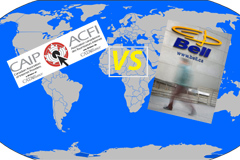 Brace yourselves friends, for I am about to do something that I virtually never do. Those who know me will understand that talking about work is something that I rarely do, and usually only when prompted. The inevitable questions around 'what do you do' sort of bore me, because to me work stays at work, and when I leave the building, I don't take it with me. However, in an unprecedented case of giving a crap, I've decided to venture out and post a little something about my current work stuff. Don't worry, this site will not devolve into a diatribe about my daily grind. Trust me, both you and I are probably much more interested in my other life ;-). However, I've gotta get this off my chest, so please read on for a rare insight into WorkerSteve.

Want to know what I did today? Well, it was a very interesting day at the 'office' for me. I spent the day at a Public Policy forum concerning net neutrality. A very interesting and relevant topic to many of us. In attendance were many interesting people from across the industry. Not just Canadians representing Rogers, Google, Bell,Telus, small ISPs, Gov't, Michael Geist, etc., but also key people like George Ou from the US. We spent the entire day hearing presentations and having lively debates on a wide range of topics relating to net neutrality. The notable thing however is that at 9am this morning, the CRTC released its decision regarding the CAIP vs. Bell Canada throttling of wholesale ADSL services, as well as a notice of consultation and hearing related to Internet traffic management practices. Everyone at this conference spent the first 20 minutes reading the decision, as well as notice of consultation, then we got on with the conference, everyone fully knowing what had just been released. Some talking points were raised throughout the day with regards to both of these documents, but there was no fist shaking, yelling, fighting, or anything of the sort between the parties or the representatives from the CRTC. It was all very 'professional'.
Overall, I was impressed with the whole conference and the way in which the decision and PN were integrated into the days' forum, without devolving into playground antics. However, at the end of the day, I chose to go home rather than return to the office, with the intention of reading the coverage that may have surrounded both of the CRTC documents. That's when I was smacked over the head and overcome with a bit of personal angst. I spent about an hour reading through different comment boards, and reading all the press, and had to read an awful lot of venomous missives about the CRTC , and their alleged stupidity, ignorance, uselessness, and so on. Did it bother me? Well, not really. I've got thick skin, and I know these are not personal attacks. I've come to accept the general feelings that the public may harbour when it comes to the CRTC. Did I have anything to do with the decision and PN ? Well, if you know me well enough, you probably know my title at work, and have a rough idea. Obviously no singular person controls these things, but sure, I play my part, and you can be sure I had my hand in dialogs pertaining to the technologies and issues being raised to various people at various levels.
Would I like to respond to some of those posts? Maybe, but that wouldn't do any good, and I'm certainly not going to lurk the message boards and defend or justify the actions taken. So, if that's the case, than what is the point of all this? And why am I writing this? Well, that's simple. Again, if you know me, you'll understand that I'm very passionate about certain things, and tend to speak my mind, so I felt I had to write something on this important topic. I'm an engineer. I'm an Internet user. I pay for broadband. I download stuff. I watch video. I use video Skype. I instant message. I game. I blog. I social network. Also, I put my pants on one leg at a time, just like you do. Do I have an opinion on this topic? In all honesty, I do not…nay… I can not have an opinion. That's part of my job. In all of this however, I can say that I do share a common view among many of the stakeholders. That view is that this IS an important issue that impacts virtually all Canadians. The mere fact that it has been elevated to 'virtual' front page news is a testament to its far-reaching impacts. If you 'd like to have a read at an article I think is fairly balanced, have a look at what Michael Geist posted this morning about the decision and PN. This is a fellow who is well respected, and known for his support for the cause in general, yet he didn't waste his time denouncing all things about the decision and focused on the positive aspects of having a public process.
So what am I saying? Well basically, why not get involved? As a kid, did you ever really, really want something, but your parents didn't get it for you? Generally, you were left with only a few options. Give up, hope someone else might give it to you, or work your butt off to get it yourself. That's what people are going to have to do here. It's not enough for people to lurk on message boards and post random thoughts, often ill-informed. That doesn't advance the thinking or the issue. You've got to get informed, and do your part. That's the beauty of a public process. Everyone has the right to state their views and have them considered.
As part of the announced public process, there are a few ways Canadians can get involved. For starters, take the time to actually read the Public Notice. This will give you a good idea of what topics are going to be explored. As part of the process, the CRTC plans to conduct an online consultation, where the public can take part in online debates and discussions on key topics. This consultation will form part of the public record. There is also the option to file in writing your own thoughts on the issues raised in the notice. Throughout the process, keep an eye on what other people are saying as well. When the public hearing rolls around, you'll also be able to hear the whole thing, and have a sense for what all sides are saying. Care about these issues? Then be a part of it.
I'm gonna leave it at that. You're of course welcome to leave a comment on this web posting, link back to it, send it around the world, whatever you want. I think it's great that so many people are passionate about this subject, but let's all try to stay objective here. Of course, better than commenting here, why not take part in the online consultation when it's happening? So there you have it,WorkerSteve weighing in and going where he really doesn't like going on his personal website. The world forced it out of me 🙂 Just don't keep saying that the CRTC doesn't have a clue and is ignorant or any such thing. They don't say those things about you…. 🙂