You just never know how an adventure race will turn out when you start. This is especially the case in multi-day events, such as the 4-day staged Raid International Gaspesie that I most recently completed. Completion was far from certain. In fact, I finished on a different team than I started on! What follows is a tale of anticipation, teamwork, tragedy, rebirth, and triumph! It is also a concise explanation of why I love adventure racing so much. As my high school motto stated: "Palma non sine Pulvere" (No success without struggle).
Before I get deep into the meat of it, have a browse through the pictures that I have from the event. There are some real nice ones in there this time (click left and right to view more)!
The Anticipation
As you may know, this race was the namesake of my summer adventure racing squad. We were entering this race with high hopes, and had been looking forward to it most of the year. However, 2 months ago, it was even doubtful we'd get to race as a team. We lost our 4th team-mate, and had to scramble to find a replacement. The search was truly International, and we FINALLY found a suitable replacement at the 11th hour in the form of Bruno, a racer and navigator from New Brunswick, who would even have some local knowledge, as he is from the area.
With our 4th in place, we had a couple hasty emails and even a group conference call with the team, including our excellent support crew (this was a supported race) to discuss final logistics and determine our plan of attack. It was go time! The race was 1 week away.
The Teamwork
Upon arrival at Carleton-sur-Mer, we set about with the logistics of race registration, setting up camp for our first 2 nights at a seaside campground, and the all-important local brewery sampling (ok, only Bruno and I took part in that!). That evening, there was a welcome ceremony with all the teams on hand.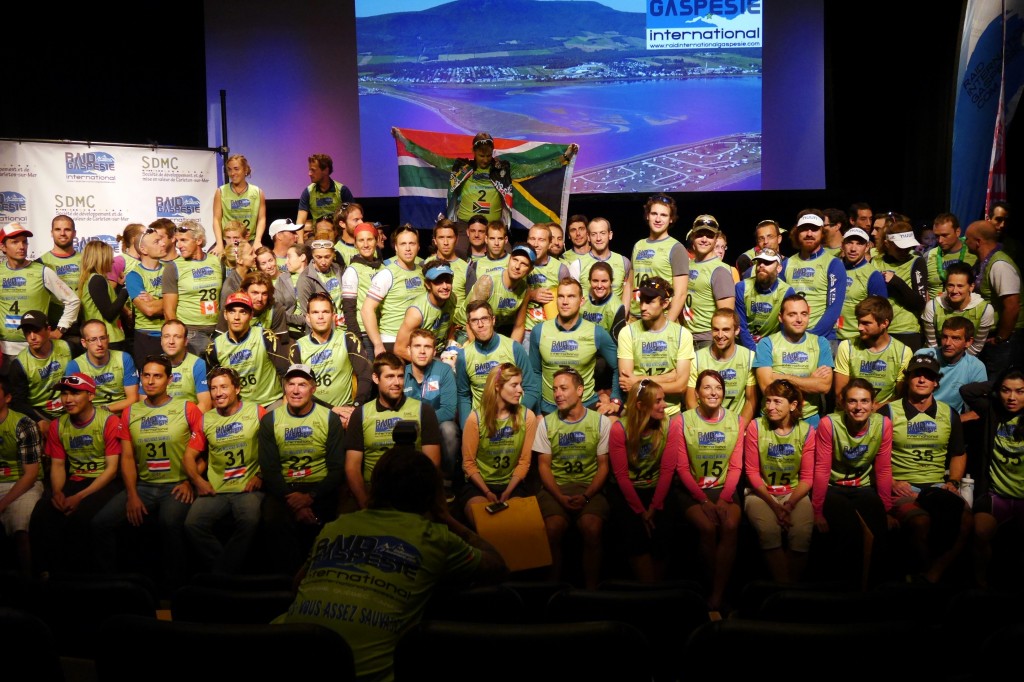 After that, it was time to eat supper, bed down, and wait until morning when we'd receive our full set of race maps, instructions, and get set for the prologue. The race was slated to be about 300km for us, with 4 days of racing. Day 0 was the prologue, and only about 20-25km, subsequently, days 1, 2, and 3 were each to be up to 100km in length and featured an array of the typical disciplines. Trekking, running, paddling, ropes section, and mountain biking. The terrain was hilly, and beautiful. While it was relatively dry when we arrived, rains during the event ensured that there was plenty of mud to enjoy…
The prologue was a good chance to stretch our legs and test out our team. During the 3 or so hours we were out there, we realized this whole event would be like a giant sprint race, as there was very little difficult navigation, so everyone was going flat out. We learned we had to improve some of our communication, but were otherwise happy with the energy on the team. Crossing the line on Day 1 we were pretty happy.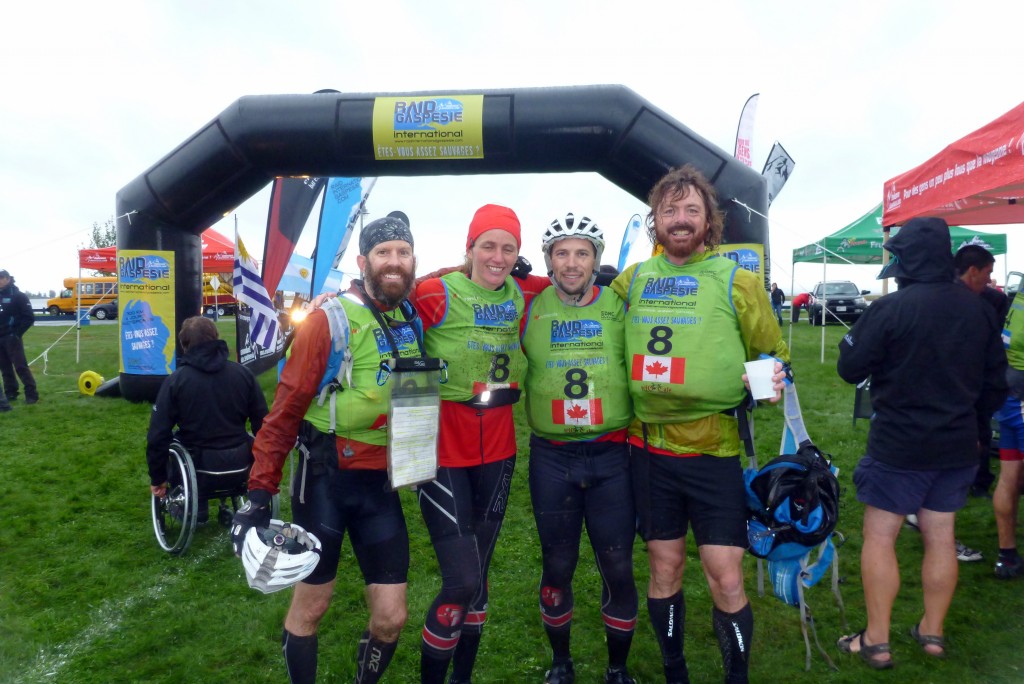 We got to spend the 2nd night at the same camp, then had to get up early to pack up and head to the start of Day 1, which was about 55km away. This would be our first full day, and a true test for us. We worked well with our navigation and teamwork, managing to make some good early moves placing us well on the first paddle after the opening trek section. This was a long river paddle featuring some fun whitewater (nominally Class II water) and swiftwater. We emerged unscathed before tackling the next two long trek and bike sections.
Finishing the bike, we now had the task of getting back in the boats WITH the bikes to undertake another long paddle to the Day 1 camp site. We lashed the bikes into the awkward boats, made more difficult by the fact that we mostly ride 29ers. It was just ugly and unwieldy.
Our hope was that the river would be calmer water now, and so we lashed our two boats together to get a towing benefit. Well, unfortunately, just around the first bend was the biggest rapid of the day. With the boats tied together, all went to shit, with Bruno and I getting eventually flipped in the cold water. Amazingly, we didn't lose either our packs or bikes, but had to pull off to completely clear the boats, and I had to put on a dry top to avoid succumbing to the cold. We actually managed to recover pretty quickly, and were just taking off again when we turned around to see another unfortunate team capsize in the same spot. A safety briefing would have been nice from the race organizer methinks, but that was just one of a number of nitpicks I'd level at the organization with respect to the actual racecourse and preparations.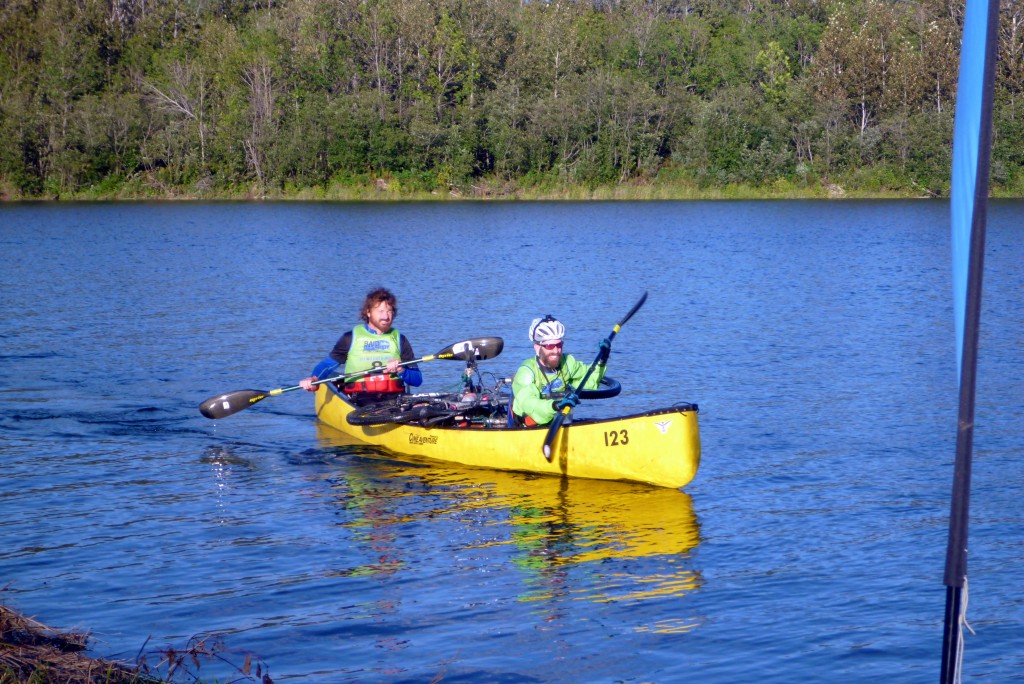 We paddled the rest of the river with relatively little incidents, but admittedly, we were a little gunshy, and Bruno and I did NOT want to go in that cold water again. The wind was definitely chilling us at this point. We were quite relieved to finally pull off at the Mic Mac Camp and cross the finish line for the day. Time to warm up by the fire, dry up, and then get all the maps and gear ready for Day 2 before passing out for the day.
The Tragedy
Day 2. What can I really say about that day? I'd really rather forget most of it, to be honest. We got up in good spirits, with Bruno and I heading to the water early to select the best boats we could (there were a few 17 footers in a sea of 16s, and we managed to snag 2, which we hoped would help. We hoped to make up some time this day and get a bit further ahead in the field, as we were sitting somewhere between 3rd and 5th place. It was chilly starting again, but not overly bad.
Our plan had been to hit the water, and see if the speed was matched, and if not, tie the boats together for towing again. Unfortunately, Bruno and I dropped back from Nat and James pretty early, and it was some time before we finally all came back together and tied up. We pushed hard to the first checkpoint, when we realized our passport had been left behind at camp. We might get a penalty for that, but you just have to make the best of it. So we punched the map, and kept going.
Unfortunately, that's when we hit a major snag. Nathalie got with with first an asthma attack, which we got sort of under control. However, this then turned into a bout of hyperventilation and then full-blown panic attack. To spare the full details, we dealt with it as best we could on the water, but things got worse when we were <1k from the water take out. At that point, Bruno and I pushed hard to the transition to seek help while James and Nat went ashore to walk along the beach as a safety precaution. Long story short, we were intercepted by medical personnel, and eventually, an ambulance was dispatched to whisk Nat off to the hospital.
That was it. Game over. Race done. The organizers said regardless of outcome at the hospital, Nat would no longer be allowed to continue Day 2 OR Day 3. The three of us remaining could continue, or any 2 of us, but as a ranked team, it was done. Just like that. Most importantly, Nat was okay, and eventually released from the hospital about 2 hours later, and by now, we had switched completely off 'race mode' and instead were drying and sorting gear.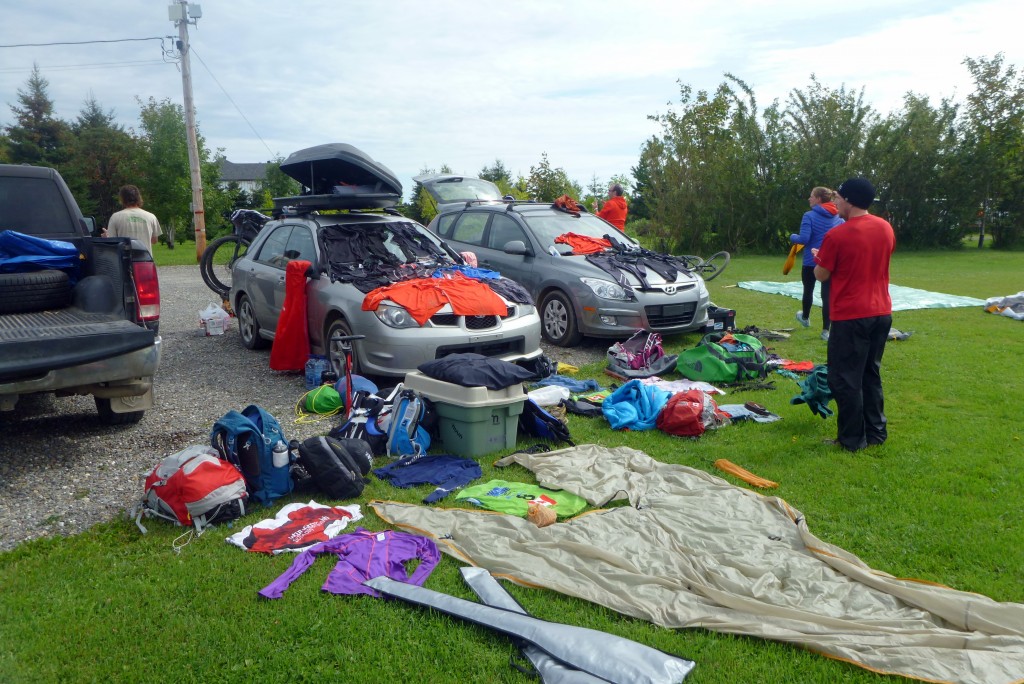 As far as any of us could see, there was nothing else to do. Frankly, it sucked.
As we cleaned up at a transition point, we watched and cheered on as the lead teams came through, with some friends looking quizzically at us, wondering what happened. As Nat was done, she and James opted to pack up and head straight back to Ottawa. Bruno, since he lived only 2.5 hours away, decided he would also just head home. However, he decided to join Deanna and I for a little trip up to Mont St. Joseph to see the view that we'd been unable to see during the prologue on account of fog. This little trip lead to the next stage of MY race.
The Rebirth
On my tour of the top of the mountain, there were still race organizers up there, as this was the site of another transition zone. We chatted about my day, and I was informed that if I wanted to, the Costa Rican team of 2 were seeking a team or team-mate as one of them was injured and the other couldn't race solo. I said thanks, but my race was done. That was my initial reaction. However, within 5 minutes, I was contemplating it seriously, and after about 15 minutes, I had discussed it with Deanna, who, knowing me well enough, guessed what I wanted to to. The arrangement was struck that as long as we got a hotel room for this night (the previous 3 nights of cold and wet camping was apparently enough for her), I was clear to race. So the rebirth took place. We headed out to the camp for Day 2 to see about meeting this new team and see if they'd be up for the new plan that I would race with their other racer, and form a NEW team, team Costa – Canada. I knew that without me, he would likely be out of the race, and having traveled all that way, I really wanted them to have a chance to complete the race as well.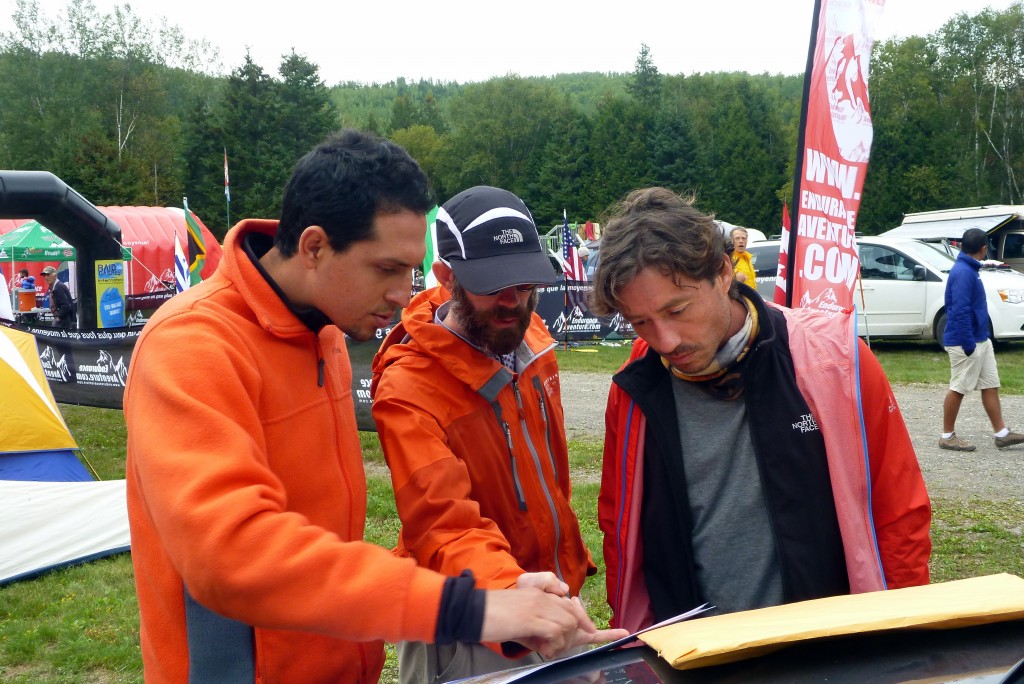 After waiting several hours, they finally showed up, and we immediately started chatting about racing together. We all clicked right away, and made plans to have supper together in town, and prepare the maps. I would also be the navigator for the day, putting me back in the drivers' seat for Day 3. I was excited. They had been racing well, and I guessed we'd keep the pedal to the metal the full day.
Getting a hotel room was awesome, as it poured rain most of the night, but my gear stayed dry and I was well rested and ready to push hard. My teammate Eduardo was similarly rested and good to go. With the starting gun,  we took off like a bolt of lightening. Amazingly, for most of the bike leg, we were at the front of the pack, racing with the current leaders and staying with them. It was a great feeling of comeback.
Sadly, once we transitioned to the trek, we made a bit of a blunder in that we underestimated our speed by a fair margin, forcing us to backtrack and go hunting for a few CPs that we should have hit pretty quickly. However, after that snafu, everything else got dialed in, and our spirits were high. We had an amazing day of racing and getting to know each other, and forging a bond that can only be created through an event such as this. I was referred to as a Tico now (Costa Rican), and will be welcomed as an old friend when Deanna and I can finally visit Costa Rica.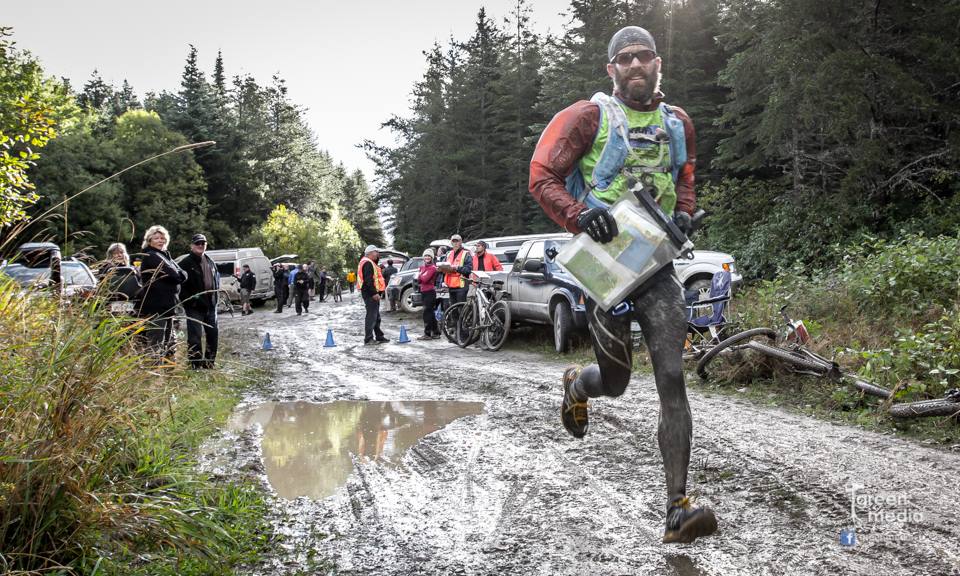 Overall, the day was another all-out speedfest, but we held on admirably, and pushed to the very end, edging out another team on the closing 500m paddle at the finish line. Crossing the line, we were elated. Team Costa Rica was able to stamp out a finish for their race, and thanked me profusely for this.
The Triumph
The fact is though, this day was as much for me as for them, as the end of Day 2 really didn't sit well with me, and I was in the doldrums as a result. Having an excellent day of pushing at max limit with a new friend was just what I needed. Neither of us could wipe off the huge grins on our faces at the finish. This extended to the other 2 Ticos that were there with us acting as our support crew. All in all, it was an amazing feeling, and the story book finish to my weekend.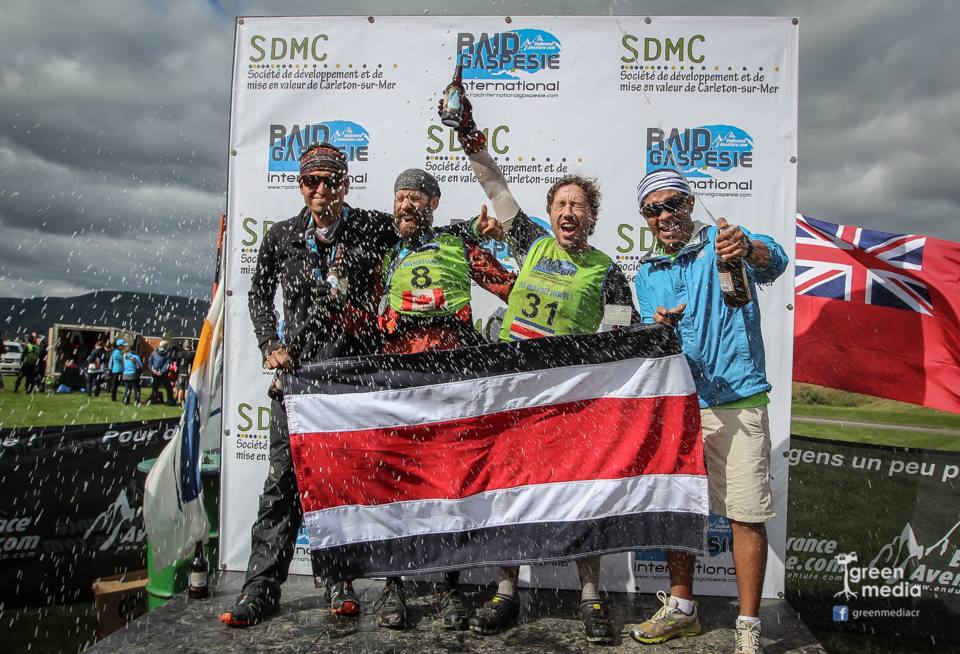 Adventure racing is such an interesting sport. It's physically challenging, but it is also an incredible mental challenge. These challenges manifest themselves countless ways in events, and this was yet another example of how you have to adapt and react to whatever situation is thrown at you in order to pull off a finish in a tough event. I don't think I'd trade the way this event played out for anything. I'm sure this is exactly how it was destined to be for me! Huge thanks to everyone on both my original team and my newly-constituted team for how it played out, particularly to the behind-the-scenes support crews.
Up next, well, it was R&R in Vegas with hiking in many parks, but the next race is the County Marathon where I'll be celebrating my wedding anniversary. Stay tuned as always for new stories!