Howdy race fans! Well, I figure I better wrap up my series of blog posts on winter races before all the snow goes away. The process is slow because I'm still trying to get out there as much as possible, and squeeze as much out of old man winter as I can. Although, I am ready for a little change of pace, so I've started sprinkling in some road running and cycling with my cross-country skiing! But I digress, this post is, as you may have gathered, all about the Mad Trapper snowshoe races this year. Normally I'd write a post for each race, but this time, I decided to just re-cap the 3 (of a possible 4) races I took part in this year. Read on to hear more.
Every year, I'm pretty much a fixture at the grass-roots snowshoe races that take place at the Ark. I like the race courses, I like the venue, I like the vibe. So much in fact that I actually got married there! Mike faithfully puts on 4 races per year, with the earliest one often turning in to a trail running race due to lack of snow. Luck was with us this year though, and the season opener on December 13th had snow. It was an interesting race for me, as it was 1 week after returning from running a marathon in Jamaica, and 10 days before leaving for a Belgian holiday!
Obviously, running a marathon the week earlier meant I wasn't at 100%. Beyond that, I'd also suffered several rolled ankles in the previous 2 weeks, including at the START LINE of the marathon in Negril!! Even though I was signed up to run the full 10k course at this opening showshoe race (2 loops), I approached the start line unsure where things might land. I decided that I'd play it by ear and drop down to the 5k if needed. I just didn't want to risk further damage, and after all, I'm in it for fun, not to win! Ok, in all honesty, I'd love to win, but that is not too likely given the hot shots that regularly show up at the front. I'm usually good for somewhere between 5th and 10th overall.
In another twist, Mike decided that we'd run the course in reverse. No, not running backwards, but running the opposite direction we normally would. That essentially meant a whole new course. All the ups were downs, the lefts were rights, etc. Sounds minor, but when you know the loop as some of us do, it takes on a whole new dimension, not to mention risk.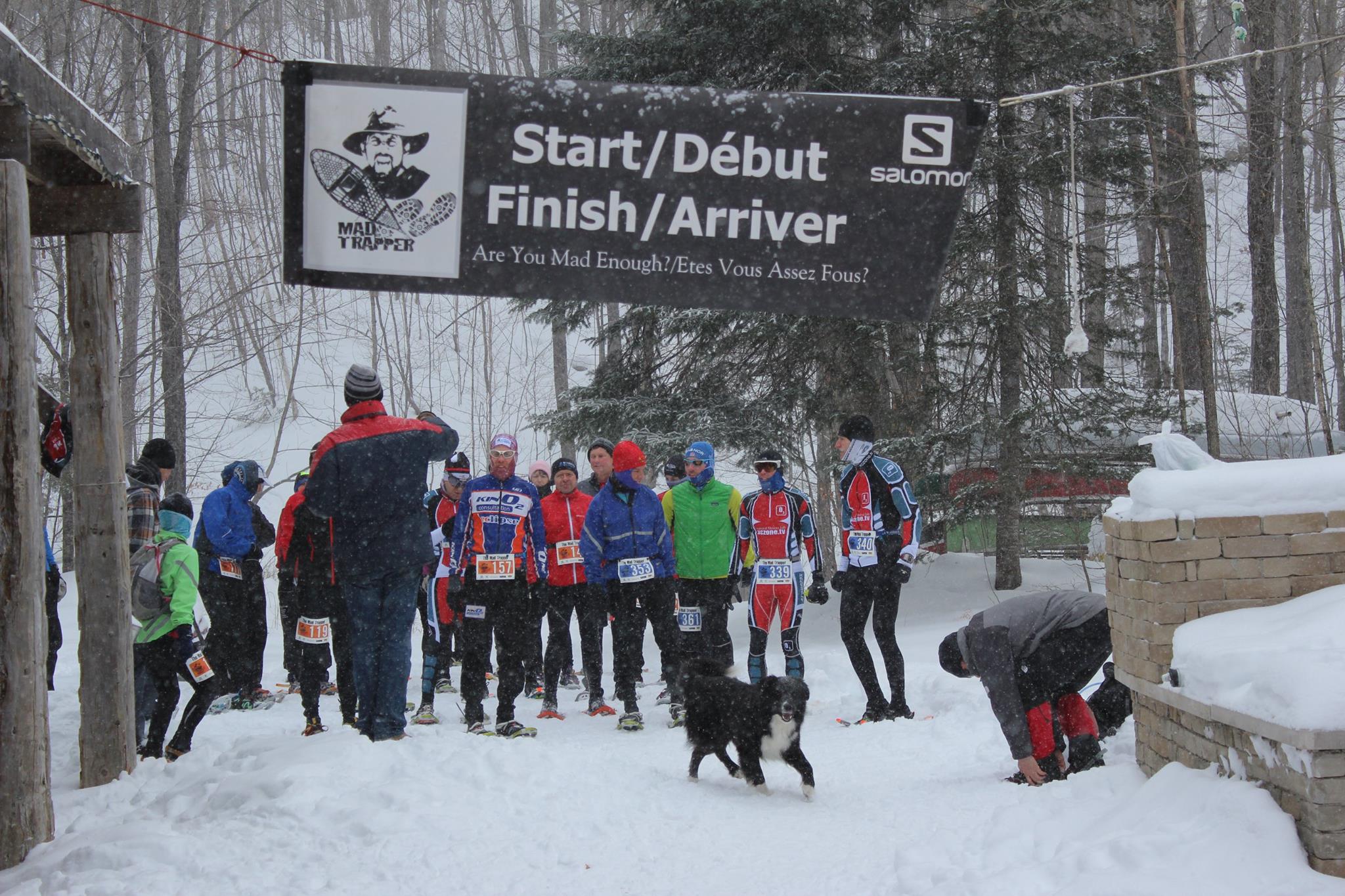 The race got underway, and despite telling myself to go easy, I revved 'er up and pushed out at pretty much my max effort. I held on as close the leaders as I could, but by about the halfway point of loop 1, realized I was flagging on energy. Then, as predicted, my ankle managed to find the perfect off-angle spot and rolled agonizingly. That was it. Limped for a bit and decided it'd have to be a single loop. My consolation was that I figured I was near the front of the 5k group. I don't recall where exactly I finished, but at worst I was the 3rd finisher of the 5k loop. However, since I was registered in the 10k, there was nary a mention of my standing in the 5k group. Booo! Regardless, I drowned my sorrow in delicious Broadhead Beer and Mike's classic brownies. What else could I do?
Fast forward a month and a half later to the 3rd race of the season. During our trip to Europe, Mike had hosted race #2, which was the night race, so obviously I had to miss that one. Too bad, since I love racing by headlamp! But I digress. This race was going to be a real showdown. You see, as part of my 'ActiveSteve's Day of Fun' gift that I gave my buddy Kevin (who was celebrating his 40th Birthday), I bought him a race entry. Kev has for YEARS longed of finally racing head to head with me, and ultimately beating me. Earlier in my race career, I had a lead on him, and whenever we raced, I had been the victor. However, Kev has been one of the most dedicated runners I know since then, and I knew he could crush me on the road, but I had hoped the tricky trails may give me the edge I needed. However, never underestimate the desire to kick ass and competitive nature of two old and dear friends!
Knowing that Kev would be hot to trot to take me down, I went out full bore in this race. We were staying pretty near the front bunch, which meant it would be a tough race to hold the pace. Also, this was the 'hilly' course, and we'd be doing two loops. For most of the first loop, I stayed just a bit ahead of Kevin, but could never open up any sort of real gap. I was unsure if he was holding back, or pushing hard to stay up there. Shortly after we finished the first lap, I'd have my answer.
On lap 2, Kev essentially cruised up to end up right on my heels, and we stayed like that for a most of the loop. I decided to back off every so slightly, in hopes that I could pull off a finishing kick and out-sprint him to the line. However, that plan fell apart with about 2km to go. We were pushing along, feeling that we had a pretty comfortable gap to the next racer. At this point, we were running 5th and 6th overall I believe. A few more bends, and I noticed a shadow that seemed to be reeling us in from behind. Sure enough, I risked a glance, and noticed it was Nathan A. The trouble with Nathan is that once he has you in his sights, he goes all in. He busted his butt and caught us, and attempted to cruise right past.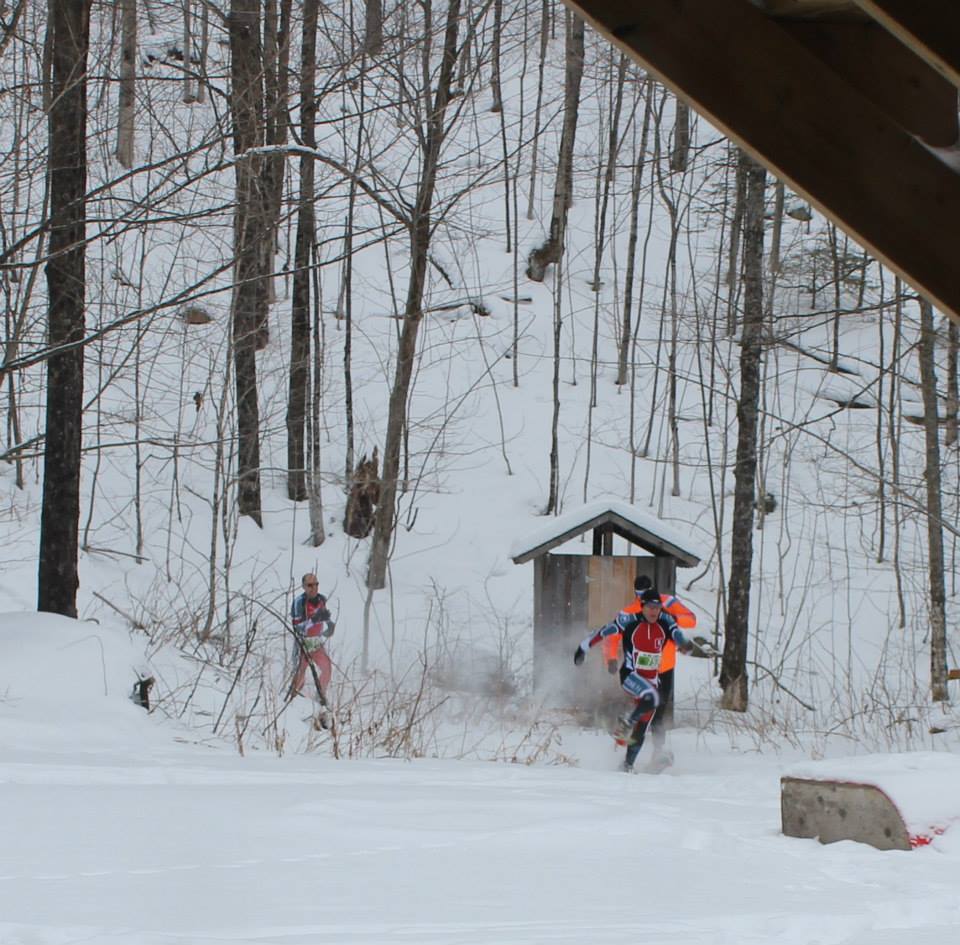 We were now about 1k to go, but with the final killer climbs still to go. One of the toughest is behind the final dramatic finish. On the hill right before that one, I had no choice but to go pretty much anaerobic to deny him the chance of passing. He had managed to get between Kev and I at this point, which I knew would not sit well with Kev either. That left me with 2 guys gunning hard to pass me, and my dreams of a top 5 finish that day at risk. I will say I fought valiantly. I managed to hold both of them off all the way up the final tough climb, then all the way to the crest of the final run to the chute.
Unfortunately, that left me completely tapped, and with nothing in the tank to do any sort of finishing kick / sprint. As a result, on that final downhill sprint, Nathan cruised past me. Damn! Even worse, when we got to the final 50m flat section, ole long-legs Kev found his kick, and pipped me right at the line! What a blow! Truthfully, I had suspected he'd get me at the line by the start of lap 2, but I hadn't expected the battle with Nathan to happen as well, which ultimately is what really cost me that one. Oh well, as true sportsmen, we all laughed about it (eventually) and congratulated each other and celebrated. At least Kev had the sweet victory for his birthday, but I promise you all it was NOT a gift 🙂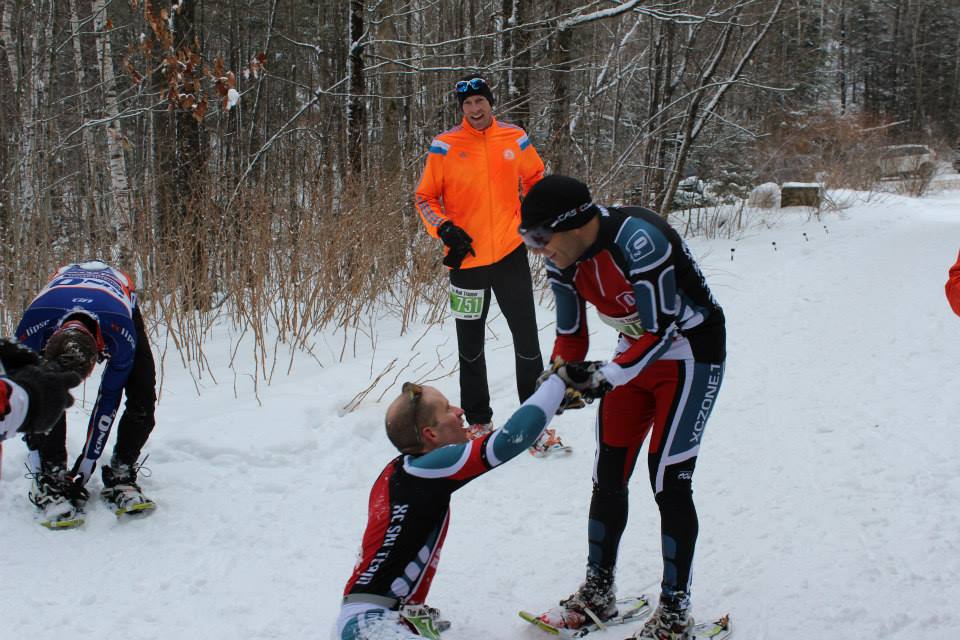 With those two races down, there was just 1 race to go, and it was 4 weeks later. HOWEVER, I was racing hard each weekend up to that final race. First the Winterlude Triathlon, then the Canadian Ski Marathon (2 days and 160km of skiing), and finally 2 days of racing at the Gatineau Loppet. So, in some ways, I was wiped by the Mad Trapper Finale, but in other ways, I was in peak form, as I was focused on racing. As with all Mad Trappers, my eventual finishing spot was highly dependent on who showed up. Prior to the start, things were looking not bad, until who should show up, but Nathan A at the last minute! D'oh! I just KNEW he wanted a re-match and chance to once again stomp me at the finish. I really did NOT want that to happen.
Conditions were great for the race, and Mike even outdid himself by making this the first snowshoe race that was a full 10k of unique trail. Not 2 loops, but a solid 10k effort of all the best parts of the trails on his property. This meant no mental mid-point check, but just focusing on your race the whole time. I was looking forward to that. I brought  a small liquid flask with me and a Fruit2 to eat at some point on the course when I needed it.
As with most races, I went in hoping to win. Who wouldn't, right? I seeded myself at the front of the pack, and when we got underway, I stuck to the leaders this time. Every race, I promise myself to try and stay with them, assuming I can keep up. However, by 1km in, I had dropped back probably 50m behind. Not a huge gap, but extrapolate that gap and you see why by the end I'm often quite a way back. However, I did manage to keep them in my sights. Oh, and did I mention there were only 2 people ahead of me in the 10k? Yup, that's right, I was setting myself early in the race for a proper podium finish.
As I ran, I felt strong, and there was no one immediately on my heels in this race, so I silently prayed that I'd stay ahead the whole 10k. Ironically, I was doing great for the first 8k. But then, who should I notice silently catching up? Yup, Nathan!!! Dang. It was a section where there were lots of twists and turns, and I wasn't sure exactly how much of a gap I still had, but knew that whatever it was, it wouldn't be enough, because Nathan would once again burn down the forest to catch up and pass me if possible.
Sure enough, closing out the race, we were in almost the exact same situation as we had been in the last race. This time, I dug even deeper, and pushed myself to the very brink. My average heart rate over the race was 176 bpm, but hitting a peak of 192 bpm near the finish. So how exactly did it play out? Well, let's just say I pulled together my very best Simon Whitfield kick in that closing 100m, including a wild descent on the final downhill.
When it came to that 50m flat, there were claims I tried to block him, but I honestly couldn't even see straight at that point, I was purely anaerobic and pumping my legs for all my worth. I made a critical stumble right AT the line, and apparently, that is what saved me. In my stumble and subsequent fall forward, my nose apparently crossed the line first, so I was awarded the 'official' third place. Of course, that's 3rd in a race where there are no prizes, or barely a mention for that matter. At the awards, Mike claimed Nathan had it, but subsequently, I was chosen as the official 3rd place. I suspect it really was too close to tell. Either way, it was a very dramatic end to my winter race season, and great way to close off 5 weeks of back to back intense racing.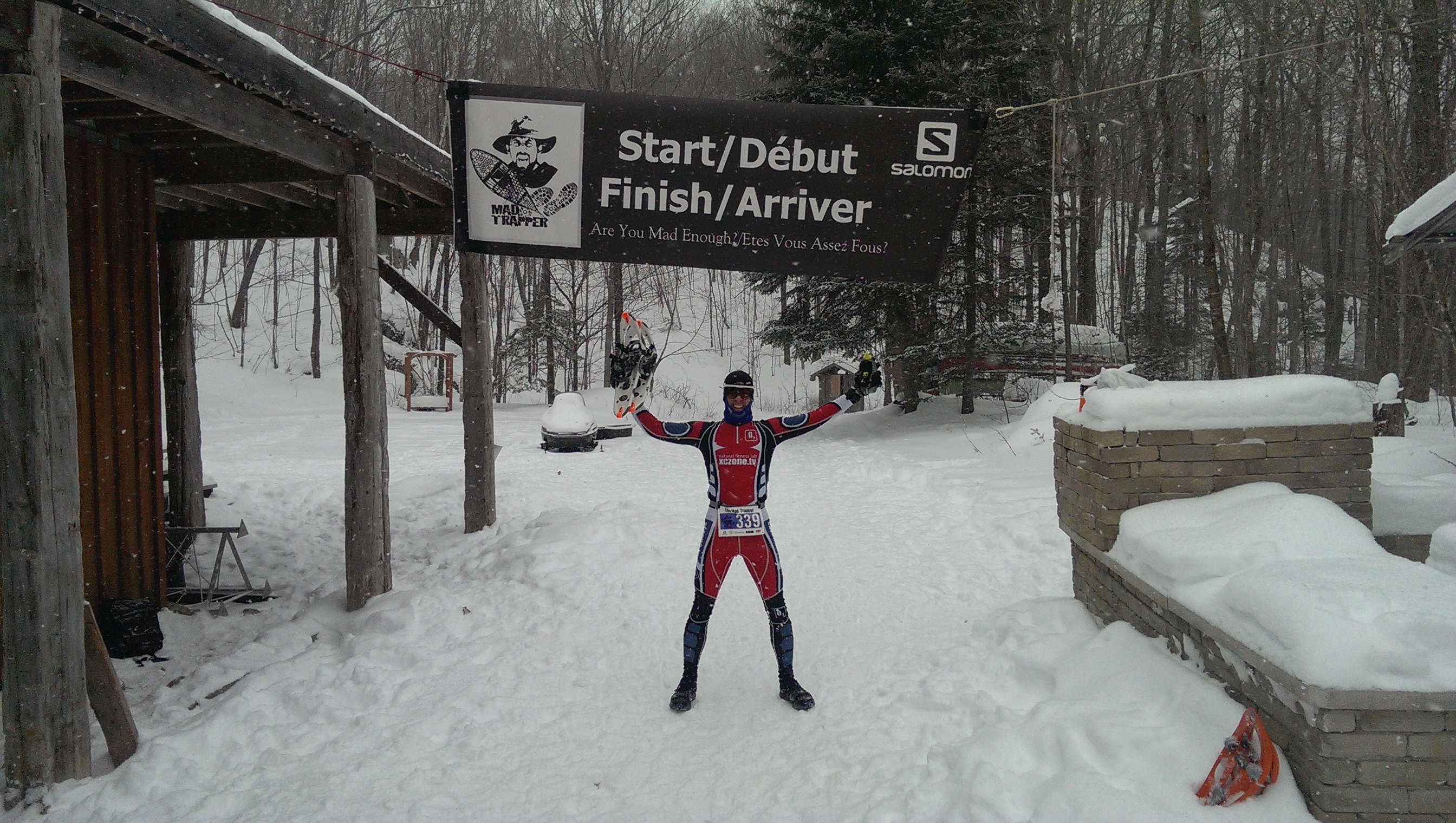 What better way to close it then with the excellent, yet small Mad Trapper Race? I enjoyed great food, courtesy of Mike and Monique's continued efforts, washed it down with delicious beers courtesy of a generous sponsor, and also enjoyed the camaraderie that you can only find in a vibrant and active race and training community. The battles that play themselves out in these settings will never be viewed by masses, or even experienced by most, but they are what always put a smile on my face and keep me coming back for more! Thanks Mike as always for great races. You know I'll be back for the series next year!
However, for now, it is time to now turn my attention to summer sports. I've already logged several hundred kilometers to running and biking in the early season, but it's shaping up to be another epic year of racing! Stay tuned to ActiveSteve.com for all the stories!