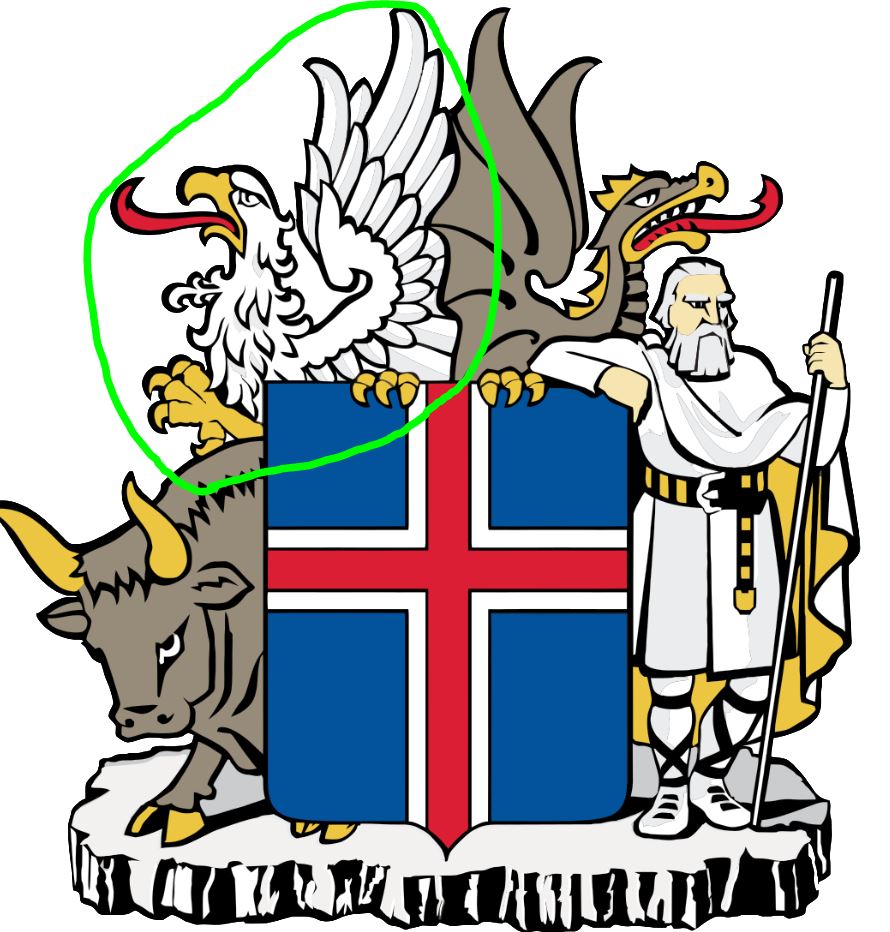 For the third instalment of my Iceland series of posts, we're moving into the land of the Gammur, which is the Griffin or Eagle. The Gammur stands as the protector of the Northeast region of Iceland. I'm excited to present you this post, as it features the 'Capital of the North' of Iceland, and probably our favourite place in the country, Akureyri. We'll also travel to the furthest north we've ever been, just shy of the arctic circle, to a place called Raufarhöfn. The post will cover two full days of travel, plus that start of a third day, since otherwise my fourth post would become too long. It will also fit my narrative better ;-). To kick things off, we departed our little farmhouse hostel off the beaten track to rejoin the main ring road for a while. Don't worry though, we'll veer off the main track shortly again for a cultural detour. Also, going through the pictures for the next few days, it appears we'll start hitting 'peak waterfall', but they were still pretty!
Album of Photos from Ósar to Akureyri
---
Our first early morning stop of the day 'off the beaten track' was at a place called Kolugljúfur Canyon (first picture in above album. Here, there was some great scrambling to be had around the rugged multi-tongued waterfall. The falls are smack in the middle of farmland, but still includes some cool walkways and even a viewing platform. We didn't stay too long, as it was just a chance to stretch our legs and get moving.
From here, we trucked along to a stop called Blönduós that is known for two things. The first is the Blönduóskirkja, an architecturally very interesting church. It's hard to describe all the shapes, but you can check out a few shots I took in the album above. The second thing the area is known for is a textile museum. I know, it sounds kind of quirky, but given the importance of wool and handmade clothes of Iceland, we were interested in a quick visit. Sadly, they were not open when we were there. Ultimately, that would give us more time at another stop down the road, which is good. However, it did give me a chance to snap a picture of this really cool barbed wire sheep. I'm not sure why, but I really liked it.
As we continued out journey, the drive itself was really beautiful, as the cover shot shows you. Smooth pavement, almost no traffic, and just the right amount of geographic relief to keep things interesting as we drove along. There are a number of interesting stops along the road you can make. At one spot, we learned all about Stephan G. Stephansson, the "Poet of the Rocky Mountains". This Icelandic-born poet from the mid 1800s lived in Alberta! Then there was a stop at the Víðimýrarkirkja Turf Church, which is just how it sounds. Built in 1834, it is one of the very few preserved turf churches of the country, and still serves as an active parish church. I can definitely say we'd never seen anything like it.
Keeping with the turf and culture theme, our next stop was the highlight of the day, and was another 'off the beaten track' visit. This time, it was a visit to the Glaumbær Turf House and museum. I'll just copy and paste a description from another source for this one:
" People lived in Glaumbær turf house until 1947. A farm has stood on this site since the settlement of Iceland in year 874 – give or take a few years. The present farmhouse consists of 13 buildings and the "newest" addition to the turf house was built in 1876-1879. The oldest parts of the turf house date back to the mid 18th century. " — Taken from the Guide to Iceland Website.
In the past, everyone in Iceland lived in turf houses, so this was a great opportunity to see how people lived in the 18th and 19th centuries. For a modest entry fee, we got to explore all of the interior of this facility. Each little facade housed a couple rooms, and also had interconnecting turf 'tunnels' between different parts of the house, including the stables and other farm buildings. There were kitchens, serving rooms, a dairy room, bedrooms, and Deanna's favourite place, a place that traced the history of coffee making in Iceland. Yes, I'm serious. Suffice to say it was very unique and cool, and worth the stop and exploration. Where else in the world would I get to see horse bone skates? Yup, they were there (and I have a picture to prove it).
Before capping off our day in Akureyri, our little detour drive continued for a little bit, taking us to some remarkable black sand dunes along the ocean. It was also along here that we stumbled across a cool statue of Jon Osmann, a famous ferryman of the area. I'm not sure about the story, and couldn't find anything about it, but I liked the way this statue seemed to be keeping a watchful eye on the harbour and causeway below.
After all the excellent culture we enjoyed throughout the day, it was time to head to the relatively cosmopolitan city (town?) of Akureyri, the 'Capital of the North'. My best comparison to Akureyri would be to look at typical university towns like Boulde, CO, or Fredericton, NB, etc. Akureyri has something to offer everybody, without feeling too large or impersonal. Add to the fact that there are some world-class attractions nearby, and you'll see why we loved it. Before turning in, we found time to visit the town public hot spring pools (they were great!). Also, finding a nightcap was no problem, as I tracked down a fabulous craft beer pub known simply as R5. After a few beers and really tasty burritos from a nearby take-out, it was time to sleep before another day of adventures!
After a good night's sleep, it was time for another day chock full of amazing sights. As alluded to, the area around Akureyri is rich with options, and today we had to pick and choose what we could squeeze in and still make it to our destination, a pretty remote tiny hamlet in the far north (and way off main track) of Iceland. As such, today we'll cover a bunch of waterfalls, thermal areas, lava rock formations, and more waterfalls!
Album of Photos from Akureyri to Kópasker
---
Crack of dawn and once again to start our day, it was off to a waterfall, this time the somewhat plain-feeling Godafoss. Nothing wrong with it, but at a mere 12m high and about 30m wide, it just didn't have the wow factor of others. At any rate, you can see it above. It still made for a nice morning stroll before heading to the main attractions. Speaking of which, the next stop was in the region known at Mývatn, which was not a single place, but rather a whole area of attractions. The link will take you to a 4-part series just on that from another writer. Unfortunately, this was one of those cases of needing to pick and choose what to see and do, as you can't fit it all in one day. We'd love to return and explore more. First stop was the spot called the Dimmuborgir Lava Formations. This was a great place with walkways snaking around all sorts of very cool lava rock formation, as the name implies!
Next up was probably one of the more impressive sights we visited on the entire trip, the Námafjall Geothermal Area. In this area we got to see first hand, as well as learn about, all sorts of geothermal features. This included fumaroles, mup pots, and mud pools. As tempted as you may be to try a mud mask straight from the source, this was NOT recommended. Unless of course you really wanted major burns! Lucky for us, they were smart enough to put up LOTS of warnings. Nearby to each feature was typically a sign to tell you the temperature of the steam / mud, etc. There were also clearly marked walking paths lest you be fool enough to go off track, break through a crust and find yourself in boiling mud.
The entire landscape was very surreal (apparently US astronauts even used the area as a training ground for moon missions!). Plumes of steam rise from seemingly everywhere. Cracks in the ground, piles of rocks, distant features. I should also mention it didn't smell particularly pleasing. There was definitely a prevalent odour of rotten eggs. However, it also made for a great place to go for a longer hike, and really get a good overview of the entire area. To do this, we started along a trail from the main tourist area that headed uphill. My mantra being 'always go higher', we followed it up and up until we got to an impressive set of vistas all around the land. Fjall, by the way, is the word for mountain, so Námafjall, the places namesake, was the mountain we climbed up for the amazing views.
With geothermal adventures behind us, it was now time to get back to the theme du jour, which was the waterfalls. Oh, that, and getting once again far away from tourists (although as it turns out they were very few and far between). For this part of the journey, we'd first take a well-travelled tourist road to a pair of falls known as Sellfoss and Dettifoss. These are no regular falls though. Rather, they are damn impressive works of nature based on a couple factors. Sellfoss, the smaller of the two falls, features beautiful basalt rock columns along the canyon to its face. The fall itself is only about 11m in height, but with spectacular rock all around it. From where we parked, it was the further of the two to explore, situated a few hundred meters away, but well worth the trek along water slick trails and rocks. Deanna wasn't too amused when I'd get too close to the edge and jump from rock to rock looking for better views. However, I lived to tell the tale and got a few good pictures if I do say so myself.
The main attraction though is definitely Dettifoss. This is a true hulking monster of a waterfall. In fact, there is some debate whether or not this, or the Rhine falls, is the most powerful waterfall in all of Europe. I'd hate to see them side by side. This thing is LOUD and you just can't help but be amazed by the sounds, sights and feelings as you approach this fall. At around 100m wide, and dropping 44m straight down, you would NOT want to go over in a barrel! You hear it from far away, and as you approach, it engulfs you. It is hard to get a picture that captures the whole thing, as you'd have to get into the canyon below, which would be ill advised.
Thankfully, if you ARE looking for an alternate viewpoint, you have the option of seeing it from either side. Provided, that is, you are willing to drive back to the main road, then take a different, dirt access road, back up the east side. Lucky (or foolishly) for us, my chosen route would do just that. In fact, we would not only go to that viewpoint, but continue on the dirt access road for a total of 50+ km of very rough dirt access road before rejoining a paved road to take us to our hostel for the night.
The choice to take this road was another gamble on my part, and after the previous car-busting peninsula, I was a little worried. However, by now, I'd gotten pretty good at navigating around various car-swallowing holes. The route was clearly more suited for off-road vehicles, but all in all, I think we fared better this time, and could stop as often as we wanted to marvel at the desolate barren terrain around us. I would not have wanted to break down up here though, as there was a sum total of zero other cars to be seen. Or trucks, or livestock, or tractors. Luckily, we emerged unscathed.
By the time we arrived at Kópasker for the night, it was already pretty much dark. This village is home to a total of roughly 120 people, so our arrival increased the population by nearly 2%! As it turns out, we were also the sole tourists. We were lucky that our hostel was actually still open, given that tourist season was pretty much over. We had the hostel (and its lovely host) all to ourselves for the evening. Due to our itinerary though, we basically cooked, crashed, then got up, cooked, and took off once again. The final highlight of the northeast of Iceland for us was a jaunt up to a village called Raufarhöfn, which is one of the most remote and northernmost villages of Iceland. Why go here? Quite simply, it is the closest you can get to the Arctic Circle without taking a boat offshore from Iceland.
While up here, we finally got a chance to get very up close and personal the the famous Icelandic horses. While they may stand a bit shorter, they are incredibly powerful and hearty creatures, and seemingly quite docile. They also have a great head of hair!
No trip this far north would have been complete without a visit to the mystical 'Arctic Henge'. While this stone structure is meant to hearken to the original stone henge, it is NOT ancient, but rather a modern work in progress started in 1996. 50m in diameter, with gates 6m high, it is pretty cool, and its story even more fascinating, as it is tied strongly to the history of dwarfs, of which there are 68 standing around a circular dwarf trail. In total, there will be 72 dwarfs, which represents a dwarf-year, each of which controls 5 days in the year. It was a pretty neat sight to close out this corner of Iceland.
Next up will be the 4th and final instalment, where we cover the vast southeast corner of Iceland, and where we had to put on some serious mileage to stay on track while still catching as many sights as we could. Hope you'll be able to tune in again to read the conclusion!